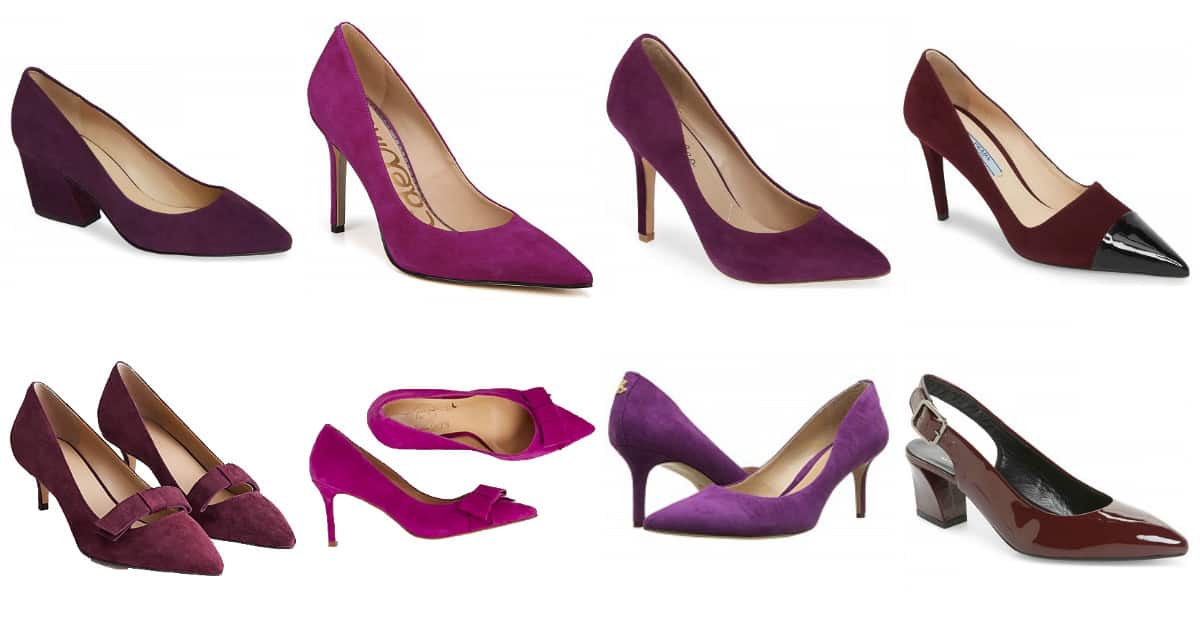 2019 Update: We still love the shoes in this roundup of purple heels for the office — but you may want to check out our more recent roundup of classic wine-colored heels for the office.
Sure, we all know what wardrobe essentials for work professional women are supposed to have in their closets, but if you're buying one for the first time or replacing one you've worn into the ground, it can be a pain to find exactly the right incarnation in stores. In "The Hunt," we search the stores for a basic item that every woman should have.
I've said it before, I'll say it again: I always feel like purple heels for the office are a hugely versatile basic that every woman should have. Wear them with navy if you're uncomfortable wearing black with navy! Add some interest to black and gray outfits, and have some fun with contrasting colors by wearing purple on days when you've got green or red accents, and fun with complementary colors when you're wearing purples or blues. The definition of "purple" comes and goes over the years, of course — in years past we've rounded up wine-colored pumps with names like "bordeaux" — while this year there are a ton of super bright purples available for purchase, probably in part because the Pantone color of 2018 is ultra violet. Readers, do you have a pair of purple heels for the office — or purple flats or booties? How do you wear them, and do you consider them a basic or a "fun" shoe?
Before we get to today's roundup, here are a few specific categories (like under $100, extended widths, and comfort options) for purple heels for the office:
This post contains affiliate links and Corporette® may earn commissions for purchases made through links in this post. For more details see here. Thank you so much for your support!
Curious for some of our other roundups? Here they are from 2019, 2017, 2016, 2015, 2014, 2012, and 2010.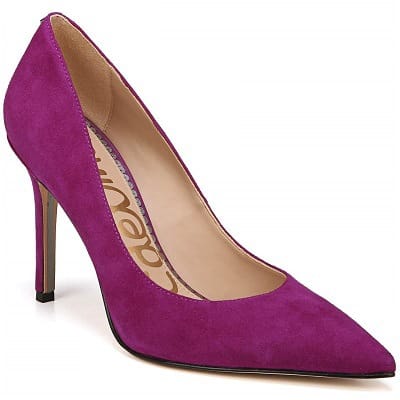 These pumps have been best-sellers for years, so it's great to see them in a fun, saturated purple like this. The name of the color is "purple plum suede," and if you're looking for a classic stiletto on the higher side (3.75″) then this may be for you. (Note that normally this shoe is a good bet if you need extended sizes or widths, but neither is available in the purple color.) They're $119 at Nordstrom. Sam Edelman Hazel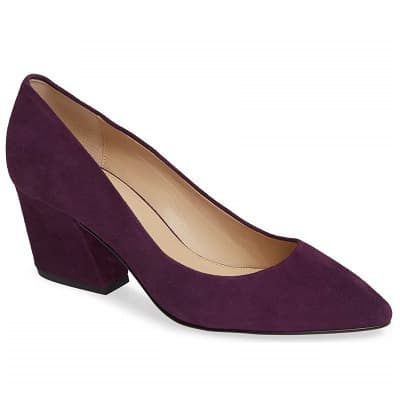 I'm sure I've mentioned this before, but some of my favorite bags come from Botkier — so I was excited to see a few years ago when they expanded to shoes as well. These architectural, wedge-like pumps are calling my name, and the slightly darker "winter purple suede" color is great. They're $127 at Nordstrom. Note that if you really like the color but not the shoe, the brand offers the same color in a higher pump, as well as in two booties and a sandal, though it may be worth noting that for my $.02 I find colorful pumps to be infinitely more versatile than colorful booties — but that's me. Pictured: Botkier Stella Pump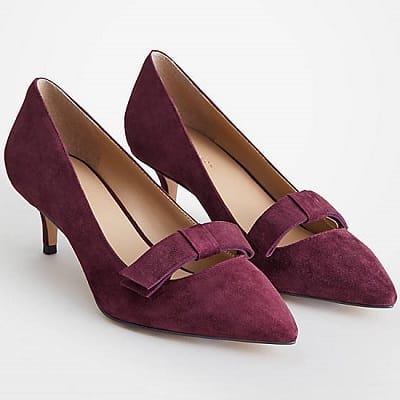 Ann Taylor is another brand offering several shoe options in the same purple; for my money these 2″ bow pumps make perfect use of a bow, making them a subtle Mary Jane heel without the mumsiness that comes with that kind of shoe. Interestingly, the name of the color is "Scarlet Lily," but to my eye they seem to belong more in the purple family than the red family. They're $139 at Ann Taylor, available in half-sizes 5-11. Dylan Suede Bow Kitten Heel Pumps
Again, I really like the bow detail here — they're fun and flirty but still professional — and I like the brighter color (named "Hawthorne Rose" here, but again they look more purple than pink to me). They're $159 at Talbots. Erica Bow Pumps
If you want a darker, more sedate purple, these "plum patent" heels from AGL are great. Obviously AGL is a huge favorite for comfort flats — the sculpted block heel here also looks very comfortable but interesting. (If you like the color and price but not the shoe, check out these sky high Tory Burch heels in a more classic purply cordovan "Malbec.") The pictured heels are $365 at Nordstrom. Block Heel Slingback Pump
I like the black "liquid shine patent" detail at the capped toe of this classic stiletto from Prada — the shoe also comes in a version with navy and black. The shoe is available for preorder at Nordstrom for $895; note that while the shoe comes in sizes 4-12, many of the less common sizes are already selling out. Check out more splurgey options from Roger Vivier, Jimmy Choo, Tibi, and Bottega Veneta (with an absolutely fabulous heel detail). Pictured: Pointy Cap Toe Pump
Like this feature? Check out other recent installments!
This post contains affiliate links and Corporette® may earn commissions for purchases made through links in this post. For more details see here. Thank you so much for your support!