Sure, we all know what basics professional women are supposed to have in their closets, but if you're buying one for the first time or replacing one you've worn into the ground, it can be a pain to find exactly the right incarnation in stores. In "The Hunt," we search the stores for a basic item that every woman should have.
Oxblood, burgundy, port, wine, sangria, claret — I've always thought this purpley/red wine-blood color is perfect for work shoes.
Wear purple pumps to work as a neutral with navy and black — add a tiny touch of color to light gray outfits — and have fun contrasting them with pops of yellow, bright blue, and bright red.
Ladies, do you wear purple heels for work? What exact shade is your favorite? Of the trendier styles (pointy toes, block heels), do you have a favorite? Do you have any favorite purple pumps from years past?
2023 Update: Here are our latest favorite purple heels for the office!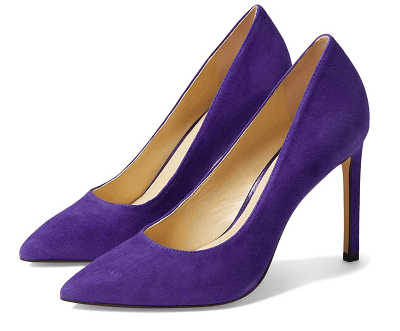 This post contains affiliate links and Corporette® may earn commissions for purchases made through links in this post. For more details see here. Thank you so much for your support!
Our Latest Favorite Sangria Colored Heels
Stay tuned for our latest favorite winey, sangria-colored heels for work!
A Closer Look at Some Great Wine-Colored Heels for the Office
Marc Fisher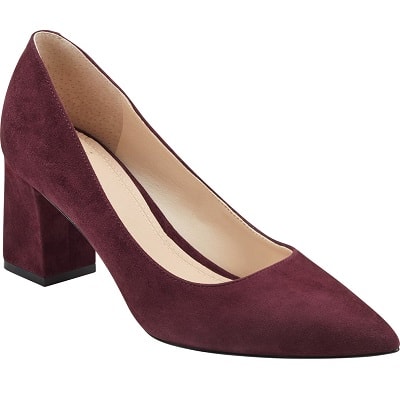 This one definitely walks the line between purple and wine colors, but I love it — the color is sedate enough to wear to just about any office, while the unusual color elevates it above a boring gray heel.
The shoe is $160 full price, but note that it often goes on sale for less than half of that — keep an eye out at spots like Nordstrom and Amazon.
Similar But Different: Great Purple Heels for the Office
I do think that there can sometimes be crossover between what counts as a "purple" pump and what counts as a wine-colored or sangria-colored pump. That said, the readers have often disagreed with me!
2023 Update: Here are our latest favorite purple heels for the office!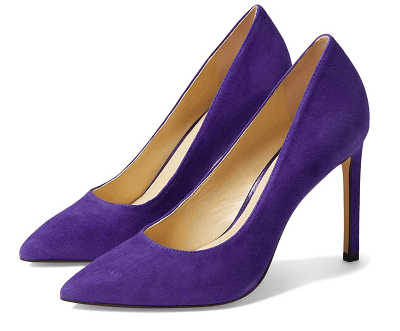 Similar but Different: Cordovan Heels for Work
Stay tuned for our roundup of our latest favorite cordovan heels for work!
Like this feature? Check out other recent installments!
We are a participant in the Amazon Services LLC Associates Program, an affiliate advertising program designed to provide a means for us to earn fees by linking to Amazon.com and affiliated sites.