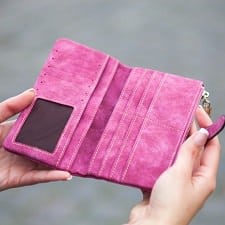 2018 Update: This was such a great discussion we decided to update it in 2018 — here's our latest discussion where we asked the readers, how much do you spend on work clothes? Along these cost-per-wear lines, you may want to check out our more recent post where we asked the readers: how long do you expect your clothes to last? 
Reader S wrote in, wondering about how to spend money on clothes for work — particularly, whether she's spending too much or too little ..
Given some of the comments re: the price of the interesting Tahari dress/suit last week, I thought it might be worth doing a poll on actual price ranges that people think are appropriate for certain items. Sometimes I would like to know where I "stand" amongst women in how I budget my clothing purchases. For example, I try to keep my shoe purchases around $100 or less, even though I COULD spend more, because they get ruined so fast from walking around the city, esp in the winter. But I would spend more on other things. Am I totally normal, or a total cheapskate? How many people buy bags that are over $1K?
There really are no right answers as far as how much to spend on clothes for work, but it does strike us as an interesting discussion. There are two kinds of price points to talk about, though — one is what folks expect things to cost (a good pair of work pants), the other is what folks will pay. As we've mentioned, we like the sales — but we don't buy things because they cost "$X," we buy them because we like them and we think they're of an acceptable quality for the office. For example — an $8 t-shirt isn't something, generally, that we would say is acceptable for the office. But we're happy to buy a $34 t-shirt at $8. So, that said, we've listed below (after the jump) the price points that we would generally expect to pay for something for the office. For almost every price we've listed here, we would absolutely consider something marked at a higher price, but a) only if they look amazing on, b) we're acquiring a "name" to add to the closet that we've lusted after, or c) … c) would be if we had a specific event to go to and knew that in order to run with the chicks who were there we'd need to put our best fashionista shoe forward. (For example, just for kicks, let's say we were to have a meeting with Erin Callan or some other CFO who is notorious for wearing amazing stiletto shoes. You can bet we'd be there with our best newly-purchased shoes on.)  By the same token, we probably would consider things in a lower price range, also, but only as "need them now" splurges or "I don't quite know why but this cheap dress looks amazing on me.") (But we wouldn't wear them to a meeting with a fashionista.)   Pictured: Does "sale" mean lower prices or does it mean "get outta here"?, originally uploaded to Flickr by sylvar.
UPDATE: We've been busy with this whole "job" thing but we are told you guys miiiight be misreading the post. All prices we list are the 100 percent price — we don't actually pay that — in keeping with the example above, it's the $34 price — not the $8 price. And so while a lot of bags are in the $600-$800 range, we actually pay more like $200….
Pants – For basic khakis or whatnot, a cotton/lycra blend should probably cost around $50-$100. (Although, man, we just had a flashback to an amazing pair of basic DKNY pants we owned that were originally like $225 like ten years ago. God, we loved those pants.)  A pant in a wool or a crepe or something like that, we would expect to cost upwards of $100, probably up to $350.
Skirts – This depends on the brand and the design. Most basic skirts we own cost around $80-$300; if it's more of a designery design (like a Trina Turk print) we'd expect it to cost more like $125-$400. (Particularly with patterned skirts — more expensive ones have seams that line the pattern up far better than lower-priced ones.)
Blouses/Tops – This is probably the widest variety for us. We try to avoid buying cheap shirts for the office, but we've worn shirts that cost us anywhere from $30 to something like a $225 blouse from Thomas Pink.
Sweaters – We will almost always buy a black silk sweater on sale — but otherwise we try to focus our sweater purchases on lux fabrics like cashmere, wool, etc. We generally shoot for sweaters originally marked in the $150-$500 range — if we're buying in person and can feel the fabric against our skin we might go lower (or higher).
Dresses – If it's a basic sheath dress, we would expect it to be marked around $125-$350. For a dress with a print or a more intricate design, we'd expect it to cost anywhere from $350-$850.
Suits – Again: totally depends on the brand and the design. Most of our "good" suits probably cost in the $300-$600 range. We know a lot of women who swear by the Theory suit (which does not do favors to our curvy frame), and regularly pay $800+ for a suit.
Bags – For whatever reason, our price point seems to be around $600 (give or take $300) for a handbag/purse, although yes, we have bought bags that cost more than $1K. For a tote we tend to consider anything from $50-$200. Again, if we're buying something in person and can assess the leather and the stitching, we'll go lower.
Jewelry – We do our best to avoid buying cheap jewelry — if it isn't real gold or silver we generally won't look at it. A "spur of the moment" purchase on jewelry could be anywhere from $350 downwards (this is the sale price we're talking about — sometimes jewelry prices are so inflated, and it sounds laughable to say that we'd buy an $800 necklace on the spur of the moment); we've spent a lot more than that on planned jewelry purchases. (Tip: if it's worth more than $1500, get a separate insurance policy for it — your home owner's or renter's insurance generally only covers up to $1500 per item for jewelry.)
Obviously,  we're generally content to wait for sales on quality clothes rather than have a constant stream of lesser-quality clothes coming into our closet. This is for environmental reasons (we've read that better fibers and fabrics break down better), a general dislike of knock-offs (for a variety of intellectual property and sociological reasons), as well as for closet concerns — we live in NYC and our closet is tiny. But we're curious — how does it break down for you guys? How much do you spend on clothes for work? Perhaps we should follow this up with a post we've been wanting to write for a while — a discussion about when to splurge. (Update: here's our more recent post on the best splurges we've ever made!)
Social media images via Stencil.