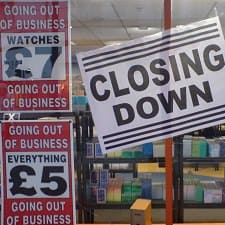 2018 Update: We still stand by the advice below on how to get great deals on workwear; you may also want to check out our latest discussion of how to get deals at discount clothing stores like Nordstrom Rack and TJ Maxx!
Here's my confession/boast: almost everything I own was bought on sale. My favorite Iisli sweater jacket? Tried it on at Bergdorf's when it cost $430, snapped it up at a winter sale a few months later for $150; then loved it so much I bought another one on HauteLook for $125. I've gotten pants from Banana Republic for $6.99 and worn them a lot. I once snagged an entire ball gown at an outlet store for $20 and wore it to my firm's black-tie gala. Alas, most of these amazing takes came from the days when I shopped the stores really regularly — since then, I've had to adjust our shopping habits for a life where a) I'm usually, you know, working when the stores are open and b) it's harder to set aside time on the weekend to shop.  So how CAN you get great deals on workwear and other clothes if you can't peruse the discount racks? I've got some great ideas… (Pictured:  "Closing Down" Sale 2, originally uploaded to Flickr by johnthurm.)
(A caveat before I start the tips — in my mind there is a difference from buying good clothing at reduced prices, and buying cheap clothing.   Personally, I have serious ethical issues with shopping at stores that specialize in knock-offs.  (Hat tip to Counterfeit Chic, who covers the issue regularly.)) If you really care about these issues,  you may want to check out The Corporette Guide to Slow Fashion for Workwear.
1.  The next time you're actually out and about shopping, do a little legwork — learn your size in the brands you ogle online.  Are you a 7 or 7.5 in Cole Haan pumps?  Are you a size 8 or 10 in Tory Burch?  If you figure this out it'll be much easier to snap up sales when you see them, whether they're at online discounters like RueLaLa or department stores.
2.  Use online shopping apps to help keep you aware of discounts.  We try to point you to a big sale if we see one, but a lot of the best deals (60% off) fall in the "lucky sizes" realm, when very limited sizes are left.  Particularly if you fall on either end of the "regular" clothing spectrum — an XS, a size 14 — then you should set up sale alerts because there are tons of great tools.  We love ShopItToMe; ShopStyle can also be handy if you're watching a particular brand of bags or shoes. (2017 Update: Check out our latest favorite online shopping apps!)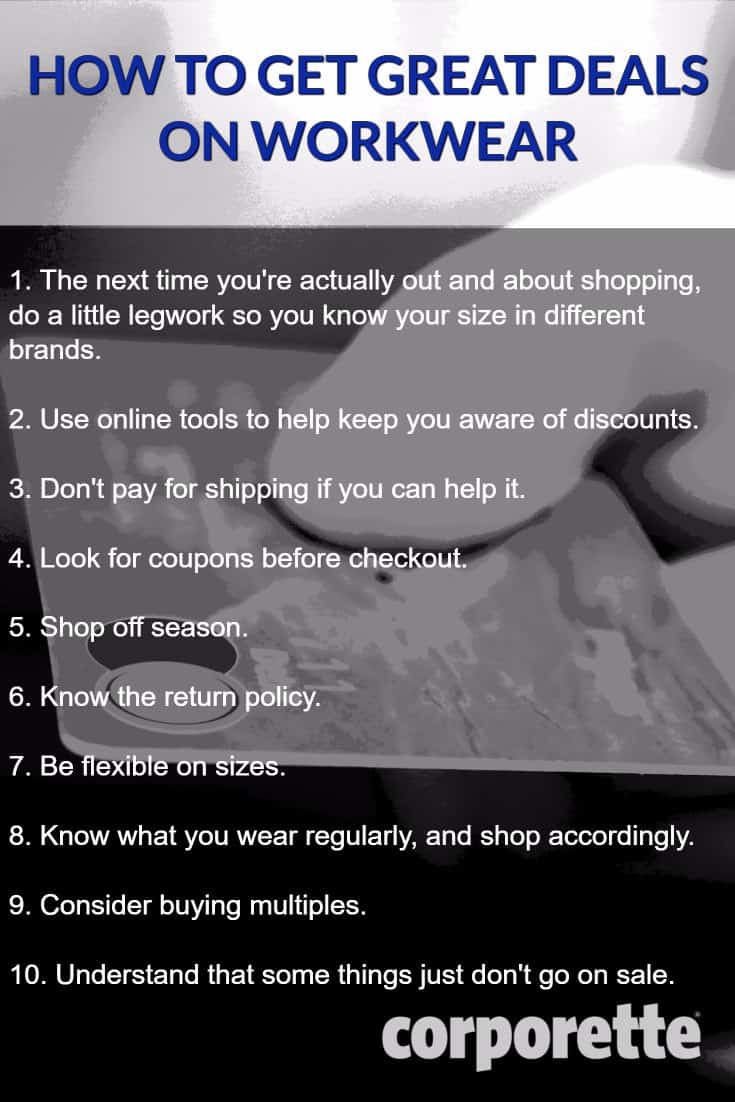 3.  Don't pay for shipping more than you have to.  When I shop online, I haaate paying for shipping — it's my number one pet peeve.  If there's a minimum for free shipping ($75 or $200 are frequent numbers) then I we will almost always try to fill my cart with at least that amount.  Bloomingdales had great sales recently and, the bag I wanted — a Treesje bag marked from $600ish to $180ish — would not have gotten me free shipping.  So I also bought a pair of Ralph Lauren shorts marked to $8 (I never wear shorts, but always pack them on vacations, so the price worked well) and a Kooba bag (also marked to the $190 realm) that I was curious about.  I wound up returning the Kooba bag, but the Treesje bag and shorts were great deals, and I still got the free shipping.
4. Look for coupons before you checkout.  I almost always check RetailMeNot before purchasing anything online; I also get a lot of e-mails directly from stores, which frequently come with coupon codes.
5. Shop off season. That Treesje bag I mentioned?  White patent leather — it arrived the weekend after Labor Day, meaning I won't get to wear it for nearly a year.  That's ok, though — when Memorial Day rolls around I'll be salivating for it.
6.  Know the returns policy. Particularly if you're filling your shopping cart in order to get free shipping, you need to  be sure you know how long you have to return items.  Some stores are very friendly — for example, I bought a ton of white dresses from Nordstrom's, on sale, when I got engaged — different sizes, different brands, etc. — probably spending about $400 on four or five dresses.  Nine months later, when it was time to get dressed for the rehearsal dinner, I tried on the dresses and wore the one that fit the best; I returned the rest without hassle. (Just to clarify — I don't recommend you stretch it out to 9 months on a regular basis. Rather, just know the returns policy so you aren't surprised if it's a 30-day policy and you thought you had 60 days.)
7.  Be flexible on the sizes. While in #1 we advise you to know your size, we also advise you to be a bit flexible on size when you're ordering online.  A lot of great sales happen on clothes that have the wrong tag.  So if you see a size 8 and you're a size 6, if the deal is right (and returns won't be a hassle), give it a try.  (We would not necessarily advise this for shoes, though.)
8. Know what you wear regularly. My weekend uniform tends to be black t-shirts and jeans, so I frequently check around for black t-shirts on any site I'm shopping.
9. Consider buying multiples. If you see a deal on something that you already know and love, consider buying multiples, either in the same color or a different one.  I already mentioned my Iisli sweater, but I've done this a number of times — jeans, shoes, t-shirts, even bags.
10.  Understand that some things just don't go on sale, while others might be able to be negotiated if you're buying in person.  For example, I've never seen a classic Louis Vuitton bag on sale, and proudly bought mine at the store for full price.  On the other hand, they say that jewelry can be negotiated — for example, if you're buying a good watch (Cartier, Rolex, etc.) from a reputable store it's not uncommon for the sales person to give you a 15% discount. (You can also sometimes get a great deal on a handbag if you open a new credit card at the store.)
Readers, what are your best tips for getting steals online?  Any victory stories you'd like to share? What are your best tips for getting great deals on workwear?