Today's reader mail comes from J, who is trying to keep her pants from dragging on the ground during her commute…
As a New Yorker, I walk at least a couple blocks to get to commute to work. As many women do, I usually leave my heels at my desk at work and wear more comfortable shoes to and from work.

The problem is that for my pants to look good with heels, they are too long to wear with the comfy flats/cute sneakers I wear for the commute and drag on the dirty streets. How do women who have to walk for part of their commute deal with this conundrum and not ruin their pants???
This is a dilemma a lot of women face, and there are a variety of ways to deal with it.
First, I would suggest assessing what heel height, in general, you're comfortable in for work shoes — and having your pants hemmed to that level.
As a reminder: your pant should brush the top of your foot, and no more than an inch or so of heel should be showing in the back. For me, that comes to around 2″, 2.5″ — which, honestly, can usually be worn with commuting shoes that have a decent (thick) sole.
(I just tend to wear our higher heels exclusively with skirts instead — it works out particularly well in the summertime if I'm commuting in flip-flops.)
Some of the readers' favorite flip flops for your commute or weekend, as of 2023: OluKai / Havianas / Rainbow Sandals / Okabashi / Reef
Honestly, I've often found that I could wear a regular flip-flop with full-length pants, and then switch to a very low kitten heel at the office, without there being too many problems. I always commuted in Reef sandals (they have arch support!).
These are some of our favorite comfortable low heels for work as of 2023… also check out CK Calvin Klein, Trotters, Sam Edelman, and Sarah Flynt!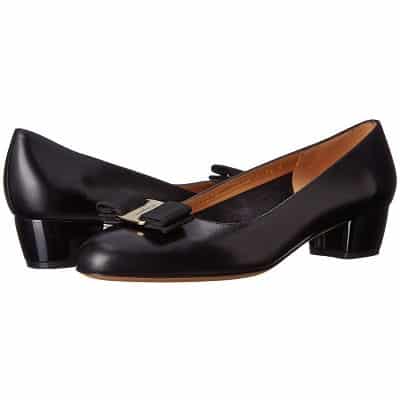 But let's say your comfort level is close to 4″. In that case, you have a few options.
1) Find a great pair of wedge heels that are comfortable enough to walk in on your commute to maintain the height of your heels.
For example, the brand Miz Mooz consistently gets good comfort reviews for some of its higher heels, or even Skechers makes sneaker-type shoes that have a higher heel.
As of Dec. 2023 there are a lot of wedge heels for work lately that look great for commuting or learning to walk in heels… Nordstrom especially has a ton, as does Theory, J.Crew, and Vivaia! Some of our current favorites:
2)  Look into the special products — for example, some of the products we like for gaping blouses might also help you create a temporary hem…)
Some of the top products to help you fix a gaping blouse include:
Above, some solutions for gaping blouses: 1) Topstick toupee tape 2) double-stick medical tape 3) Flash Tape 4) Fearless Tape 5) black & white and colorful safety pins — see more clever solutions for workwear problems in our Amazon shop!
The other obvious issue here is when the weather is bad — if there's rain or snow, it's highly likely your pant legs are going to get wet, no matter where your hem is. I love my Hunter boots for when it's raining — I try to wear a skirt on those days, but I will tuck my pants into my boots if I need to). You can see all of our favorite rainboots here…
Readers, how do you deal with the commuting conundrum — how do you keep your pants from dragging on the ground?
Updated stock photo via Stencil. Originally pictured:  Pants too long, originally uploaded to Flickr by puck90.)