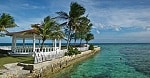 2015 Update: We still stand by this advice on resort chic for a business meeting in the Bahamas, but you may also want to check out our more recent post on what "resort business casual" actually means.
Reader L has a question about what to wear for a business meeting in the Bahamas…
Unlike many of your readers, I am not a lawyer but am an MBA grad working in Investor Relations. After a couple of years of trudging through the economy, the management team has decided to have our small strategic planning meeting in the Bahamas next month (yay!); however, I am at a loss when it comes to attire. The information provided says "resort chic". I'm assuming that means clothing which does not consist of a printed hibiscus sprawling across ones chest. Can you give me some suggestions where I can go to find classy resort wear? Thanks a bunch. I'll toast a fruity drink to you!
Well, I'll do anything to have a fruity drink toasted to me. :) Honestly, though: why do companies keep doing these kinds of awkward retreats, without specific advice for women? The men who attend this meeting will show up in khaki pants and a button-front shirt and be A-OK; if they're more formal some may have a linen blazer with them, whereas others may wear shorts with untucked button-front shirts (with the sleeves rolled up, of course). Either way you slice it, the margin of error will be fairly small for the men. Whereas for women — when one says "resort chic" my imagination runs from the casual hippie clothing like a maxi dress to the more high-fashion model look of someone 6′ tall wearing short-shorts, 4″ heels, and perhaps an expensive blouse, loaded up with jewelry and a sour expression. Or, of course, a great bikini… but none of those choices really seem ideal for your situation, because you don't want to confuse vacation with a business meeting  (Pictured: Bahamas Gazebo, originally uploaded to Flickr by bryce_edwards.)
As a woman attending such a meeting, here's my $.02:
a) Check with any other women attending the meeting what they're wearing, no matter whether they're junior or superior to you. Ignore anyone whose outfit involves a flower in her hair or a midriff-baring top, and sift through what's left.
b) Figure out where the actual meeting will be held (you can call the meeting spot in the Bahamas directly to get this info if you want to). Inside in an air-conditioned conference room? Or outside on a sweeping veranda, with possible issues from heat, wind, and bugs? (If it's held outside and you have hair that is long enough to pull back, I would advise doing that at the beginning of every day you're in the Bahamas on business.)
c) Build your wardrobe around a few basics. For example: lightweight trousers in a cotton or even a linen can easily be paired with a t-shirt (either brightly colored or not) for a no-fuss wardrobe; you can add a cotton or linen blazer to the ensemble to make it more formal, or a colorful wrap to make it more casual. Being that you are in the Bahamas, I might bring sandals instead of pumps (but make sure you get a pedicure before you go). Other basics that might serve you well (with little space) would include a sheath dress, which you can wear to dinner by itself if you go somewhere nice with the team, or with a blazer for a meeting if things are more formal than you anticipated. Depending on how you feel about shorts personally, you may even want to pack a pair or two if they look good with a blazer. Personally I would avoid skirts and dresses for the meeting — just thinking of my own collection of sheath dresses for the office and jersey dresses for play, it seems far too easy to swing either too casual or too dressy for the meeting.
Even with those caveats, I must say I'm jealous you get to go to the Bahamas on the company dime.  Try to take at least a day or two extra for yourself (and your honey, if you can) to enjoy the tropical retreat — and pull out those maxi dresses/short-shorts for those personal vacation days.
Readers, what are your thoughts on business attire for a meeting in the Bahamas? What does "resort chic" mean to you?