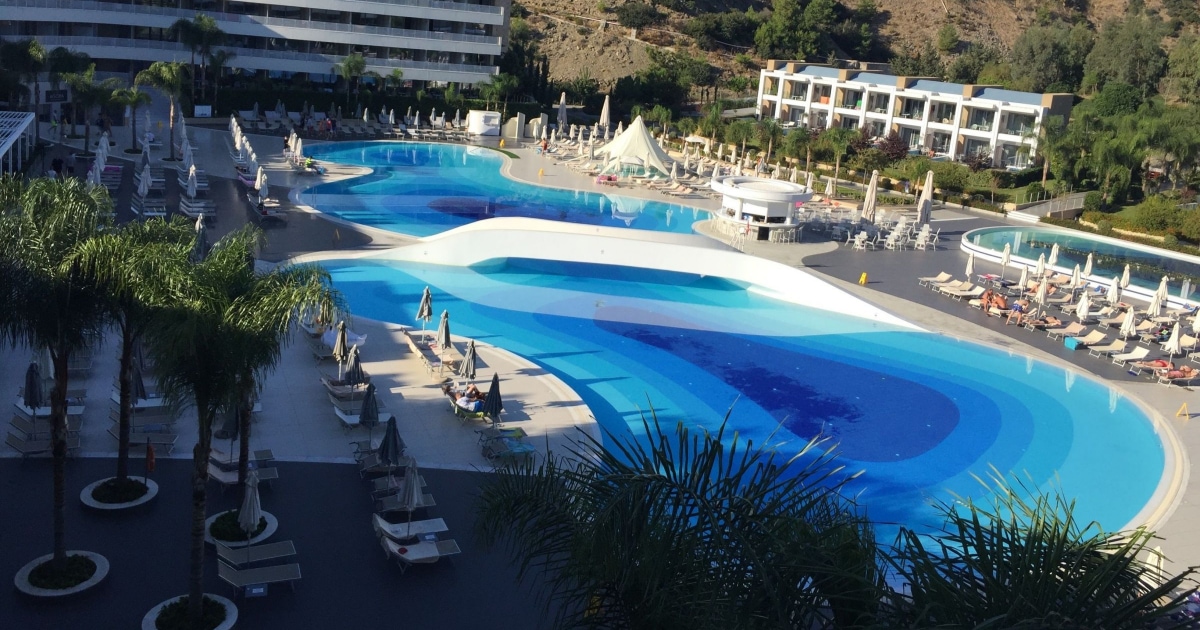 What do you wear to an event that calls for a "resort casual dress code" for business clothing? (Or: what do you wear to beachy conferences?)  Key factors: You already look young for your age, you're at least 20 years younger than any of your colleagues, and you'll be meeting some of them for the first time. Oh, also: The meeting is in Florida, so to complicate matters further, you'll probably encounter heat and high humidity outside and frigid air conditioning inside. Reader C wonders:
Can you help me with suggestions on "resort casual attire" for a marketing meeting in Florida? I've been on my traveling/remote team for 1.5 years but have yet to meet some of the team. I am not only a young looking 28-year-old but my entire team's junior by 20-25 years. My first thought when we say "resort casual" is maxi skirts and tropical dresses which doesn't exactly scream take-me-seriously. I have a few thoughts on do's and dont's and was wondering if you had any guidance or additional thoughts. Thank you for any help!

Do's: Ankle length slacks, flow-y top, colorful scarfs, knit pencil skirts, flats, cardigans
Dont's: Sandals, maxi skirts/dresses, tank tops, pumps, blazers, tights
On the fence: Jeans, white pants, wedges
Reader M has as similar question, although this one involves a party that's part of a trade show:
Hi! I live in Roanoke, VA, and am attending a Vendor Show in Orlando, FL, next week. The second day of the show, there will be a "Dinner & Beach Bash." What should I wear?
We talked about a slightly different dress code, "resort chic" (who makes these things up, anyway?) a few years ago, and also what to wear to an office pool party (cringe), but not this exactly.
I think part of my answer hinges on what your regular office culture is, as well as what your regular workwear is. Someone who normally wears crisp button-front blouses and fitted sheath dresses will wear something very different from someone who wears asymmetric Helmut Lang-type tops and Theory track pants (the track pant trend is worthy of a post in and of itself!).
General Tips on What to Wear for Beachy Conferences
Some general tips on what to wear when conducting business at the beach:
Figure out what the status quo is.  Ask other women, and/or see if you can find pictures of previous events. If you know the location of a particularly tricky event (such as in Reader M's case), call the event space for tips on what to wear; they can also give you information on what's being served. (Sit down dinner with serious menu vs. buffet-style vs. quirky/fun menu all say very different things to me, fashion-wise.)
Think modesty — it's a business retreat, not a honeymoon. It sounds like both Reader M and Reader C are already thinking along these lines, but: be mindful of cleavage and hemlines, of showing "unusual" skin (e.g., dresses with odd cutouts) — even of wearing non-opaque white pants. Reader M may want to review our post on what not to wear to black tie events — if she still doesn't know what to wear after the first tip (talking to people/looking for pictures), I would get a very modest maxi dress and plan to wear that.
Along similar lines: exercise good judgement with regard to the sun.  You don't need to have your nose painted with zinc, but I think wearing a hat, rashguard, or other sun protection can be a bit like wearing a Fitbit to the office — it silently conveys a lot about personality traits that are good for business, such as being educated, health-minded, and cautious where appropriate.
Make the upscale choice where possible.  For example, while I wouldn't say flip flops or sandals are totally out, I would say that if you have a choice between your Old Navy flip flops and your leather Manolo flip flops… well, choose the Manolo. Ann Taylor and other stores often have a whole resort business category (which isn't to say I agree with EVERYTHING in it, but it's a good starting point that you can dial up or dial down depending on your personal style and budget).
Thoughts on What a "Resort Casual Dress Code" Means
With the above in mind, let's take a look at Reader C's guesses on what may or may not be appropriate for her resort casual dress code:
"Do's: Ankle length slacks, flow-y top, colorful scarfs, knit pencil skirts, flats, cardigans" — I think all of this would be acceptable. I'd also say that ankle-length pants have gained so much popularity that you can wear those as well, as well as flared dresses or skirts. Here's some advice you probably won't see me give any other time: If you happen to already own a knee-length pair of Bermuda shorts, you may want to pack those as well. I would wear them ONLY after you've seen someone else wear them, and I would be as formal as possible with them — if there's a choice in footwear, wear them with the same footwear you'd wear with a skirt, not with the footwear you'd choose for jeans.
"Dont's: Sandals, maxi skirts/dresses, tank tops, pumps, blazers, tights" — Barring some religious requirement, please do not wear tights to the beach — pants are fine. I would actually say that some blazers (particularly linen ones or white ones) are totally fine for a formal beach meeting, and would be particularly great to help you cover up a tank top. Regarding sandals — like I said above, I wouldn't cross those off the list entirely, but I would try to make the upscale choice where possible. I wouldn't cross pumps off the list either — a nude-for-you pair of pumps can be perfect with a ton of outfits and be a great counterpart for bare legs. One note regarding bare toes though:  while you don't need to have color on them, your feet and toes should be at least a bit taken care of — no jagged or discolored toenails, identifiably-rough/cracked heels, etc.
Here are our latest favorite nude-for-you heels for work and beyond:
2023 Update: Some of our latest favorite nude heels for every skin tone include the following — see the full post for all the details!
As for maxi dresses for business… I'm curious to hear what readers say. I think a) if you're pregnant or b) you have a work-related dinner and a limited wardrobe, wear the maxi dress (with different jewelry and accessories than you would for a formal dinner). In reader C's case — where she's already feeling young and seems to be coming from a conservative office/personal style — I'd probably avoid them entirely. For other women in other situations, though… if I already owned one that was modest enough to wear around coworkers, I'd pack it, along with a shrug, just in case after a day or two of meetings I felt comfortable wearing it.
Hunting for lightweight blazers in linen and other fabrics? As of 2023, J.Crew's Parke blazer is available in linen, as is this super affordable Quince blazer. Along related lines (all machine washable!), check out Uniqlo's Airsense jacket (lightweight and stretchy), Madewell's Drapeweave line (lightweight and drapey) and Brooks Brothers' Soft Icons line (lightweight and drapey).
On the fence: Jeans, white pants, wedges" — Again, my answer here is that everything depends… I'd avoid wedge espadrille shoes unless they're brand new (they look old so quickly), but I think leather/cork/wood wedges could be acceptable. With white pants — there are definitely office-appropriate white pants; just stay focused on how opaque the pant is (and what your undergarment is). As for jeans… I'd agree I wouldn't wear jeans, but only because denim is heavy and hot. It takes up room in your suitcase and it isn't easy to wear denim comfortably in a hot climate.

Readers, what would you wear in either Reader C or Reader M's situation? What do you think a resort casual dress code means — and what would you wear to a beachy conference? What do you think of Reader C's suggested list of do/don't/on-the-fence items?
(Pictured: Boca Resort – Boca Raton, Fl, originally uploaded to Flickr by Charlie Anzman.)