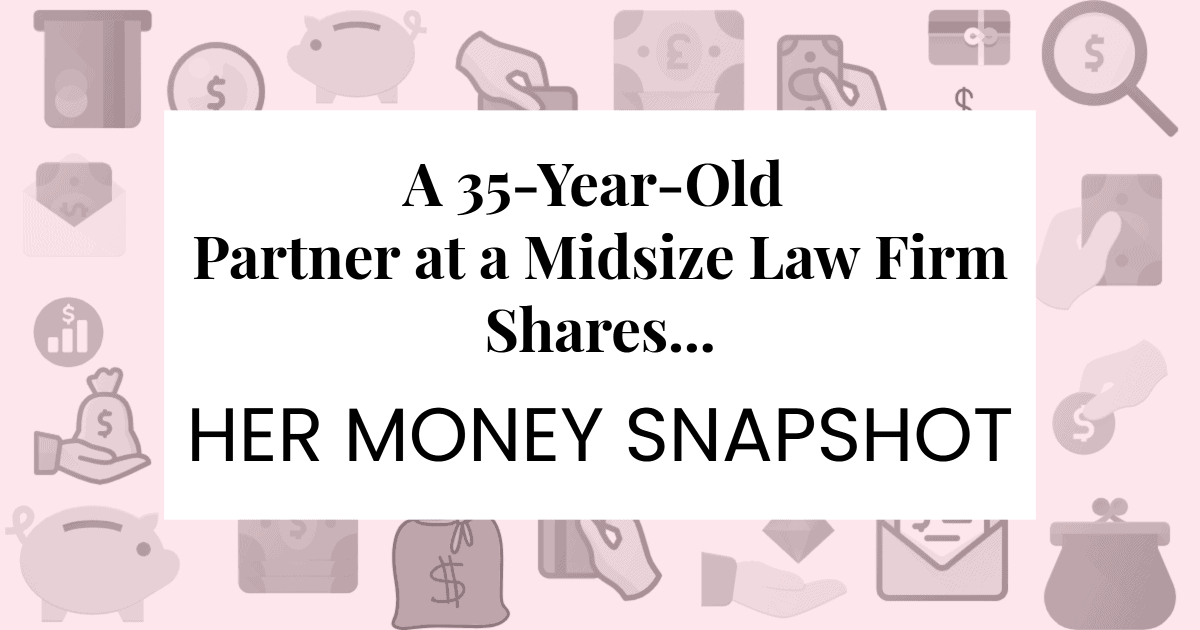 For today's Money Snapshot, we're talking salary, net worth, debt, and more with Corporette reader JS in Cleveland, OH, who is a partner at a midsize firm. She noted, "I got terrible financial advice from my parents, who told me not to worry about my student loans (after all, they had student loans and it worked out fine). My husband has no student loans and is incredibly kind and patient about the fact that I obsess over how I am going to pay them off. In 10 years I have managed to pay $80,000."
We got a few requests from readers to launch our own "money diary" series, so we've asked willing readers to fill out a form with lots of details about debt, spending, saving, and more! If you'd like to fill out the form and be considered for a future personal money snapshot, please click here to submit your response! You can see a PDF of the questions if you want to review them ahead of time. See others in the Personal Money Snapshot series here.
Please remember that this is is a real person who has feelings and isn't gaining anything from this, unlike your usual friendly (soul-deadened, thick-skinned, cold-hearted, money-grubbing) blogger — so please be kind with any comments. Thank you! — Kat
Name: JS
Location: Cleveland, OH
Age: 35
Occupation: Midsize law firm partner
Partner: 36 years old — he's a software development for the government. He knows he could make more somewhere else but you can't beat his benefits.
Income: $125,000 (a COVID pay cut; used to be $147,500)
Household income: $215,000
Household net worth: Not including retirement accounts, my husband's and my net worth is $15,000. With retirement accounts, we are close to $300,000.
Net worth when started working: At 25, my net worth was negative $270,000(ish). I had a mix of private and federal student loans and some interest capitalization events that likely made debt of about $240,000 more like $270,000.
Living situation: Own home; $1,300/month (including taxes and insurance)
NOTE: Because it's been several months since JS submitted her Personal Money Snapshot, we asked her for an update. Here's what she shared:
Well, first thing that's changed is I made the switch to an in-house position and my new salary is now $157,500, which pushes our joint income to $247,000. I now work in a small legal department and love (love) my job. I'm learning a ton and have given up litigation. It's a whole new world! In the new role I am in a generous bonus program (that I understands actually pays out — well) and I hope they will continue to assist my quest of having my student loans paid off by the time I'm 41.
On that topic, the continued COVID student loan forbearance and general ability to save during lockdown has been a game changer. I paid off my last refi loan and will have $80,000 saved up by February 2022, which will allow me to right-size my remaining student loan (from $216,000 to $136,000) by taking out a partial refi loan and then paying it off immediately. That means I should be off IBR for 2023 tax season. (I will likely still qualify for IBR for one more year given job change and change to bonus cadence.) That means my husband and I will be able to file our taxes jointly in a little over a year!
The plan from there will be to take another small refi loan (likely $40,000 at a time) to continue to chip away at the remaining high-interest student loan. So between saving my monthly payment and saving appx $24,000 in just student loan interest due to the forbearance, the pandemic has been good for our financial picture (lemonade out of lemons and all of that). I could have not deferred my payments but opted to put my monthly payment in a savings account that had .40% interest on it rather than pay it to the Feds when the interest rate is zero.
I thought about investing the money I was saving, but my financial advisor advised against putting the money in the market if I thought I would want it in the short term (which I do). So maybe I could have put the money to better use the last year and a half but I didn't know how long the forbearance would last and it seemed like the prudent, if conservative, move.
We also got the garage remodel done — came in well under budget, so the joint "wedding" savings is now more like a vacation and large project fund. We put any wedding reception on hold — who knows, maybe we will have an anniversary party in 2025 or maybe we won't. Right now, it's just not a priority.
Debt
What does your debt picture look like?
Our debt is mostly my student debt. We have very low mortgage. (We have a $100,000, 15-year mortgage on a $250,000 house — we live in Cleveland, so that's a 4-bedroom, 1,600-square-foot home 15 minutes from downtown. Yes, you all can now be jealous). In 10 years I have managed to pay off $41,000 in private student debt plus $40,000 in federal student debt. I used the snowball method of student loan payments — tackling my private loans first. Meeting my now-husband has greatly aided in my ability to pay down my student debt. Two years ago, I refinanced my federal subsidized consolidated loan of $47,000 and have only $7,000 left to pay, leaving my giant consolidated, unsubsidized student loan that I intend to tackle by refinancing portions over time. We have no car or credit card debt.
Debt: $216,000 of my federal student debt (on IBR) plus mortgage of $100,000. $1,449 in federal student payments (on IBR), plus $650 paid on a re-fi'd private (formerly federal) student loan. I am slowly but surely paying off my student debt.
How much money are you spending each month to pay down debt?
$3,500
How did you pay for school?
My private undergrad schooling was paid through a mix of scholarships, grants, federal and private student loans — leaving me approximately $60,000 in the hole with a B.A. I went to law school in 2007 with promises that I would qualify for substantial need-based financial aid my second and third year of law school (but that it only applied to second and third years). That program was eliminated my first year of law school — I learned the value of illusory promises not only in my law classes but through firsthand experience.
Do you own or rent? How much do you pay monthly?
Own home: $1,300/month (including taxes and insurance)
If you have children, how much do/did you spend for childcare and/or education?
N/A — we put $50 a month into a 529 account we opened for my niece.
Home debt: Share your theories and strategies with us.
My husband bought our house before I met him and chose a 20-year mortgage. He bought a house that he could pay on his own (although he was not much of a short-term saver when I met him). The home has appreciated approx. $100,000 in the last five years (god I love that man). We recently refinanced the house through one of my firm's clients and were able to lower the monthly payment and stay on a 15-year mortgage (i.e., we did not lengthen or shorten the term of the loan but still save money every month just from the lower interest rate). We plan to stay in this home for five years and then look for our forever home.
We asked JS what her "forever home" would be like, and she shared this:
Would love to find a home with some updates but with a cozy feeling (we love real natural wood and character in a home), with at least two full baths. A large bathtub, or a bathroom big enough to put one in, will be mandatory. Neither my husband nor I love open concept, but a bit of room to entertain would be nice (a family room addition off a kitchen would be great and it's not uncommon to see here on older homes). We'd be open to fixing up a house as long as it wasn't massive structural issues — we've done that over time to our current one. Ideally, we'd keep with a smallish four-bedroom home so my husband and I each have our own dedicated spaces, with a master and a dedicated guest room — but that is flexible as long as we have enough closets/storage and a dedicated guest room.
We don't want to go super big on the next house — it will be just the two of us. Location is currently the wild card — my new job is across town and "far away" from both his family (would put us at least 1.5 hrs. from them instead of 40 minutes) and also our preferred living location. There are some beautiful homes on the other side of town but my husband really wants a walkable neighborhood with more of a city feel, which will limit options. I'm only doing the 45-minute commute twice a week currently, but I'm not sure whether I can keep that up forever, especially if I'm eventually back in the office five days a week.
Have you paid off any major debt?
I consider the payment of approx. $80,000 of student loans in 10 years an accomplishment. I am sure that for some people that is all of their student loans and a standard track, but I still have a ways to go. I am not counting on my federal student debt being forgiven (and am concerning about a COD event when that would happen in 15 years) so my goal is to pay off as much as possible while still saving for retirement.
Savings, Investments & Retirement
How much do you save each month or year in retirement vehicles like 401Ks, Roth IRAs, and others?
I max out my 401k; my husband similarly maxes out his retirement with the feds.
How much money do you allocate to other tax-savvy investments/accounts like HSAs, 529s, FSAs, and others?
I put $50 a month into a 529 for my niece; until recently I had an HSA that I fully funded but no longer have due to my husband's insurance. I have a small IRA (approx. $16,000) that I inherited from my mother and a small brokerage accounts with stock (approx. $13,000) that I inherited from my grandparents. My brokerage account is over-concentrated in Apple but my grandfather smartly bought Apple in the '90s and I don't plan to sell my shares, and consider it a passive, long-term investment. Once I am out of student debt, I intend to put money into the market but would rather concentrate on getting out of student debt.
How much do you save outside of retirement accounts?
I automate savings that is net $1,500 a month. $2,000 a month is put into two long-term savings accounts — $1,000 to a joint account that my husband and I share, and $1,000 to my own savings account. From my savings account I pay $500 to my refinanced federal (now private) student loans. Our joint account was initially a wedding savings account and now is a savings account to rehab our garage. We have approx. $45,000 in short-term savings currently — equally split between my individual and our joint savings. The joint account will pay for our garage remodel and then be replenished. My individual account is my vacation and emergency account that I do not let dip below $15,000.
Talk to us about investments. Talk to us about investments: Do you have/use a financial adviser or planner?
I have access to a financial planner through work and have used him to talk about risk in my 401k and he also has my inherited IRA and brokerage account. He keeps the fees low and all advice re 401k is free through work.
Do you have an end goal for saving or are you just saving for a rainy day?
I save in case of emergencies. Having experienced the 2008 recession and now the pandemic, I have learned that an emergency fund is key to me feeling secure in uncertain times.
When did you start saving seriously? How has your savings strategy changed over the years?
I started saving into my 401k when I got a raise at my firm (from about $65,000 a year to $90,000). Despite the stupid student loan debacle, I tend to be conservative with my money and always have an emergency fund. That started in high school.
What's the #1 thing you're doing to save money, limit spending, or live frugally?
We do not limit spending but we are not spending as much as we used to.
Do you have an estate plan in place? A trust?
No. My husband and I only recently married. We need to but have not yet.
How much do you have in cash that's available today?
$10,000
How much do you have in cash that's available in a week?
$45,000
How much is in your "emergency fund," and did you include it in the previous question?
$20,000; yes
How much do you have in retirement savings?
$185,000 (me); $150,000 (husband)
How much do you have in long-term investments and savings (CDs, index funds, stocks) that are not behind a retirement wall?
$25,000
If property values (home, car) are included in your net worth, how much are those worth?
We did not include cars in net worth. (Our two cars are probably $10,000–$15,000. He has a 2008 Ford Focus; I have a 2016 Mazda3.) House is included, home is $250,000 with $100,000 mortgage (again, gotta love Cleveland).
Spending
How much do you spend on the following categories on a monthly basis?
Groceries: $400
Restaurants, bars, takeout, and delivery: $150
Clothing and accessories: Currently, minimal
Transportation: Currently, minimal
Entertainment: $200
Health care – premiums and other costs: On husband's insurance, $300 a month for the both of us — medical, dental and vision
What's your spending range for these things? What's your average?
Vacations – Range: $3,000–$10,000
Vacations – Average: $5,000
Charity – Range of donations: $250–$500
Charity – Average donation or giving amount: $250
Individual items of clothing – Range: $50–$1,500
Individual items of clothing – Average: $200–$500 on shoes and purses; $1,000 on suits; $100–$500 on dresses; $50–$150 on workout wear/loungewear
Car – Range: $20,000–$30,000
Car – Current main vehicle: $22,000
Apartment or house – Current main residence: $1,300/month
Fill in the blank on this question: I could save _____ if I stopped ______, but I don't because _______.
This used to be restaurants but COVID took care of that. [Note: JS's Money Snapshot was submitted in late 2020.]
When was your wedding, how much did it cost (total), and how much did YOU pay?
Wedding was in 2020; total cost for COVID house wedding $13,000.
Wedding: Tell us about it!
We got engaged in January 2019 and started planning a September 2020 wedding. When COVID threw us a curveball we canceled our reception and we got married in a family friend's home with 44 people present. We livestreamed the ceremony so all our friends could see. Everyone wore masks for the ceremony and socially distanced after for heavy hors d'oeuvres and cocktails. No COVID cases resulted! We ended up saving money in the process. We are looking to have a budget-friendly reception in 2022.
At any point in your life to date, has inheritance played a role in your money situation?
No. I have two small inherited accounts that continue to grow but I do not anticipate touching. I am paying down my debt, saving for retirement, and those small accounts (together about $25,000) are part of our emergency savings.
Has your family provided financial support in your adult life? (Or, do you provide support to them?)
No
Does your family provide any non-financial support?
No
Money Strategy
Do you have a general money strategy?
Live below your means and don't become house poor.
Time vs. money — do you spend money to save time (e.g., cleaning service)? Do you donate your time instead of money? What else does this phrase mean to you?
Yes, I absolutely use my money to automate my life. A cleaning service is essential to how we live.
What advice would you give your younger self about personal finance?
Don't take out student loans! Go to community college! If promises are made re need based aid, get that in writing!
Icons via Stencil.