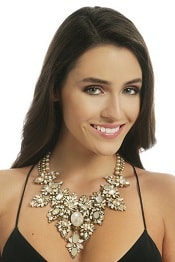 How do you stock your closet full of "fun" clothes when your time and energy is usually spent in working clothes or lounging clothes? Is there a way to shop for special occasions — on a budget?  Reader A wonders:
I spend most of my clothing budget on work clothes (I'm a DC lawyer) and casual weekend wear (even going-out clothes are fairly casual here, imo). But when something "special" comes up – a bachelorette party, new years eve, a trip – I feel like I never have anything fun or sparkly or special to wear. I'm wondering how other ladies stock their closets full of things that are frankly, impractical, 99% of the time. Do you buy things on sale when you see them, not knowing when you'll wear them? Shop specifically by occasion? For example, I have a pair of very sparkly, very high, peep-toe pumps at home that I found on sale, with no occasion (or even outfit) in mind to wear them. The practical part of me says to return them and save the cash, but then I wonder if I'll be kicking myself the next time I have a fantastic party to attend and nothing to wear.
This is an excellent question, and while we've talked about shopping habits (including moratoriums and "crop rotations") and shopping for non-essential items, we haven't talked about this specifically with impractical, fun clothes. (For example: the necklace pictured above is definitely fun — but how often will you wear it?  (And: can you wear it twice?)  Erickson Beamon Girlie Queen Necklace, retails for $1728, but available for rent for $250 at Rent the Runway.) 
Part of the reason I started this blog was because I was frustrated with media that seemed to celebrate an $80 slouchy t-shirt — my theory at the time was that my entire wardrobe was either work clothes, working OUT clothes, or GOING out clothes — and the $80 slouchy t-shirt had very little place in that world.  (2014 take: Everlane has a great slouchy t-shirt for $15.)  I have always had a FEW going out clothes, though — sexy, fun things that I certainly wouldn't wear just to lounge about and watch TV.  For example, I wore this pictured deep (deep!) V-neck tee out to bars and parties with friends; I actually snapped this picture right before my second date with my husband.  (Nope, don't remember why.)
Personally, my approach has been to buy them on deep discount, to always buy things that would generally work with jeans (tops) or were outfits in and of themselves (knock 'em dead dresses), and to keep my "going out" collection small enough that I could keep track in my head of what I had.  For a BRIEF period (many many moons ago!) I even had a "hanger system" — each garment had its own hanger, to which I'd taped a Post-It note where I kept track of when I wore the outfit (and who had seen me in it).  A few other thoughts:
– Fun tops — I think this depends hugely on where you are in your life, and where your friends are in life.  Before I met my husband I went out several times a week with girlfriends or on dates, and I had a large-ish wardrobe of fun, flirty things.  After we met we did the "couples nesting thing" where we were far more likely to stay indoor and play board games than go out.  (Now that we're parents, well, we're lucky if we can stay awake through an hour of television each night.) I still have at least a few tops that I can wear out on our occasional date nights or out with girlfriends, but I'm down to 1-3 tops from what was once a collection of 20+ tops.
– For party dresses — every woman needs at least one dress that you can wear to a wedding, fancy dinner, or other special occasion.  I've never spent a lot of money on these, to be honest, but I've always had at least one or two — dresses from Donna Ricco or Muse or even a lucky David Meister or Kay Unger on sale can all be budget-friendly buys.  If you're on the society circuit or somewhere else where you feel like you really do need a different "party" dress for every occasion (and a designer one at that), then consider Rent the Runway.  Consignment shops can also be great, provided you know which ones in your area have the good stuff.  If you have friends in the same circuit, consider setting up a borrowing circle.
– Re: shoes — you want to have at least ONE pair of shoes for each major "going out" category that you know isn't going to kill your feet.  Sometimes you can repurpose work shoes or casual shoes for the occasion — I've flaunted the "satin shoes only for black tie" rule many a time and worn regular leather pumps — but only because I never found a pair of satin shoes that I was comfortable enough in to want to purchase for such limited wear.  If, in YOUR life, you have multiple black tie events to go to every year (or you know that you have the same one every year), then make the investment in a great pair of comfortable-but-cute versatile satin pumps.  I've always had at least one cute pair of sandals in nude-for-me leather for the summer (great for those dresses, but also for those jeans), and, in the wintertime, I've had at least one pair of boots that was fashionably sexy enough to wear out and about.  If you've had your eye on a much more expensive shoe, you can frequently find pieces "inspired by" much more expensive shoes at budget-friendly places such as Sole Society (or even shops like H&M, Forever21, or TopShop).
– Re: bags — You can get away with "cheap" bags or clutches at a lot of fancier events — simple satin bags seem to go on deep discount often; for years I had a plastic (I think) clutch I got from H&M.  If you're not wearing them often, or wearing them out to places where they might get dirty, you don't necessarily need to go designer/leather/etc. Depending on where you're going (bar or restaurant with friends, for example), you may even want to re-purpose a wristlet for the job.
– Re: jewelry — I'm of two minds here.  I have a pair of sparkly, dangly diamond earrings that I love and, honestly, will wear most anywhere I get the opportunity to wear them.  So even though I keep BUYING fun jewelry, I almost always end up in my diamond earrings.  I've worn them with jeans; I wore them on my wedding day.  Ditto for my right-hand diamond ring.  On the flip side we have super cheap, fun jewelry from spots like Bauble Bar; Rent the Runway also has a fun collection of jewelry for rent.  Particularly for big statement necklaces, which can be just as memorable as a dress or top, it may make more sense to go with an "I'm only going to wear this once" approach.
 Readers, what are your thoughts? How many pieces do you have in your wardrobe that only fill one "slot" in your life?  How much did you spend on them?