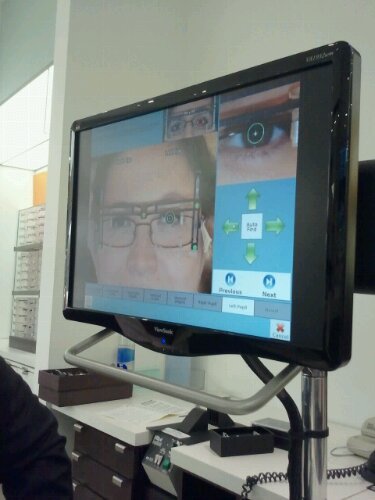 So yesterday, I went to the LensCrafters on 45th and 5th Avenue and had a lovely experience. First, I saw an optician, who took my latest prescription. She had a few fun new tricks up her sleeve, including a way of seeing my eyeball without dilating my eye.* She actually showed it to me on the screen to show me healthy blood vessels and nerves (I didn't think to take a picture of it — it looked kind of pretty, though, a bit like the Aurora Borealis or something). All in all the fitting went by really quickly.
After I selected about a bazillion frames and whittled them down to the one I wanted, it was time to fit my prescription into the lenses.  This is where the AccuFit system comes in — it's a brand new digital system that is about 5 times more precise than the manual method (which you may remember because it looks like binoculars or some such thing).  It measures your pupil distance, the spacing between your eyes, and the shape of glasses, all to ensure that the actual glasses fit the best in the frame.  (I've actually tried to measure my husband's pupil distance when we ordered glasses online once — let's just say it's a lot trickier than it sounds, so I appreciated the digital accuracy.) Apparently, less than 5% of American stores use this system, and so LensCrafters is going to be the first retail network to bring digital measurements to the U.S.  (I snapped a picture with my camera of the screen after they'd done my AccuFit-ing — it's definitely cool.)
One of the fun things about the experience was that I bumped into some of my fellow fabulous bloggers who are ambassadors, including peeps from StyleMom, Gala Darling, Beauty Blogging Junkie, and SugarLaws — you can check out some of their experiences at their websites once they're up.
Stay tuned later this week when I reveal my new frames!  (I was at the store right before they closed, so I'm picking them up later — normally you can get them the same day.)  As I mentioned on Friday, LensCrafters is having their best sale of the season — 50% off the lenses with any frames purchase, which for me is always the expensive part.  The sale goes on until September 12.
* Am I the only one who hates to have my eyes dilated?  I'll never forget going for an eye doctor's appointment or something right before an office holiday party, which was held in the ballroom at a local hotel — it was dark and there were like strobe lights, which added to the surreal-ness (surreality? hmmn)  of it all.  Good times.
Disclosure: In addition to receiving a new pair of glasses, I am also receiving monetary compensation for this ambassadorship.