Reader L wrote in to ask about white pants for work — do they make more opaque white pants for work? What are the best tricks and tips for wearing white pants to work? We've talked about how to keep white blouses white — and the best white opaque t-shirts — but we have't talked about white pants in a long while. First, here's reader L's question: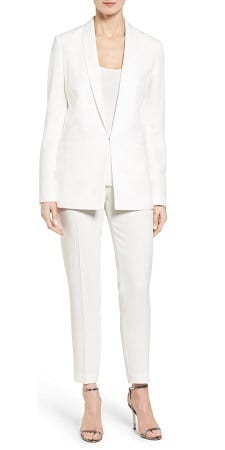 With the beginning of spring and lighter colors I'd love to get a pair of white pants for work. The few I have tried on have been very see-though up top. Do you have any suggestions for white pants or tricks to help with too sheer pants?
First: the old rule is that you aren't supposed to wear white until Memorial Day. So technically, white pants are only for summer, not spring. But I'm seeing them EVERYWHERE this spring (particularly for weekends, with distressed/ripped white skinny jeans) — so they're clearly more popular (to say nothing of all the suffragist connotations with white pantsuits).
Psst: stay tuned for our latest favorite white pants roundup!
So let's talk about this: do you wear white pants to work, whether in spring or summer? What rules do you have around "white pants for work," and what tips and tricks do you have to make sure they're not too sheer?
This post contains affiliate links and Corporette® may earn commissions for purchases made through links in this post. For more details see here. Thank you so much for your support!
White Pants for Work
As always, know your office. I think white pants can work at work, so long as they're office-appropriate. Things to look for: tropical wools, textured cottons, jacquards, lined crepes — heck, lined anything — would be great. Not too tight, not too loose.  As many white/linen options as there are out there, I would avoid linen for the office in springtime because a) the linen is going to wrinkle and make you look a total mess, and b) most of us don't need the cooling effects that linen provides until the dead of summer, and even then it's when the office A/C will be on full blast. 
I would probably gravitate towards more trouser-y versions — a high-waisted, flared pant is a very on-trend look, and a fluid, white trouser pant would be a sophisticated way to wear it at work — but there are also, obviously, a ton of white ankle pant options.  
I always think it helps to look at high end examples first before starting a hunt, so, for your consideration, some splurgey white pants for the office, all courtesy Net-a-Porter (between $500-$1200):
Pictured: one / two / three / four / five / six
And here are some in reasonable price ranges — note that some of these have a "double cotton weave," are lined, or have particularly good reviews. The first one pictured is a ponte, which I could see going either way, but it's a much-loved pant in general and the reviews are very positive, so I'd give it a try if ponte pants sound appealing.
Pictured below: one (ponte) / two (lined) / three (lined) / four (lined) / five (double weave, good reviews) / six (purty)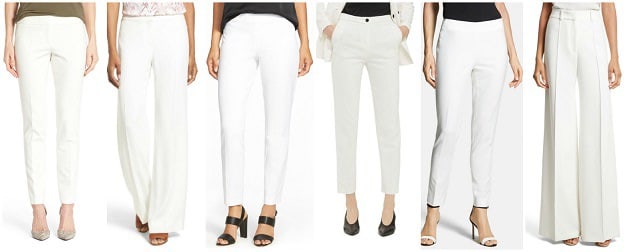 Plus sizes at Nordstrom (Sejour), Eloquii, and Talbots; petite sizes with Nordstrom (Halogen), J.Crew, Talbots and Loft; tall sizes at Loft and J.Crew.
Full pants suits: Boss (pictured at top), Stella McCartney, Reiss, ASOS, NY & Co., Tahari (petite), Brooks Brothers
How to Make White Pants Less Sheer
Remember, Spanx was invented to deal with this very problem — founder Sara Blakley wanted to wear white pants with sandals but wanted to wear pantyhose under them for shaping and opacity; when the cut-off pantyhose kept rolling up she invented Spanx. This one is their best-seller; this one is a higher-waisted version, both around $28; the Target version is only $16. (As some commenters are noting, these are all links to the capri-style, longer-length Spanx — if you prefer a shaping short please make extra sure there is no "line" where the shapewear ends (or, if you're me, uncomfortable sausage-spilling-out-of-stuffing look to things).
If you find Spanx too constricting, there are other options to make white pants less sheer:
look for lined pants (we noted several options above)
wear a silkier version of Jockey Slip Shorts (the wicking fabric has a slightly smoother fabric than the beloved original fabric) or similar non-shaping slipshort (I'm even seeing them as a drugstore hosiery option these days!)
a non-shaping capri legging, either in white or a nude-for-you (this is going to be the least sleek option, as well as probably feeling a bit heavier, but I've heard it works)
As for which underwear to wear with white pants, I would suggest nude-for-you boyshorts or another option with modest coverage, at least for work — I always seem to be stuck walking behind the woman with white pants and a clearly visible thong and it's never registers as a good look.
(Another perspective, not mine: I will always remember the What Not to Wear book (BBC version) where they suggested if your underwear was going to be seen, it should be extra cute, and even had a picture of Trinny crouching down to show off a sparkly butterfly-themed thong.)
So, readers — what say you? Yea or nay to white pants to work? If you wear them to work, do you wait until after Memorial Day, or do they feel like a springy thing to you? Do you prefer to wear white pants as part of a white suit? What are your best tricks for making sure your white pants aren't too sheer?
Social media picture credit: Deposit photos / © mjth.
S