For busy working women, the suit is often the easiest outfit to throw on in the morning. In general, this feature is not about interview suits for women, which should be as classic and basic as you get — instead, this feature is about the slightly different suit that is fashionable, yet professional. Also: we just updated our big roundup for the best women's suits of 2023!
This suit caught my eye at Shopbop – I don't think I've ever seen one quite like it. We've definitely seen suits where the fabric is different on each half, and I've never quite liked those — there's something reminiscent of a jester, I think? But here, where it's only her left shoulder and arm, it's… interesting. I don't hate it.
(As styled, of course, it's totally wrong for work – know your office, but I'm going to guess that at most offices you do not want to show your belly button. I'd swap it out for a work-appropriate bodysuit or other fitted top. Here was our last discussion on crop tops at work…)
The blazer is $550, available in sizes 0-14 at Shopbop, and the matching pants are $395. Neiman Marcus has a matching knee-length blazer, and, because it's Alice & Olivia, there is of course a pair of matching shorts. You can also find the various suit pieces at Revolve, Amazon, and Alice & Olivia.
Pinstripes are definitely trendy right now; we just posted this more affordable navy option from Bloomingdale's a few weeks ago, and ShopBop has another trendy option from Simkhai. This Rag & Bone suit is a bit more traditional, if that's what you'd prefer.
Just hunting for a plain gray suit? Here are some of our favorites: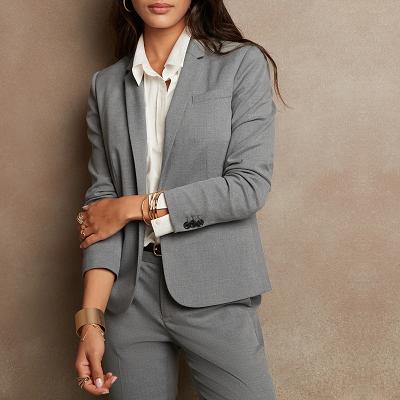 Workwear sales of note for 12.1.23
Our favorites are in bold!
Kid- and Family-Related Sales