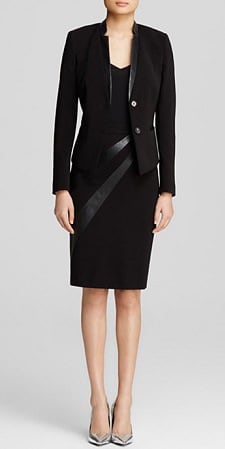 For busy working women, the suit is often the easiest outfit to throw on in the morning. In general, this feature is not about interview suits for women, which should be as classic and basic as you get — instead, this feature is about the slightly different suit that is fashionable, yet professional.
I'm curious to hear what you guys say about this suit of the week: I love the blazer with its faux leather details — that collar! I swoon. I also love the skirt; I'm a sucker for a good sunburst detail.  I love the fit of everything.  And yet . . .  I'm not sure how I like the pieces together.  Hmmn.  The jacket (BASLER Blazer – Faux Leather Trim) is $615, available in sizes 34-50, and the skirt (BASLER Skirt – Faux Leather Inset) is $$355; both are available in sizes 34-50.
Here's a plus-size blazer with similar faux-leather details.