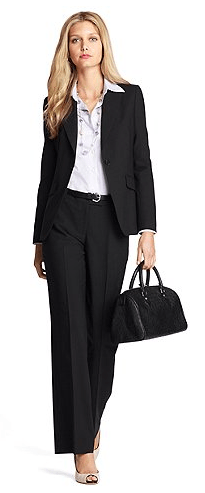 For busy working women, the suit is often the easiest outfit to throw on in the morning. In general, this feature is not about interview suits for women, which should be as classic and basic as you get — instead, this feature is about the slightly different suit that is fashionable, yet professional.
I like this black wool check from Brooks Brothers. The suit itself is so classic that not much can be said about it — wool blend, pants fully lined, jacket half-lined. The pattern is interesting, though, in part because it's such a classic menswear pattern — I think it's far rarer to see a nice woman's suit that has a simple check. The jacket (Wool Check Jacket
) is $498, the pants (Wool Check Caroline Fit Trousers
) are $248, and the skirt (Wool Check Skirt
, not pictured) is $198.