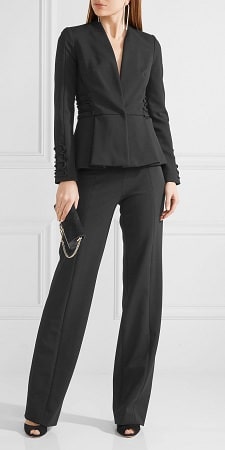 For busy working women, the suit is often the easiest outfit to throw on in the morning. In general, this feature is not about interview suits for women, which should be as classic and basic as you get — instead, this feature is about the slightly different suit that is fashionable, yet professional. 
When you come across a lace-up suit, 95% of the time it's not going to be work-appropriate and will be crossing into the territory of something a madam would wear — not the kind of thing you would wear to the office. This one, I think, can at least walk the boundary, and if you've got a work event in the evening it might be perfect. You could also wear it around the office — but with an actual blouse underneath, of course, not as it's styled here! The jacket (Lace-up stretch-twill peplum blazer) is $1,495, and the pants (Stretch-twill straight-leg pants) are $975.
Here's a more affordable option and another in plus sizes.