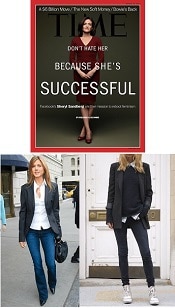 2017 Update: We still stand by our advice for what to wear to a big meeting at a casual office, but you may also want to check out The Ultimate Guide to Business Casual for Women.
When you work at a company with a casual dress code, how should you step it up for a board meeting — or for other important meetings — when you want to look professional but don't know what others will be wearing? Reader A wonders…
I have a fashion question: How does one dress for the board meeting of a "casual dress" company? We are a start-up — this is our first board meeting — so I really don't have a precedent to call on. During a normal work day, my boss (the CEO, age 45+) and I typically wear jeans and a sweater or T-shirt, as we only have phone/email contact with clients. However, it seems like the board meeting calls for a more professional look. I asked my boss about it, he said "What you're wearing is fine." (Faded jeans, a long-sleeved Tshirt and a scarf.) He is not the type of guy I would normally take fashion advice from, and I'm not sure he fully understands the nuance of female dress! Most of the other officers and board members are lawyers, lobbyists, or CPAs. I don't want to show up in jeans, but I don't want to be the only one in a suit either. Is there something inbetween? Dress slacks and a cardi? I am age 35+, and a size 14 (XL), so I don't want anything too clingy or "young". Suggestions?
We've talked about how to do business casual without looking overdressed, a casual-but-professional uniform for women, what to wear to a casual office on your first day, shoes to wear with jeans at work, and more — but not this.
Interesting question, A, and I'm curious to hear what readers say. For my $.02, I would avoid the "dress slacks and a cardi" look when everyone else is in jeans because you inevitably end up looking like the mom of the group. So I'm going to offer you two suggestions and suggest you go with the one that feels right — but again, I'm curious to hear what the readers say.