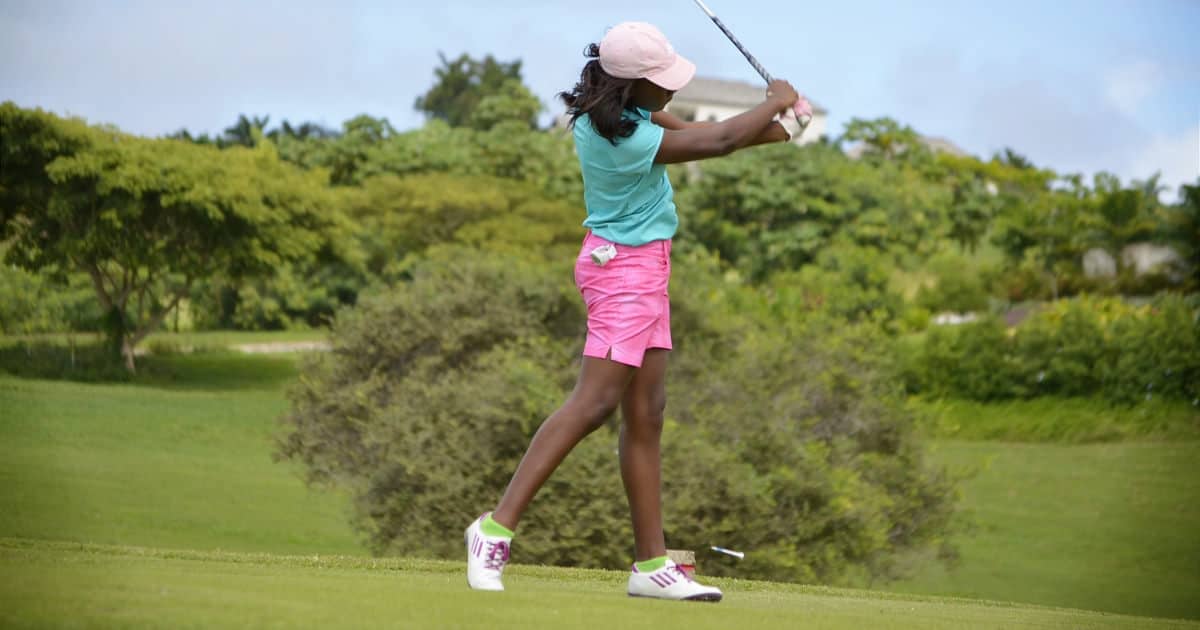 2018 Update: We stand by this advice for what to wear to a work-related golf event — you may also want to check out some of our other advice on what to wear to summer associate events and other team-building exercises like sailing, company picnics, and more.
If you have a golf outing for work coming up, what should you wear? We've discussed what to wear to a company golf outing in the past, as well as golf clothing for a newbie attending a scramble — but not recently. Here's Reader L's question on what to wear for a work-related golf event:
Could you please do a post on clothes for work-related golf outings and where to buy them? I'm attending several golf scrambles with colleagues this summer, and as I've never golfed before, I have no idea what to wear or where to shop for it. I'd like to find things that are appropriate without being frumpy. Thanks!
Both Kat and I will freely admit to knowing next to nothing about golf, so we turned to an expert. Donna Hoffman is the president and founder of Women on Course, an organization that encourages women in business to take up golf by offering various events around the country, a membership program, and special discounts. About 15-20% of the women who attend Women on Course events work in the legal field.
Hoffman shared several useful tips for new women golfers planning to attend work-related golfing events:
Check the dress code. While a public driving range may be pretty relaxed about what guests wear, private clubs enforce more conservative dress codes. For example, a common rule requires sleeveless tops to have a collar. Check the club's website — many times, the details will be posted on the "Guests" page. "When in doubt, call the pro shop," says Hoffman; if you show up in an outfit that breaks club rules, you may find yourself taking "a very expensive trip" to the shop before you're allowed on the course. Items to avoid include yoga pants, denim, and tank tops.
Remember that you'll be playing a sport. Your clothes need to be comfortable, non-constricting, and weather-appropriate. "The first time I golfed, I wore khaki shorts and a polo," says Hoffman. "The shorts split, and the top — when I took a swing, it would ride up." Whether you're browsing your closet or buying online, choose items that have some stretch. Hoffman says that golf clothing includes tops that are longer than the typical shirt and have larger armholes, and she recommends taking a practice swing to make sure your potential purchase allows you to move freely.
Keep in mind that pockets are key. Unless you want to carry around tees and golf balls everywhere (and look silly while you're at it), make sure you have pockets.
Be prepared to sweat. Since you'll be playing during the summer, you'd be wise to buy items made from a technical fabric with moisture-wicking and antibacterial properties.
Don't rush out and buy golf shoes. If you don't plan to take up golf as a hobby and know you'll only attend occasional work events, Hoffman doesn't recommend buying golf shoes. Regular sneakers are fine, she says.
Buy clothes that you actually like. When you're choosing something to wear to these golf scrambles, buy something that's versatile. "I would definitely look for something you can [also] wear off the golf course," says Hoffman. She points out that certain pieces can even take you from the office to the golf course.
Dress the part, even if you've never golfed before. The following clothing mistakes are bound to announce your newbie status:

Low-cut tops
Inappropriate fabrics, like cotton with no stretch
A sweater on a warm day: "People don't realize you're going to be outside in the elements," says Hoffman.
Clothes without pockets
Tops without the appropriate collar: In general, says Hoffman, a collar is "kind of a signal that 'I'm a golfer.'"
Now you've got a better idea of what to buy (check out this recent post from Women on Course to learn more), but where should you shop? Hoffman recommends buying online for better selection. (Pro shops often cater to men, since that's their main customer base.) For stylish golf clothing, Hoffman recommends Sport Haley, which carries sizes 0-18; GGblue, which also has a wide range of sizes; and Kevan Hall Sport.
For those of you who golf: What are your favorite things to wear on the course? Which are your favorite places to shop for golf wear?
(Pictured at top: Under Armour Golf Coaches Polo II, available for $49 at Zappos.)
Social media images via Stencil.