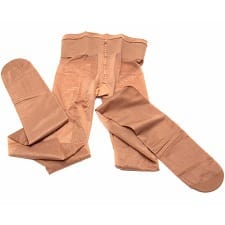 2017 Update: We still stand by this advice on how to wear stockings without ripping them — we've also updated links below. You may also want to check out our guide for how to wear pantyhose for work!
More reader mail to catch up on… I thought this reader Q was particularly relevant given some of yesterday's questions in comments about when/how to wear nylons.
First, while you've discussed whether or not to wear stockings, I could really use some advice on HOW to wear them once one decides that they're appropriate. I rip stockings to shreds whenever I wear them, so I would really appreciate tips on finding a durable brand, as well as how to properly care for them.
I would agree with most of the commenters in yesterday's post that stockings/nylons/pantyhose aren't necessary for most day-to-day activities. If you're interviewing? Nylons for you. If you're going to court or to a big meeting? Ditto.
As for which brand, we got a ton of great suggestions when we ran a poll on whether black hose or nude hose was better for an August interview (the readers overwhelmingly contradicted me, saying nude hose was the way to go for an August interview); check out those pantyhose brand suggestions in comments. 2017 Update: People seem to really love the Donna Karan Nudes line of pantyhose*, available at Nordstrom — you can also check out our latest discussion on the best lingerie for office looks. 
*This post contains affiliate links and Corporette® may earn commissions for purchases made through links in this post. For more details see here. Thank you so much for your support!