2016 Update: Check out our latest discussion on the best camisoles for workwear!
Sure, we all know what basics professional women are supposed to have in their closets, but if you're buying one for the first time or replacing one you've worn into the ground, it can be a pain to find exactly the right incarnation in stores. In "The Hunt," we search the stores for a basic item that every woman should have.
For today's Hunt, I thought I'd search for the perfect camisole.  In my mind, here is what is a perfect camisole: It's machine washable (and, usually, can be tumbled dry).  It doesn't roll up around your sides.  For the office, in my mind the best camisole does not look like lingerie — the less lace and mesh, the better.  It's a solid color.  I've said it before and I'll say it again: I hate the nude camisole for most office looks.  And, I think, the best camisole serves the purpose that you want it to serve — for my busty self that usually means raising the neckline of blouses, sweaters, and dresses.  I've also used camisoles over the years as a way to put a layer between myself and the sweater so I didn't have to launder it so often — so high armholes can be helpful.  My perfect camisole doesn't have a "shelf bra" attached to it. — and for me, it is almost never a shaping camisole.  (I've bought a number of brands through the years and have always been disappointed; I'd much rather wear a high-waisted shaper (like this or this) or even a bodysuit if I want to smooth out my midsection/back area.)  And, of course, the perfect camisole is inexpensive — this is one of the few times where I would rather have 5-10 inexpensive camisoles to throw away at the first sign of wear, rather than to "invest" in a single, expensive piece.  Readers, what do you look for in the perfect camisole?  Which brands have you bought in the past; which have you bought recently?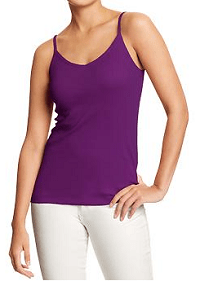 Four stars, 1513 ratings on the Old Navy site — and what may be the modern mark of a true best seller: it's only available online. In my experience these are super easy to wash and wear — consider sizing down for a tighter fit. It's available in 11 colors in regular, tall, and petite. The color pictured, "purple glory," is on sale for $7.50; take another 20% off with code GAMEDAY. Women's V-Neck Layering Camis
I've been happy with camisoles from LOFT before too.  There are two highly rated ones on the website — this cotton one (pictured) (93% cotton, 7% spandex) and another one that is more nylon — for machine wash/dry reasons I would probably prefer the cotton one.  It's available in 5 colors for $19.50 (but take 40% off with code TAKE40 at checkout). Stretch Cotton Clean Cami
I've never had this particular cami, but it looks great — the reviews all talk about how amazingly soft it is (and at 92% micromodal I can believe it), and I think it's a good sign that it's currently available in 18 colors and patterns. Machine wash and dry.  It's $19.50 at Amazon. Jockey Elance® Supersoft Camisole
Readers have sung the praises of this Halogen camisole in the past, and it has 101 positive reviews on the Nordstrom website! I like how the armholes and neckline are particularly high on this cami. It's currently available in 12 colors on the Nordstrom website, sizes XS-XL, for $19. Halogen® Camisole
I've also heard great things about the Shimera camisole, and it has 72 glowing reviews on the Nordstrom site. This one is currently available in 14 colors (including 3 different beige options if, unlike me, you like "nude" camis) — $26 for one, or get 2 for $48. shimera Seamless Camisole
Ok, ok. So I'm really not a fan of the fancy/schmancy camisole. But if I were, I'd go for Hanro — I've always thought of the line as being Jockey For Rich People. This micropolyamide/elastene tank is $120, available in six colors at Saks (while Amazon has more colors, some marked as low as $44.) Hanro Touch Feeling Tank
Like this feature? Check out other recent installments!