Sure, we all know what basics professional women are supposed to have in their closets, but if you're buying one for the first time or replacing one you've worn into the ground, it can be a pain to find exactly the right incarnation in stores. In "The Hunt," we search the stores for a basic item that every woman should have.
This page was last updated October 2023 except where otherwise noted.
I've said it before, I'll say it again — pumps are great, but for days where I'll actually be walking/standing/running around, I always prefer shoes with straps. T-straps are classic, ladylike, and often super comfortable even if they're not pitched as "comfort shoes."
In walking cities like NYC, they're often great for the rainy fall day because they stay on your feet while hopping around puddles and running from sudden showers. I've rounded up my favorites below — readers, have you bought any great T-strap pumps lately?
Update: Our Latest Favorite T-Strap Pumps for Work
As of Sept. 2023, these are some of our favorite T-strap pumps for work: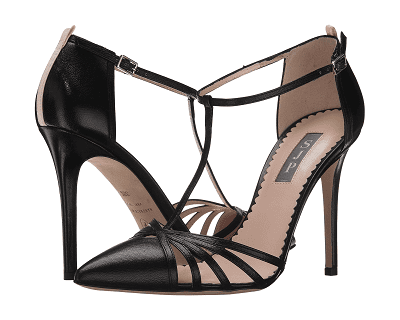 Update: Our Latest Favorite Strappy Pumps in General
Some Specific T-Strap Pumps We Love for Work Outfits
Tamara Mellon
I was looking through Tamara Mellon's website recently, and so many of her heels (and shoes in general!) look great — I particularly love the "Cloud Cushion," i.e., 6mm of extra padding "where you need it the most."
If you're not familiar with Tamara Mellon, she was a cofounder of the brand Jimmy Choo — from the "our story" page she notes:
"I co-founded Jimmy Choo in 1996. Today, I'm still obsessed with shoes, but not the traditional way of doing things. So I'm starting over. This is my reboot (pun intended). I'm redefining luxury and doing what I do best: designing shoes and breaking rules."
Nice! T-straps are particularly hard to find right now, and these look absolutely gorgeous and sophisticated. The shoe is $795 at TamaraMellon.com.
Valentino
As we note in our general roundup for strappy pumps for work:
Valentino's Rockstud shoes have been around for years, and they're definitely distinctive, with a bit of a "tough girl" vibe. If that appeals to you, go for it — they're one of the most reliably stylish T-strap pumps with a closed toe. You can find them at any upscale department store (Nordstrom, Neiman Marcus, Saks) as well as on resale sites like eBay and Etsy.
SJP
SJP (begun by Sarah Jessica Parker) has had a bunch of strappy heels along the years — and this shoe (called "Carrie," so you know it's good!) has been around for a few years.
I love the beige grosgrain stripe on the back, the way the T-strap slopes a bit in the front, and the multiple straps at the toe.
The shoe is $385 at Zappos and more.
Like this feature? Check out other recent installments!