2021 Update: Here are our latest favorite wine-colored, purple pumps for work!
Sure, we all know what basics professional women are supposed to have in their closets, but if you're buying one for the first time or replacing one you've worn into the ground, it can be a pain to find exactly the right incarnation in stores. In "The Hunt," we search the stores for a basic item that every woman should have.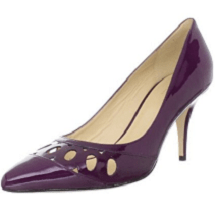 I always feel like purple pumps are a Corporette classic — they're not what you'd normally think of for conservative business attire, but they're usually dark enough to be conservative, and they're incredibly versatile. 
They add a great punch of color to a number of neutrals (black, navy, gray, beige, white), as well as a bit of a fun accent with outfits based around greens, reds, or yellows (as a contrasting color) or blues (as a complimenting one).
I'd avoid wearing purple pumps with pink, but maybe that's just me.
Readers, do you like purple pumps as much as I do?  What other colors of shoes have you found to be surprising basics?
Curious for some of our other roundups? Here they are from 2019, 2018, 2017, 2016, 2015, 2014, and 2010.
The below content concerns products that are probably sold out by now…
This pump is available in both a purple leather (pictured) and a brighter magenta leather — both were $79, but are now marked around $38-$40 (limited sizes only, alas). Try code FORMAL12 if you're ordering more than $100 worth of merchandise to get an extra 20% off. I particularly like the slight dip in the vamp. DV by Dolce Vita Women's Notty Pump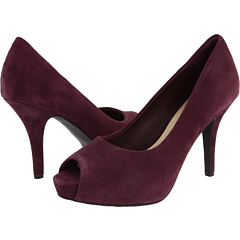 If you wear purple pumps a lot in spring and fall (like I do), you don't have to cross suede off your list — just make that pair of shoes live at your office, and waterproof them in case you find yourself running errands during a rainy lunch hour. I like the "walkability" in this pair from Rockport — They were $130, but are now marked to $72 at 6pm. (They're down to $59 at Rockport
, but they're final sale only.) Rockport – Sasha Peep Toe Pump (Raisin Suede) – Footwear

N.B.: Peep toes are not appropriate for every office — know your office!
Update: Both 6pm
and Rockport
have a closed-toe version as well, huzzah!
I'm not usually a bow person, but I could make an exception for these cute (and wow, very high: 3.75″) pumps by Elizabeth and James. Love the super-skinny stiletto heel. They're $325 at Endless (also available in a turquoise, taupe, and black). Elizabeth and James Women's Sebly Pump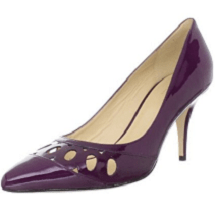 Hello, lovah. These are my favorite shoes of the roundup — love the cutouts, the more reasonable height (2.75″), even the exact shade of purple: dark enough to be conservative but noticeably purple. Love. They're $328 at Amazon

Endless

(also available in black and a beigey "linen.") Kate Spade New York Women's Thelma Pump
Like this feature? Check out other recent installments!