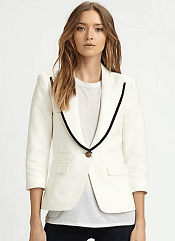 Update: We still think this is a fun roundup of white blazers, but you may want to check out out some of our latest favorite white blazers (see our latest update below).
Sure, we all know what basics professional women are supposed to have in their closets, but if you're buying one for the first time or replacing one you've worn into the ground, it can be a pain to find exactly the right incarnation in stores. In "The Hunt," we search the stores for a basic item that every woman should have.
I am really not the kind of person who wears white terribly often, beyond the occasional white top — even my wedding dress was ivory.
So it's always surprising when I get a white blazer and wear it into the ground — yet I've done it with three or four blazers through the years. I'm seeing a ton of cute white blazers (many on sale!), so I thought I'd round them up for today's Hunt.
They're great to throw on over pretty much anything in place of the wear-with-everything black blazer; as we've talked about before you want a white blazer that does not look like a lab coat; I also tend to prefer white blazers that have a bit of texture to them.
Readers, what else you look for in a white blazer? Have you got any great ones recently?
This post contains affiliate links and Corporette® may earn commissions for purchases made through links in this post. For more details see here. Thank you so much for your support!
4/22 Update: These are some of our latest favorite white blazers...

Not included in the roundup (but recently recommended on the blog): The Limited slim collar blazer (now $69), Alice and Olivia lace peplum blazer (still $495).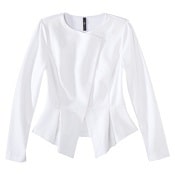 I just discovered this labworks collection from Target, and have been eyeing this knit peplum jacket, available in white and navy. It comes in regulars, petites, and plus sizes, and it's $44.99. labworks Women's Long-Sleeve Peplum Jacket
Part of the problem with talking about white jackets online is that it's so difficult to see the details — I'm tempted to post the dark orange version of this linen jacket just because then you can see how cool it is — it has a nice herringbone pattern, subtle puffed shoulders, a nice piping detail on the placket and hem. Lovely. It's available in regular, petite and tall in white, "firebrick," and black, all at Loft. Puff Sleeve Herringbone Linen Jacket

There's also a stretch cotton blend jacket in white for $109, available exclusively online.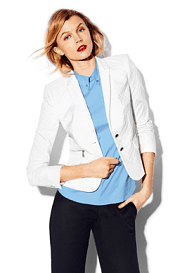 Ooh: this is a fun zig zag jacquard blazer on sale at Vince Camuto. It was $169, but is now marked to $120; it's available in sizes 0-14. (It's also available, full price, at Amazon.) ZIG ZAG JACQUARD BLAZER
This interesting blazer from Philosophy features cool inverted lapels, and the circle-patterned mesh overlay is unique among the white blazers I surveyed for today's Hunt. There was a matching skirt, but it has sold out; the blazer is only available in limited sizes. Still, it's a pretty good sale: the blazer was $795, but is now marked to $477. Philosophy Circle Mesh-Overlay Cotton-Blend Blazer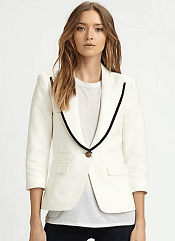 Truthfully, this is the blazer that inspired today's Hunt — I nearly posted it for this morning's Splurge, but Saks's sale has so many great white blazers that I thought it would be better for a Hunt. Love that swiss dot texture, which seems feminine yet professional, as well as the bracelet sleeves, the flared back vents, and the black contrast trim, particularly on the back panel. Gorgeous. It was $695, but is now marked to $486.50. Smythe Swiss-Dot Blazer
Like this feature? Check out other recent installments!
Some of our favorite linen blazers as of 3/22 include these…

We are a participant in the Amazon Services LLC Associates Program, an affiliate advertising program designed to provide a means for us to earn fees by linking to Amazon.com and affiliated sites.