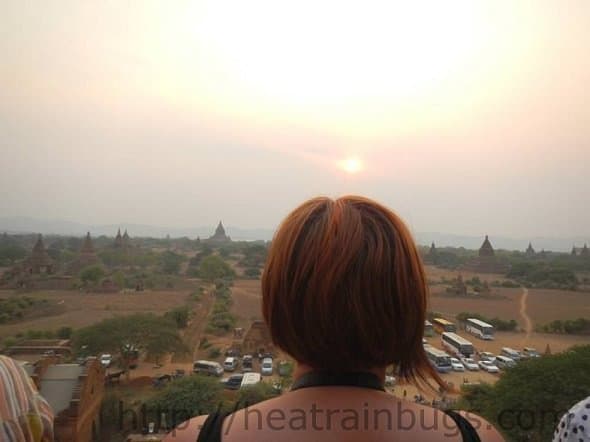 What are your best tips for traveling solo, ladies? We've talked about how to plan a vacation and how to take vacation time without making yourself crazy, but we haven't really discussed traveling alone as a woman. Particularly considering some folks may be in the midst of planning bar trips right now, I thought we'd discuss. Today's tips for traveling solo come from one of my best friends since college, who we've called Auntie M when she's guest posted in the past (taking a week of TPS reports in 2011 and another earlier this year, as well as sharing her experiences with freezing her eggs). Welcome back, Auntie M! – Kat
Hi there. I'm writing this from Madagascar, where I'm working on a documentary on a traveling French brass band. Since I've started traveling, it's really been a trip – I've lost my luggage for five days, found weird (huge!) bugs in my clothing, and gotten super sick from eating who knows what. My point is, when you travel, things will happen that will surprise you, even when you've passed the point where you think you can still be surprised. And your ability to cope with these things will also surprise you. And travel — yes, even solo travel — can be fun. Like, a lot of fun. With some good preparation, a friendly attitude, a commitment to let go of some of your neuroses (seriously, leave that sleep-sheet behind, princess) and to never, ever panic, you can be ready to take on the world. Below are some tips and tricks. Safe travels, everyone!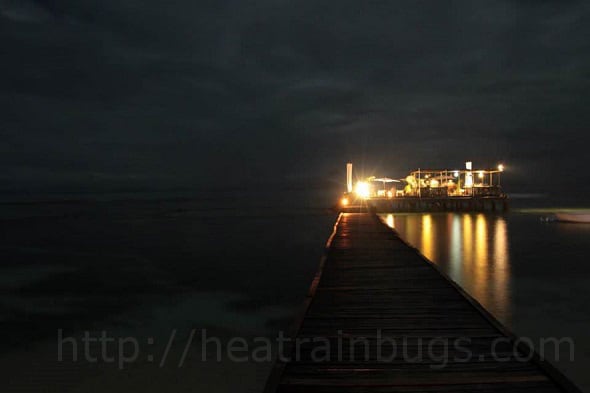 (All photos courtesy of Auntie M. All rights reserved.)
Well Begun is Half Done: Preparation
Research, research, research!
You won't want to know everything about a country before you get there — leave yourself some room to make your own discoveries — but you'll want to know enough so that you're not taken too much by surprise. In addition to researching the must-see sights, look ahead to know the visa requirements, public holidays, and whether your home country has issued any travel advisories for your destination.
Pack light
"You pack it, you carry it" was a rule my father instituted early on in my childhood, and I've tried to follow it ever since. Most importantly, packing light makes you less of a target for scammers and thieves and other people looking to take advantage of a woman on her own. You will also worry less about what you're going to wear, because you simply have fewer choices — it's actually pretty liberating! In terms of luggage, for long-term, far-flung travel, a backpack is best. No matter where you're going, make sure you can lift and carry all your bags yourself. To help pare down what you need, invest in quick-dry clothing and underwear you can wash yourself and hang to dry overnight. Instead of a dress, bring a compact black or dark skirt and pair it with a top for the "nice" nights out. Leave the jewelry behind — you'll get some from the fabulous destination you're headed to anyway, so don't take up any more valuable bag space with any of your nice stuff from home.
Simplify your shoes
For extended backpacker-style trips, you will probably get a lot of use out of hiking boots or other closed-toe shoes with ankle support (wear while traveling so they don't take up room in your pack). Wet-dry sandals with straps, like Tevas or Chukkas, are also a must. Lightweight, closed-toe flats like TOMS or Sanuks are a good option for visiting religious sites, and can also pass as "nice" shoes for backpackers. Keep in mind that unless you have very small or very large feet, you can buy cheap shoes just about anywhere if your needs change.
Be a copycat
Make a copy of your passport and itinerary and put it in your daypack. In fact, make two copies, and put one in your daypack and one in your main bag. If the worst-case scenario actually happens and your passport gets stolen or goes missing, these backup copies will help you tremendously in getting your life back together.
Lock it up
I keep a small, TSA-approved combination lock on all my bags — yes, even my carry-on. Pick a combination that's easy to remember and hard for someone else to guess. Having locks visible on your bag will act as a deterrent to potential thieves. Lock the zippers on your bags together every single time you travel — even if you're just on a bus, sticky fingers can often find a way to get into your stuff, even if you think you've kept an eye on it the whole time.
Get a money belt and wear it
No, a money belt is not fashionable — but it is useful! I carry my passport and some cash in my money belt whenever I'm in transit, because I like to have my passport on my body the entire time as opposed to in a purse or backpack. I once had a travel partner who just kept his passport in his pocket, and it drove me crazy — it felt like he was inviting trouble! Once I arrive in a city, I usually don't bring my passport out with me sightseeing; instead, I lock it up in my bag. If I'm staying at a hostel and no lockers are available, I'll use a longer wire combination lock to secure my bag to my bed. If I'm in a guesthouse, I'll just lock the bag up tight and make sure my room is locked before I leave it. I generally don't trust guesthouse or hotel safes — I know too many people who have been the victims of "inside job" thefts that way.
Get your shots
Immunizations may be recommended or even required for travel to certain parts of the world — check with your local doctor or travel clinic. You don't necessarily have to get all the shots; a rabies vaccine, for example, won't protect against all strains of the disease, and some other vaccinations and medications are very expensive and might not be worth the cost if you're in relatively good health. On the other hand, getting a flu shot ahead of traveling may help boost your immune system, which can be weakened by long-distance travel. Check with your doctor, and keep a record of your latest shots and immunizations in your passport case.
Bring extra passport photos
These will come in handy in visa-on-arrival lines and will save you the headache of having to wait in yet another line to have your photo taken. Keep these in your passport case as well, for easy access.
Bring extra cash for emergencies
Keep a stash of clean, unfolded, new-edition cash in a safe place locked away in your bag. U.S. dollars are pretty versatile and accepted at most places worldwide; alternatively, Euros should also work.
How much tech do you need?
This depends on you. Obviously you're going to bring a camera — make sure you have plenty of extra memory cards, because you're going to take so many more pictures than you expect. Be sure to remember the charger! Also, since I would never want to be anywhere without my music, my iPod is essential — I especially love the iPod touch that has wifi capability so I can buy new music when I want to. A book or eReader is also good for long bus rides and solo restaurant outings. If you're bringing a computer, make sure it's a lightweight, sturdy netbook that won't weigh you down, and if you're going to be in the same country for more than a week, a basic, talk-and-text only phone for which you can buy a SIM card and credit can be incredibly helpful. And don't forget a multi-country travel adapter!
Remember the sunblock, forget the lipstick
Or, you know, bring the lipstick, if that's the one thing you need to feel like yourself. For me, I can't be without mascara, so I made sure to bring some extra tubes of Max Factor Exact Eyelights in Black Ruby (similar). Other than that, my daily "makeup" routine is sunblock on my face and lips, a little bit of pressed powder from a compact, and the mascara. I have happily left my hair dryer behind in favor of going natural.

These are some of the Corporette readers' favorite items for business travel…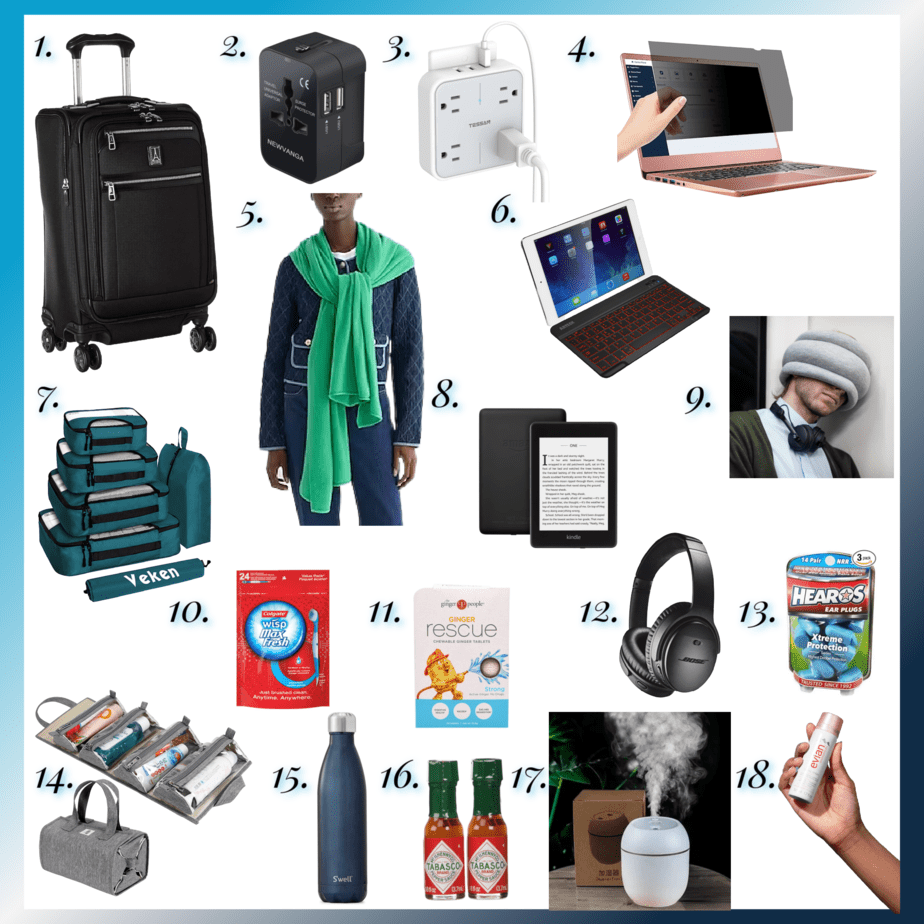 No, You Probably Won't Get Malaria: Staying Healthy While Abroad
Bring your prescriptions
Obviously if you have medical requirements, bring enough of your prescriptions to last you the length of your journey. If you're traveling for an unknown length of time, bring at least two month's worth of your medication; in all likelihood, you will be able to find a pharmacy that carries what you need, or, with a little bit of pre-planning, you can probably find someone to ship it to you. This also applies for contact lenses and solution — it'll all take up space in your bag, but unless you absolutely know that you'll be able to find your specific solution in the country you're visiting, bring enough to cover a couple of months.
Bring backup medication…
I'm not saying you should be a traveling pharmacy, but it is a good idea to have a variety of medications on you for those "just in case"" moments that turn into actual need. I generally travel with basic painkillers for sore muscles and headaches (I like ibuprofen, you may prefer paracetemol or aspirin), antihistamines for seasonal allergies and extra-itchy bug bites, anti-diarrheals including rehydration sachets, one round of antibiotics, and a few muscle relaxers (I have a history of back spasms). Also be sure to include some basic first aid, including antibiotic ointment (like Neosporin), band-aids, a small roll of gauze, and individually-wrapped rubbing-alcohol pads.
… but be judicious in when you use it
Stomach issues, especially diarrhea, are just a reality of travel. If it happens to you, don't rush to take medication that only treats the symptoms and not the cause. Unless you're about to board a bus or plane, try to let whatever it is work through your system. Mixing a packet of rehydration powder with a bottle of water will also make you feel much better while you're waiting for the sickness to pass. Make sure not to over-use things like antibiotics, muscle relaxers, and sleeping pills — those really should be for last resort use only.
Have protection — and use it!
Hey, girl, everyone's got needs. If yours include bedroom activities, make sure you've got high-quality protection with you and easily available in the heat of the moment. Do not leave it up to the other person, no matter how trustworthy and travel soul-matey they seem. You are responsible for your own health here. This is non-negotiable.
Trim your nails
A lot of dirt can get trapped under your fingernails, which will naturally get close to your mouth at mealtime. Increase your chances of staying healthy by keeping the nails short and clean.
Keep the hand gel close
Antibiotic hand gel will come in handy just about everywhere — before meals, after meals, if you get a scrape or a cut on a hike or walking down the street, if you need to clean off a utensil before using it … the uses are endless. Always have a small bottle on you.
Practice living without toilet paper
Consider this: you will not always have western toilets accessible to you, and even if you do, you might not have any toilet paper (and even if you do have paper, you may not be allowed to flush it down the toilet). If you find yourself in a situation without paper, just use a little bit of water — cup your left hand, pour some water in, and splash it up there where it counts. Your pants will dry quicker than you think, and using water is cleaner than, well, not using water. Just make sure to wash your hands with soap afterwards, or use hand sanitizer.
You will get dirty — but you can still keep it fresh
If you're visiting a country where the bulk of the tourist attractions are also religious sites, be ready to take your shoes off. A lot. Don't worry about protecting your pedicure — instead, enjoy the callouses that will develop on your feet from walking barefoot around so many temples. But even if your feet are dirty, your clothes can still be fresh and clean: if baby powder is too messy, try getting a small spray-bottle and filling it up with rubbing alcohol (or vodka). Spray it on your shirts and pants to help alleviate the smell of sweaty days. In buggy climates, a mix of alcohol and bug spray also works well. Note: do NOT do this to refresh dirty underwear. Just give those a proper wash — a bar of laundry soap travels way easier than powder or liquid soap and allows you to do a quick wash just about anywhere.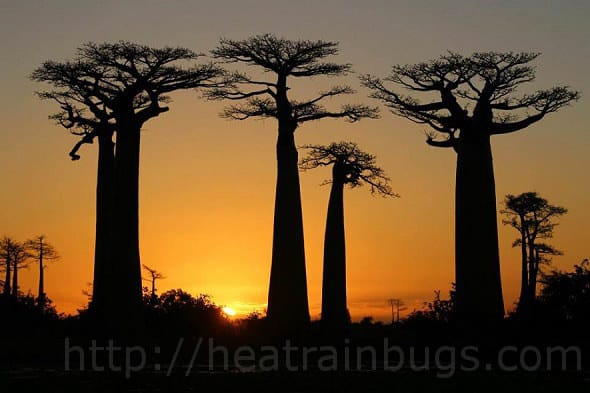 "Greetings From…": What to Do When You Get There
Consider dressing conservatively
This isn't about dressing to avoid attention from men — we all know that a certain type of man will leer at a woman no matter what she's wearing. But dressing conservatively is both respectful and practical. Wearing longer skirts (around knee-length) and torso-covering shirts means you can go into just about any temple, church, or other religious place, and also guarantees a layer of protection between your skin and whatever germy things are crawling around the seats of the local bus you're taking. (If your skirt is very lightweight, though, it might be see-through — stand in front of a light before you go just to check, and if you can see through the skirt, pack a pair of lightweight biking shorts or full-coverage "boy short" style underwear.) In very hot weather it may not always be necessary to cover your arms and shoulders in public, but if you're wearing a tank top, make sure you have a lightweight scarf or shawl to cover up if necessary.
Know how to…
Drive a car — both manual and automatic. Drive a motorcycle. Drive a scooter. Ride a pedal bike. Swim. Knowing how to do all of these things will not only increase your ability to do fun stuff, these skills may possibly save your life. Related: get an international driver's permit. Most countries don't require it, but some do, and it's better to have it and not need it.
Don't always be polite
We women are taught to be polite pretty much all the time. Sometimes we can find ourselves in some bad — even potentially dangerous — situations because we "didn't want to offend" whoever it was that got us into the dangerous situation in the first place. But as a solo traveler, you are under absolutely no obligation to do anything that makes you uncomfortable. Ever. Period. Full stop. You do not have to go to dinner with the taxi driver who drove you from the train station. You do not have to have tea with the shopkeeper trying to sell you carpets. You do not ever have to take drinks, food, or drugs simply because they are offered. Don't want to do something? Just say no. If you feel like it, and if the person chatting you up seems harmless, say no with a smile. But if they're making you uncomfortable, give them a firm no. You have the option of walking away, or staying where you are and expecting them to walk away. Yes, they may call you a mean name in a language you don't understand (or even one that you do), but so what? That person doesn't matter. What they think of you doesn't matter. Only you matter. You're in charge. No one's going to take better care of you than you, so get on it.
What did he just call me?
A lot of people in a lot of countries won't hesitate to call you fat, or some variation, if you're bigger than the average citizen. I've heard "big," "big-big," "cute fat," "strong," "motti" and, just today, "juicy." Delightful. They'll tell you it's not meant as an insult, but, you know, it doesn't necessarily feel great to hear it. Just try not to let it bug you. My friends and family back home have been horrified by some of the things I've heard, but I try to take it with a massive grain of salt. I know what I look like, and I like it. I've only come back with a sarcastic response a couple of times, and in those situations it's been with people who I know have lots of experience with Westerners and knew they were being offensive. The rest of the time, I just let it go.
Fake it until you make it
Even if you don't know where you are on a map or if you're headed in the right direction toward your destination, pretend like you do, at least until you can pull into a shop or restaurant to look at a map. Avoid looking at a map while standing on a street corner — you'll make yourself easy prey.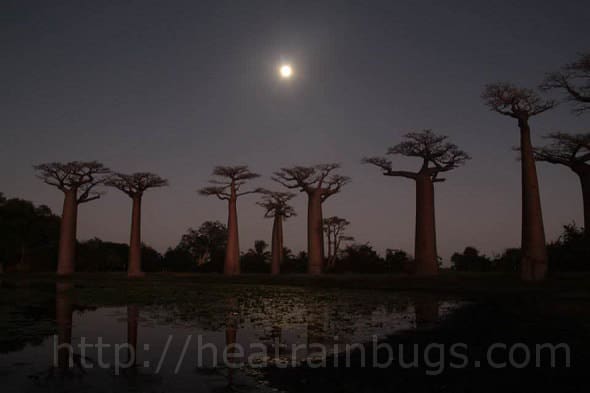 You Can Still Have Fun, You Know: Entertain Yourself While Traveling Solo
No one around to take a picture of you in front of that amazing temple you've been waiting forever to see? Take a picture of yourself, girl! Even if you feel a little silly, it will be worth it later when you get to show everyone proof that yes, you were there.
Read a book!
Did you bring your eReader? Or did you pick up a book from the book exchange at your guesthouse? Good for you! Rediscover the joy of reading. I've read a lot since coming to Asia — feel free to check out a partial list and my six-word book reviews here: http://heatrainbugs.com/2014/02/11/wanted-nice-girl-seeks-good-book-or-my-six-word-reviews-of-books-ive-read-in-asia/.
Remember, people are just people.
Try not to exoticize them too much, ok? A lot of Westerners I've met in Asia definitely match the "White People Think Brown People Are Amaaaaaaazing" stereotype, and I think it's unfortunate. If you're going to take a picture of a person, or try to talk to a random local stranger without having been approached, stop and ask yourself why. Ask yourself if you would take the same picture of that person, or approach them for the same conversation, if you were in your own country. I say this having taken plenty of people pictures myself — it's just an ongoing conversation I have with myself, in an effort to be mindful of my own motivations. (On a similar note, be warned: in some places, locals will jump in front of your camera right as you're taking a picture and demand money for it. This makes me feel cynical sometimes.)
Eat new things, even if you think you won't like them
If you're doing this whole travel thing right, you will probably find yourself inside someone's home, preferably in a rural place, being served homemade food and drink. Keep an open mind — in most cases, you're going to love what you're served. But even if you don't, you know it's rude to refuse, so sometimes you'll just have to woman-up and swallow down something that you really do not like. Don't worry — the bad taste will fade eventually, and it's more than worth it to have an authentic and unique experience.
Obviously, though, use your own good judgment: if you've got life-threatening allergies or religious laws that restrict you from eating certain foods, do not put yourself in danger or violate your religious principles for the sake of politeness. If you're an alcoholic in recovery, do not accept the homemade wine offered to you. But if your own dietary rules are only a matter of preference, consider bending the rules a little bit in exchange for trying something new — it's why you traveled in the first place, isn't it?
Make friends with other girls
Female solo travelers are a unique and wonderful breed, and we tend to make friends easily. Be nice to that Polish girl you meet on your cave trek in Vietnam, because you may see her a few months later wandering the streets of Kathmandu. Who knows, maybe you'll end up even traveling together one day. At least, for a little while … because by then, you'll have fallen in love with solo travel and will want to keep doing your own thing.
Readers, do you enjoy solo travel? Have any of your own tips to share?
Auntie M used to be a litigator, and she also used to work in mediation, but then she went away to Laos for a month and never really came home. After having spent much of 2013 in Southeast Asia by accident, she is presently mostly based out of Kathmandu, Nepal, where she writes about the music scene there and other stuff. She experiences the occasional bout of homesickness, but her cravings for sushi are far more frequent. You can find out her real name at her blog, www.heatrainbugs.com.
Social media picture credit: Death to the Stock Photos.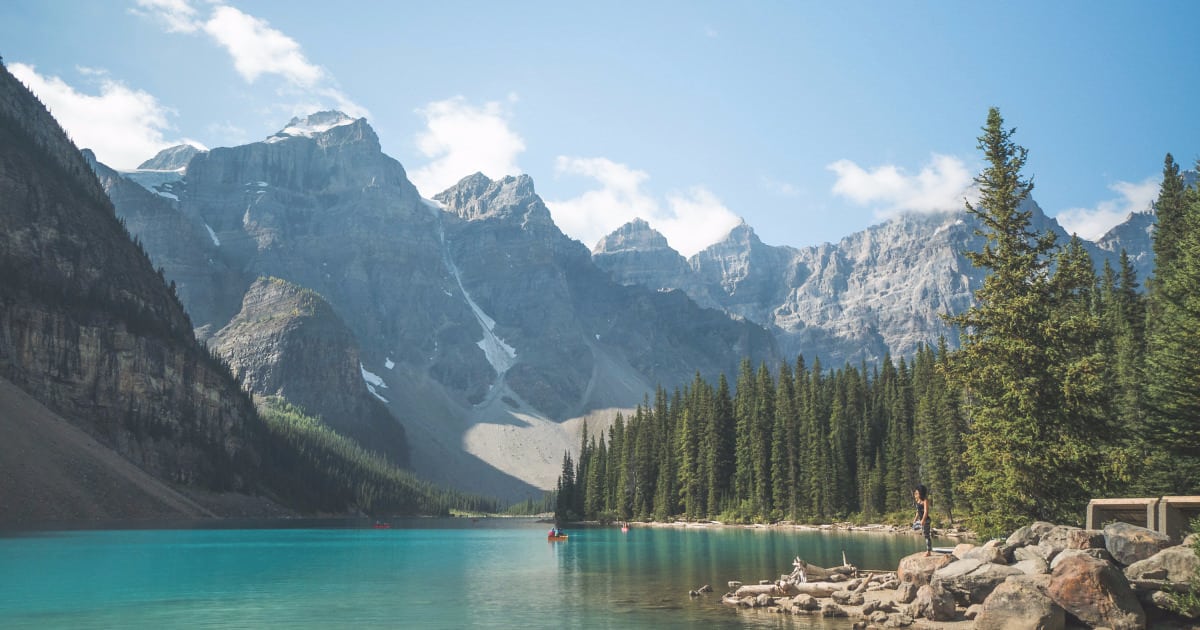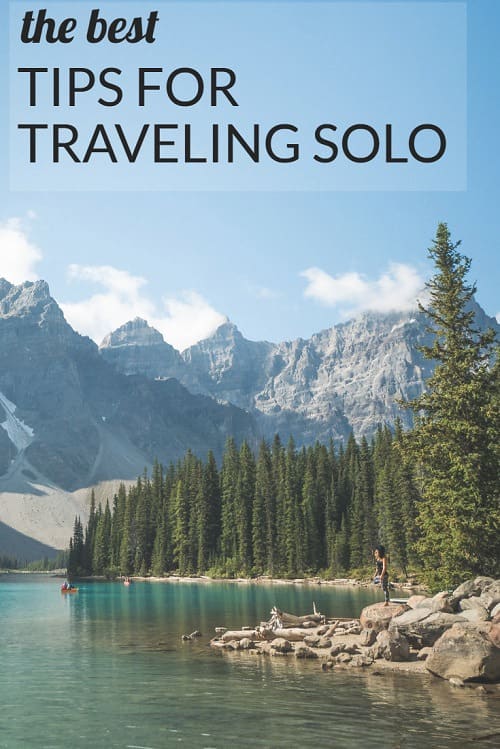 We are a participant in the Amazon Services LLC Associates Program, an affiliate advertising program designed to provide a means for us to earn fees by linking to Amazon.com and affiliated sites.