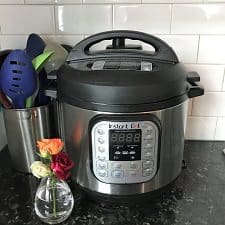 If one of your holiday gifts last year was a new pressure cooker or slow cooker (Instant Pot included), or if you just haven't been getting enough mileage out of either or both of these kitchen appliances, we thought we'd round up some recipes for inspiration. Here are five all day crockpot recipes and five super fast Instant Pot recipes we're interested in trying — slow for the long workdays, and fast when you want to make something quick (15 minutes or less) when you get home from work and can't deal with another meal from Seamless or the freezer. Do you have a new pressure cooker or slow cooker that you've been trying out? What are your favorite sources of recipes (or recipes!) for them? Do you have any go-to fast or slow meals?
Psst: We've also talked about slow cooker recipes for working women, shared Instant Pot tips, and discussed the best cookware and kitchen appliances — and Kat's shared some of her easy weeknight dinners in the past as well. 
Here are some workday-friendly recipes to try in your slow cooker or pressure cooker:
All Day Crockpot Recipes: Up to 10 Hours
These work really well for long workdays — a cooker with a timer can keep your meal warm for another 1–2 hours after it's finished cooking.
Super Fast Instant Pot Recipes: 15 Minutes or Less
If you get home late or just don't have much time to cook, try these quick and easy recipes.
Do you have a slow cooker and/or pressure cooker? What are your favorite all day crockpot recipes, or super fast Instant Pot recipes for when you're short on time in the evenings?