Update: We've updated links below, but come check out our more recent discussion of 9 ways to use a wrap at the office!
We were thinking last week of the multitude of uses for the wrap, of which every woman should buy one or two to keep at the office. (Pictured:  Made to order fabric shawl from Nitscreation, available on Etsy.com for $15-$30. 2017 Update: since this one is sold out, check out our favorite wraps, below!)
Update: Our Latest Favorite Wraps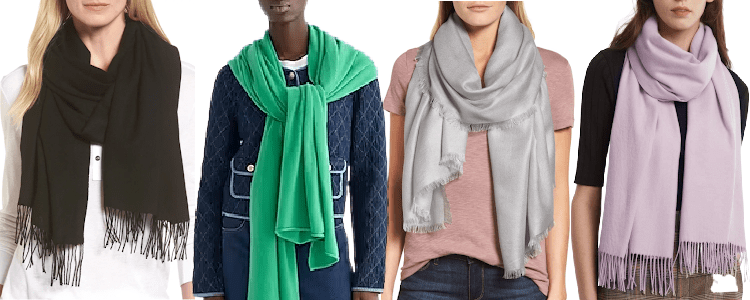 In addition to being a great way to keep warm during the summer (when air conditioning goes into overdrive) and the winter, they can be used to:
– Fold for use as a pillow for a power nap
– Add more color to your office, either thrown across a visitor's chair or folded on the back of your chair
– Warm your legs when wearing a skirt, using as a lap blanket
– To add length/coverage to skirts when working alone in your office… Maybe it's just us, but: when we're working behind a closed office door, we tend to put our feet up on the desk and otherwise sit in positions that can be troublesome with a skirt (particularly A-line). And, of course, we've been embarrassed at least once when our secretary opened the door without knocking, or when that guy down the hall mistakenly opened our office door, thinking it was his own. Sure, we could stop sitting like that, but instead we tend to compensate by wrapping the scarf around our hips in order to add length to the skirt and to keep it closer to our body.
– To touch hot objects. Last week, we had to smile when we got one reader's triumphant e-mail about her run-in with the hot office copier:
All alone in the office in the middle of the night, the copier broke. I took apart the machine to unjam the paper, but a mechanism had bent out of shape. Always one to listen to my mother ("don't stick your fingers or a fork into the toaster while it's plugged in! you could electrocute yourself!"), I struggled to improvise pliers out of non-conductor office items. I tried accounting tape ropes, inkless plastic pen wedges, and almost gave up–until I remembered the silk scarf around my neck. Wincing, I looped it around the mechanism and pulled–and it snapped back into place! Everything worked out and I finally left the office with all materials produced and the scarf none the worse for the wear! I can only thank myself, really, for matching that scarf to my shoes at the last minute this morning as I ran out the door!
Love it! A wrap would work just as well in this circumstance, we think. (And hey, we've all tried to fix the copier/fax machine/printer by ourselves in the middle of the night. It's part of the fun of the job.)
Readers, what other uses have you found for wraps? We know there must be more…