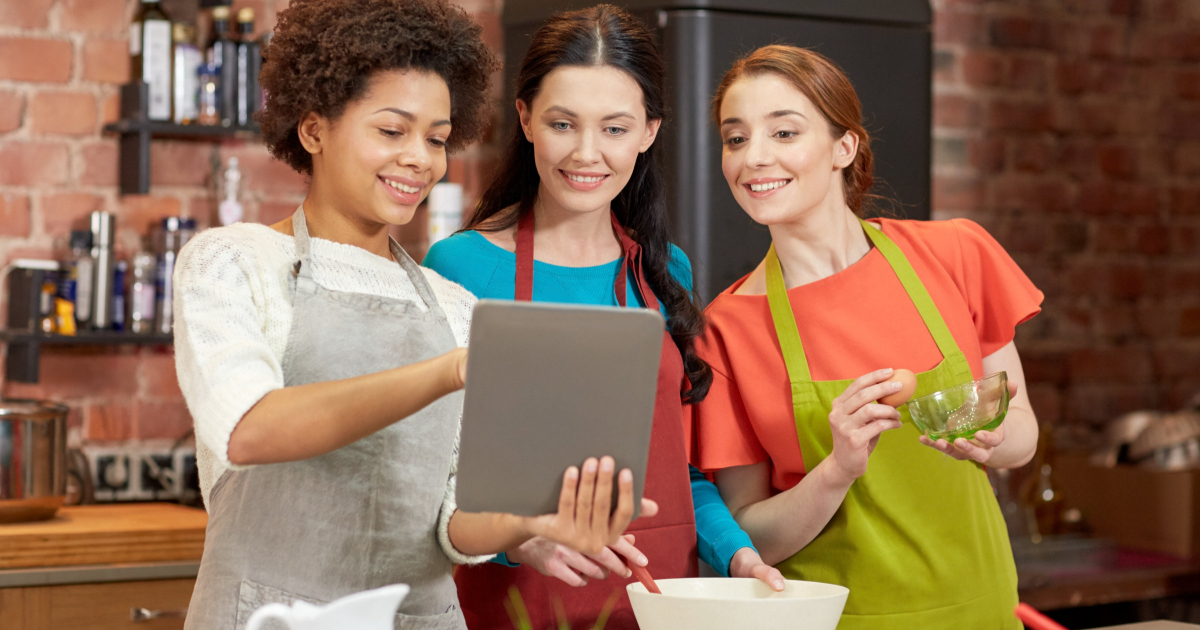 This holiday season, are you on the hunt for any virtual classes to take with friends and family — either as a way of connecting with someone distant or as a gift idea for others?
Even if you're tired of Zoom for work meetings, doctor's appointments, and so on (and aren't we all?), it's still a great tool for connecting with friends and family right now by taking virtual classes together.
While we've previously shared posts on 5 online classes to take for fun during quarantine, 6 online classes for working women, and how to learn a new language, today we thought we'd provide some fun suggestions for virtual classes to take with friends and family — either people in your "pod" (attending a virtual class from one of your homes) or loved ones who don't live nearby.
Start looking for virtual classes that are based in your area — shop local! For example, local arts organizations are going through tough times right now and could really use your support, so check if any of your favorites are offering online classes, such as theaters with virtual improv classes or art museums with virtual drawing instruction. 
Also check with your city or town's recreation department — my local one, for example, has transitioned to all-remote classes for the time being. Our local school district has a continuing education department that's shifted to virtual classes for adults (and teens), so that's another option to try, as are your local libraries and historical society.
Virtual Classes to Take With Friends & Family
Cooking Classes
I've heard good things about the classes run by Nonna Live (and right now you can get 20% off your first one with code WELCOME20). You can choose a regular class, such as pumpkin gnocchi with Parmigiano sauce, $59; fettuccine with tomato sauce, $59; or traditional tiramisu, $40; or choose to pay a bit more for a two-hour private booking in which up to 10 people ($399) or 10+ people ($599) can take part. For the latter, you have the chance to speak to Nonna Nerina and granddaughter Chiara ahead of time to choose the recipe you prefer. Ingredient and utensil lists are provided on the website for each class.
While it wasn't exactly a "class," a friend of mine had good luck with a tea tasting run by Brooklyn-based sustainable tea company teapigs. She invited local friends as well as friends in other cities to join her, and they really enjoyed it. (I've also seen Smith Teamaker recommended for this.) A member of a Facebook group I belong to recommended the group wine tastings from In Good Taste, while the Denver chocolate shop Bar and Cocoa runs virtual chocolate tastings, with two events coming soon on December 26, 2020, and January 7, 2021. Kits are $55 for one person, $90 for two.
In a recent threadjack readers recommended virtual cooking classes from Bake with a Legend, TravelingSpoon, and Party Line/Henrietta Red.
This post contains affiliate links and Corporette® may earn commissions for purchases made through links in this post. For more details see here. Thank you so much for your support!
Arts & Crafts Classes
Badass Cross Stitch (whom you can follow on Instagram) offers classes like embroidery 101, which promises that "You will be a pro stitcher in under two hours." The virtual "Stitch-Up" gatherings of stitchers and needle artists also look interesting, for those who already know the basics.
If you're looking for something more in-depth, Craftsy has a "Basics & Beyond" cross stitch class that runs for seven sessions for a total of 2 hours 13 minutes. (Also see our post on subversive cross stitch!)
I've also heard good things about Creativebug, which offers all sorts of interesting crafty classes for different skill levels — everything from keeping a daily gratitude art journal to crochet to sewing, painting, and more.
Wellness & Fitness Classes
I heard about the "workout parties" from obé from this WSJ article. You can take one of their live or on-demand classes with up to seven friends or family members — planned up to 56 hours in advance. (Here's the FAQ.) Those in the group who aren't obé members can get a free two-week guest pass (and a regular membership is $27/month, $65/quarter, or $199/year, with the first week free).
Yoga is another nice option for this, especially because we could all use some more relaxation this year. Yoga Beyond the Studio offers a private 30-minute meditation (up to 40 people) for $129 and a private 60-minute yoga class (up to 40 people) for $139. Bluebird Sky Yoga provides private group lessons; contact them for details. Your local yoga studios (who are probably struggling right now) might offer something like this, so check with them, too! 
Readers, have you taken any virtual classes with friends and family — what classes have you tried, and through where? Would you consider any of these for a gift idea?
Stock photo via Deposit Photos / Syda Productions.