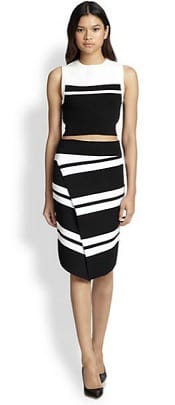 Something on your mind? Chat about it here.
Saks seems to have this outfit with the workwear, but I prefer it for the weekend. Note that it's a look that a LOT of brands are coming out with — the longish skirt, the cropped shirt, the matching. For some reason this look, among all of these looks, spoke to me. Was it the black and white? The sporty stripes? The vague pareo feel to the skirt? It feels modern to me — and yet I can imagine someone like Grace Kelly wearing it (with leather gloves and perfectly curled hair). I've overthought this. Just let the stripes overtake you. The top is $245, and the skirt is $395. Happy weekend, guys. A.L.C. Cory Striped Stretch Knit Cropped Top
Here are a lower-priced alternative and two plus-size options.