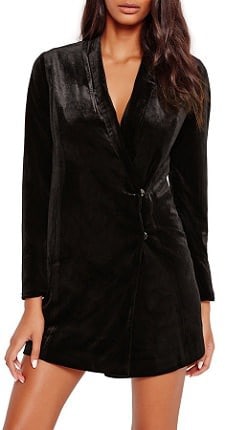 Something on your mind? Chat about it here.
Call me crazy, but I kind of really like this velvet blazer dress, even though it's got a number of features I don't normally like. There's the miniskirt… and the doublebreasted buttons… and the plunging neck.  Despite all that, I still really like it.  Wear it by itself for a fun night out, possibly with OTK boots — for a more modest look layer it with a shirt beneath it (bodysuit, long-sleeved T, tank top, whatever you've got), leggings (how do we feel about faux leather and velvet?) and booties. Add a choker if you want maximum '80s appeal.  The blazer dress is $99, at Nordstrom, sizes 2-10; Missguided has a similar option in a gold velvet. Missguided Velvet Blazer Dress
Looking for a plus-size velvet dress? ASOS has a number of options.
Don't forget: We're talking about the movie Working Girl on November 1! It's available for streaming on Netflix (or DVD), from your local library, and on Amazon Video.