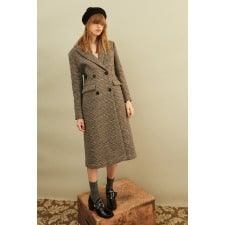 Like these posts? Follow us on Twitter or Facebook — this is the edited version of what we're reading! You can also follow us on Pinterest and Instagram, or via our RSS feed. 
The Weekly Cut sings the praises of the classic plaid blazer.
Alison of Wardrobe Oxygen (inspired by our post about products we actually finish) shares her go-to beauty faves.
Business Insider, taking a page from a new book about "Swedish death cleaning," offers suggestions for downsizing your stuff [affiliate link].
Curbed New York reports that Lord & Taylor has sold its flagship location to WeWork, which offers "workspace, community, and services for a global network of creators."
Man Repeller has tips from a model, an author, and a stylist on "letting go and 'having it all.'"
Harvard Business Review suggests, "If you can't find a spouse who supports your career, stay single."
The Atlantic shares actress Brit Marling's encounter with Harvey Weinstein as it fits into the "economics of consent."
Sharing her own experiences, Huffington Post Senior Politics Reporter Laura Bassett examines the "gray area between a harmless flirtation and flat-out sexual assault."
Bustle asks whether the heroes of several popular romantic movies were actually sexually harassing the heroines.
Self presents slow cooker tricks, while Taste offers tips on using an Instant Pot.
Smart Bitches, Trashy Books provides some recommended reads for when you need an escape (and who doesn't?).
Laugh of the Week: McSweeney's publishes the resume of a "young female professional looking to be treated equally by male coworkers."
On CorporetteMoms Recently…                                           
Did we miss anything? Add 'em here, or send them to [email protected] Thank you! Also: Are you a mom or mom-to-be? Don't miss this week's news update at CorporetteMoms.