Liking these posts? Follow us on Twitter or like us on Facebook — this is the edited version of what we're reading! (We also Tweet if we hear about a good sale through our CorporetteDeals Twitter feed.) You can also follow us on Pinterest.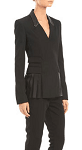 – Refinery29 rounds up their top 16 suits for fall (including some edgier options that I love, such as the Alexander Wang suit, pictured).
– The NYT looks at the fashion habits of some of Silicon Valley's female leaders.  Meanwhile, Forbes looks at the top traits of women business leaders.  Over at Above the Law, they celebrate the record number of women lawyers ascending to be general counsel.
– SavvySugar has two great articles this week: 44 ways to live frugally, and some great tips on saving at Target.  Real Simple rounds up four cashback websites (including reader favorite Ebates).
– The Jane Dough sneers at the recent Esquire opinion piece on female contempt.
– Lifehacker wonders how to stay focused and productive when you're supposed to be "always available."
– Slate looks at prenatal depression.
Did we miss anything? Add 'em here, or send them to [email protected] Thank you!