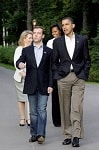 Today's reader question brings up an interesting question, we think: What should the "casual but professional" uniform be for women? Here's the reader's question:
In a couple weeks I'll be wrapping up my MFA and have to do a public reading. Publishers and agents are known for showing up at these end of year readings, so it's really important for us readers to sell ourselves. I'll be reading from my teen fantasy novel (sorry, no sparkly vampires), and am worried about not dressing right. I don't want to be creepy all black goth girl fantasy writer. Or super corporate hack looking. I don't want to look too dressed up or too casual. If I was a guy I'd wear a suit jacket, dark wash denim and an ironic t-shirt (the wardrobe staples of screenwriters). How do women on the creative side of creative industries dress? And does the "slacker but I own a jacket" guy look have a counterpart in female fashion? Should it? Also, if it matters at all, I'm totally broke.
So this raises a few questions in our minds. First: Should there be an equivalent "uniform" for women? Think about the button-down plus jeans look — you see it on everyone from heads of state to moguls. It conveys a very specific message: "I am real — and I am here to work. And perhaps knock back a few after work." It's a friendly, approachable, I've-let-my-hair-down-but-I'm-still-a-professional look. For our $.02, we think there probably should a standard uniform for women — after all, it's a question of effectively communicating a message. It's one of the tricky things about having so many more wardrobe choices than men — when there is no uniform, it means the message we convey with our clothes is never quite as neat and unmistakable as it can be for men. Which can be a problem, because it means we might be mis-communicating. A little black dress that, to us, looks professional, can be — to some men — flirty. Body-grazing khakis and a twinset can seem too matronly.
So the question becomes — what is the equivalent uniform for women? Are jeans and a blazer the correct look? Is it the trouser jean? Button-down or turtleneck? What shoes? What accessories? Readers, we're really curious — what would you wear to a semi-work event if the guys in your team planned to wear jeans and a button down?
2020 Update: These are some of the best jeans for work (affiliate links): 1) Paige 2) Madewell 3) Topshop 4) Wit & Wisdom 5) Levi's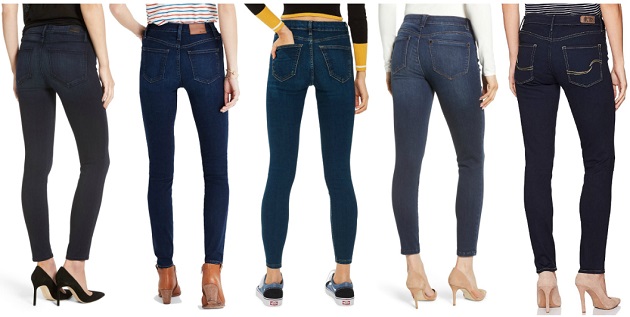 We have no answers, obviously. The best we can do for our reader the author (congratulations, btw — we hope you have a great reading!), though, is to come up with a series of factors to consider for semi-professional meetings.
First: Where is the event going to be held, and what will the majority of people be dressed in? Here, if the reading is in a place like a bookstore or coffee shop, you have to expect jeans and the like. It might be different if it's a more formal reading at a university.
Second: What is your context — why are you going to be there, and what are you trying to convey? The answer is going to be different if you're the person reading the teenage fantasy novel, versus the agent trying to convince the writer that they should pay you 15% of their earnings, versus the DATE of the agent or reader. For the author, here, we think you're trying to convey a) that you are a great writer of saleable material, b) that you are presentable and friendly at a reading, and can be approachable (and loved) by your audience, which, here, will be the teens (and their parents), and c) that you're a trustworthy, responsible person who an agent or publisher can take a chance on and not expect headaches. For a), we don't think there's anything wardrobe-specific of note. To convey b), we would wear something that didn't show too much of your figure or your cleavage — we'd also avoid a high-end look that might verge on looking snotty. In terms of conveying c), it seems to really be more in your actions — your tone of voice, your professionalism, and your follow-up.
Third: What's flattering and weather-appropriate? This goes back to a basic judgment call — you exercise poor judgment if you wear a tweed suit in July, or a 3-sizes-too-tight dress that rides up.
Ultimately, we'd probably suggest a pair of dark-wash jeans (no holes), a black blazer, and either a fitted black t-shirt or a fitted ironic tee. You might want to roll up the sleeves to expose a watch (even if it's just a large Swatch) — that might help convey to any potential agents/publishers there that you are professional), and go with jewelry that is as funky/creative as you're comfortable with. Oh, yes, and heels.
If you can, you might also want to look into getting some personal business cards printed — Vista Print can be very cheap; so can your local Kinkos — just your name, cell phone number, and e-mail address (and perhaps your degree and a website address) can go a long way towards seeming professional and helping you get to the next step.
Readers, what are your thoughts?
We are a participant in the Amazon Services LLC Associates Program, an affiliate advertising program designed to provide a means for us to earn fees by linking to Amazon.com and affiliated sites.