This page was last updated September 2023 except where otherwise noted.
Reader A is wondering what to wear to law school graduation, with hopes that she can wear it again for summer weddings — so let's discuss! Readers, what did you wear to your law school graduation? Here's her question:
I'm graduating from law school in three weeks and I'm wondering what to wear for graduation. I didn't go to my college graduation so I'm feeling kinda clueless. Ideally it'd be something under $200 that I can wear again to work at my firm (preferably sleeves and close to knee length). I feel like a spring-y pattern is more appropriate for the occasion than my go-to black and white sheath. Any ideas? (Bonus if it's something I could also wear to summer weddings for law school classmates)
We've talked a bit about dressing for law school, including what to wear to law school, as well as ideal law school orientation outfits — but not for graduation itself. The TL;DR advice here: don't stress; whatever you wear will be fine.
(You could always go with one of the our favorite sheath dresses — good for graduation, work, and weddings!) Some more in depth notes, from your friendly fashion blogger who overthinks these things:
We are a participant in the Amazon Services LLC Associates Program, an affiliate advertising program designed to provide a means for us to earn fees by linking to Amazon.com and affiliated sites.
This post contains affiliate links and Corporette® may earn commissions for purchases made through links in this post. For more details see here. Thank you so much for your support!
Possible Graduation Dresses if You DO Want to Buy Something Special
As we'll get into more, you don't really need to stress about what to wear to law school graduation (or graduation in general). That said, we'll round up some fun dresses if you DO want to stress…
Pretty and Classy Graduation Dresses
Some of our favorite pretty dresses out right now include these — a lot of them would make nice wedding dresses also!
In general, keep an eye on brands like Eliza J, Maggy London and Donna Ricco — often found on sale at Nordstrom Rack, or even Amazon!! — for pretty dresses that aren't too daring.
The ones below all come in lighter colors if you're working with a light-colored graduation gown.

Work Dresses for Graduation: Two Birds with One Stone
Another option: You could use the opportunity to buy a work dress that you "fancy up" with a sparkly necklace or colorful wrap. (We love the brand Nadri for affordable sparklies!)
Colorful sheath dresses could also be great here — bonus points if your attire is in your school colors. (Honestly, they can be great to have for alumni networking in the future!)
(The original dress Reader A suggested is now sold out, but here are similar options for fit and flare dresses…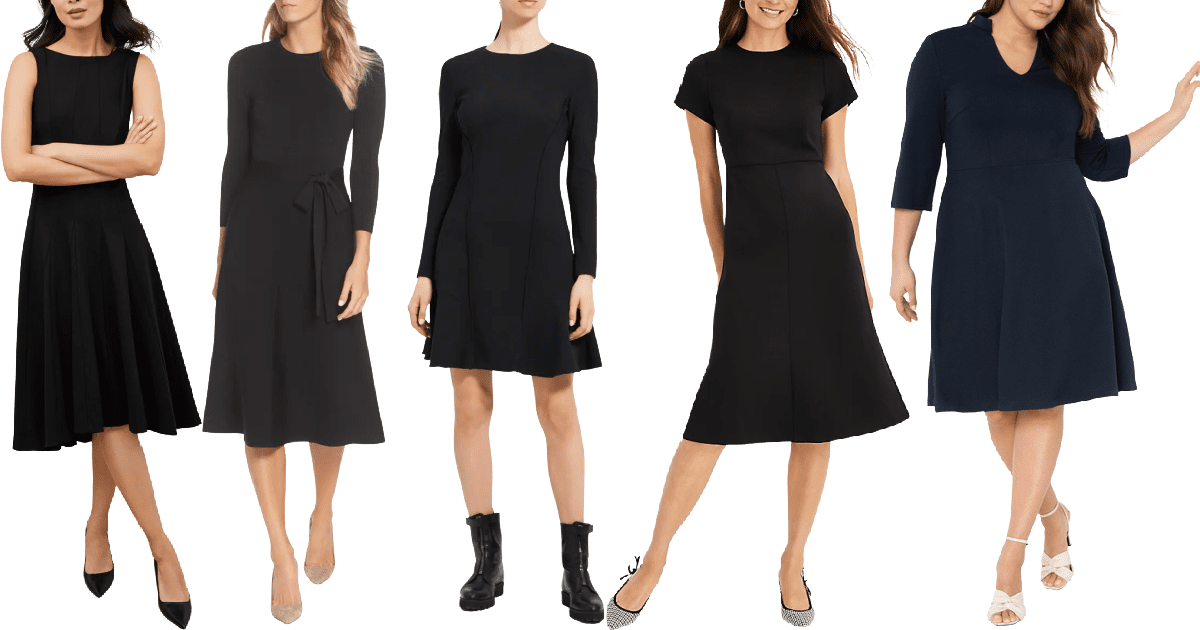 Hunting for the best fit and flare work dresses? We just rounded up some in Oct. 2022, but in general look to brands like Eliza J., Maggy London, White House | Black Market, Karen Kane, eShakti, and (for plus sizes), City Chic, Kiyonna, and Eloquii.
Why You Shouldn't Stress About What to Wear to Law School Graduation
I honestly couldn't tell you what anyone wore to my law school graduation, because we all wore robes/gowns the whole time — I know from pictures at dinner with my family afterward that I wore a black sheath dress with white grosgrain ribbon details that I got on some crazy deal at an outlet store, but that was me.
I honestly don't think it matters. Sheath dress, wedding guest attire, pants — it's all fine.
Don't go crazy casual — keep the cutoff denim shorts at home, perhaps — but don't stress too much.
Pockets may be a good thing, and your graduation gown/robe may not have them. If you won't be carrying your bag with you to the ceremony itself, look for a dress with pockets so you can keep whatever your bare minimal essentials are on you — iPhone, $20, lip gloss, whatever.
Psst: As of 2023, many of the best work dresses have pockets, including M.M.LaFleur, J.Crew, and Boden — Nordstrom also has a bunch!
Do Pay Attention to What Shoes to Wear to Law School Graduation, Though
Keep an eye on the ground when choosing your outfit — stiletto heels will sink into soft ground like grass and, depending on where the graduation is, you may be walking across a muddy field anyway. So: be practical, be comfortable. Don't spend a ton on shoes that may be ruined by the conditions. Don't wear flip flops, either, but don't buy designer white suede stilettos just for the occasion.
As of Sept. 2023 there are a lot of wedge heels for work lately that look great for commuting or learning to walk in heels… Nordstrom especially has a ton! Some of our current favorites:
Another option: flats! There are even a number of work-appropriate flats that are washable if you're concerned the ceremony ground may be muddy.
Readers, let's hear from you — what did you wear to your law school graduation (or any grad school graduation)? Did you party with friends/family immediately after graduation, or did you partake in more generic networking (which might require closer attention to your outfit)? (Taken from another direction — in general, what's your go-to look for "wedding guest attire" — and how many dresses do you have in your closet that fit the bill?)
If you're graduating law school, you may want to check out some of our recent advice for young professionals just starting out (as well as our suggestions on work wardrobe essentials!)