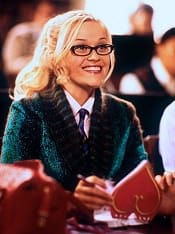 How should you dress for law school orientation? When you're planning which outfits to wear, how much should you worry about looking professional, or put-together, or about making a good first impression? Reader N wonders…
I am extremely excited to be starting law school in the fall but I am puzzled by the idea of picking orientation outfits. Any suggestions?
Congratulations, Reader N! I still have such fond memories of law school, and we've covered a lot of things about it here, such as what to wear for mock trial competitions, which bag is best for law school casebooks, hornbooks, and of course your laptop. We've even talked about how — if you're shopping for clothes before law school — your money may be best spent on interview and work attire. 2Ls, 3Ls, and recent grads: Anyone care to write a guest post on what bag is best these days, as well as any other tips or tricks for marrying the digital world with the study of law? For example: Did anyone like reading cases on Kindle or taking notes on an iPad (or, gah, an iPhone)?
ANYHOO: I'm sure I worried about which outfit to wear to orientation, but I couldn't tell you what the heck I wore if my life depended on it. I was only two years out of college when I went to Georgetown, and honestly I don't even think anything had occurred to me as not being "work-appropriate" (beyond a super short corduroy miniskirt that one of my older editor friends had pulled me aside and told me was not appropriate). Some of the older students had already formed conservative work wardrobes (particularly those who were coming from years on the Hill); others maybe just had a preppier style.
Honestly, I was probably the chick wearing bright red flare corduroys and a light blue sweater… on the days when I wasn't wearing all black. With occasional pigtails, of course. My attire aside, I still did OK in law school, and graduated in the top 10% of my class, became one of the executive editors of law review, taught legal research and writing, etc. My point is: I just really have this memory of law school as being one of those places where hard work and smarts — all by themselves — could get you forward.
So I say: wear what you want to orientation. This may fly in the face of much that we talk about on this blog, but:
You're representing yourself. You're not yet representing a client, a company, a VIP you work under… just you. So, you do you.
You're in an academic setting. You want to get good grades from professors, who are notoriously a bit eccentric. (One professor I had in law school took joy in occasionally wearing a Bermuda lawyer's outfit — knee shorts, knee socks, and a blazer — for no real reason other than the fact that she wanted to.) Note also that professors don't get to choose whether they "work" with you the way that senior VIPs do at work, so you don't need to "fit in" or show that you're "in the same tribe" as them. The dynamic is also different, and clear. You're not equals — not even close. Compare that to the law firm, where the moment you start work you are a colleague, and not sitting at the kids' table anymore. (In BigLaw, at least, it'll be years before you're equals, but the dynamic is less clear, and if a partner shows up at a client's office with a first-year associate, the understanding is that you are a Valued Colleague and a trustworthy extension of the partner.)
Sure, first impressions matter — but the first impressions I remember from law school are the first comments people made in class, when I started picking who I wanted in my study group. Orientation attire was irrelevant, at least to me.
Like I said above: if you're buying some new things for law school with a limited budget, I would definitely spend my money on interview-appropriate suiting separates which — yes! — you can wear to class as well. Also, there are some interesting studies on "enclothed cognition," which show that clothing may affect your psychological processes (i.e., if you wear a doctor's lab coat and you associate doctors with being attentive and focused, you may become more attentive and focused). But for law school orientation, I still say: you do you.
I don't know, ladies — what are your thoughts? What would you wear for law school orientation? What impression would you want to give to fellow classmates and professors?
—————
N.B. These substantive posts are intended to be a source of community comment on a particular topic, which readers can browse through without having to sift out a lot of unrelated comments. And so, although of course we highly value all comments by our readers, we're going to ask you to please keep your comments on topic; threadjacks will be deleted at our sole discretion and convenience. Thank you for your understanding!