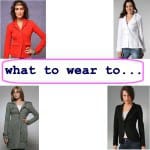 Update: We still stand by some of this advice on what to wear to work on the weekend, but let's face it: it's an old post! Here are more recent discussions on comfortable workwear for late nights at the office, as well as an updated take specifically on what's too casual for a weekend in the office. You may also want to check out our recent roundup of the best jeans for work, as well as the best sweater blazers.
In this feature, "What to Wear To…" we tackle attire for office events that are outside the confines of the 9-5 office day.
It's the Aughts, and Blackberries and the Internet mean most work can be done from home. Still, there are times when there's just no way around it and you've got to go into work on the weekend.
This presents a special challenge: you want to look cute, cool, hip — but you've also got to look professional. If the hours are long you're going to want to be extremely comfortable. Odds are good the air conditioning will be at full blast, so you also want to be warm.
We've found a bunch of great jackets that have a structured look to them, yet they're made of fleece, jersey, and other fun fabrics — they're almost as comfortable as your old reliable sweats. With a nice (non-ripped) pair of jeans, and a cute pair of closed-toe shoes (or even nice sneakers), these can maintain your dignity, broadcast your cool, and protect your comfort.
We are a participant in the Amazon Services LLC Associates Program, an affiliate advertising program designed to provide a means for us to earn fees by linking to Amazon.com and affiliated sites.
This post contains affiliate links and Corporette® may earn commissions for purchases made through links in this post. For more details see here. Thank you so much for your support!
Update: Our Latest Favorite Things to Wear to Work on the Weekend
Sweater Jackets for the Weekend
Sweater jackets are an easy, warm, comfortable, and polished topper for jeans and a basic t-shirt.

Great Jeans for Casual Office Days
Simple T-Shirts for Weekend Work Outfits
Our 2008 Advice on What To Wear to Work on the Weekend
These products are all sold out now — but if you're interested in what the historical advice would have been, here it is…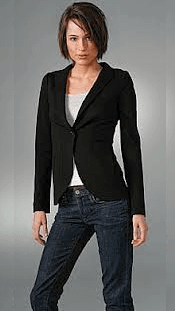 We first discovered Iisli a few years ago, shopping casually at Bergdorf's — we randomly picked up a gray sweater coat and were absolutely amazed at the structure and fit of the jacket — trust us, this brand is something else.
This blazer is in a lightweight jersey, which is uber comfortable, and has patch pockets and unfinished edges throughout (for a weekend feel). Iisli Safari Blazer, $348 at shopbop.com.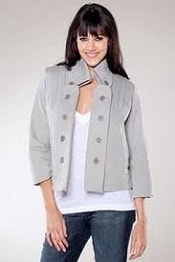 This swing coat is, unbelievably, made of fleece. The detailing on it is exquisite — pleats start at the shoulder and go to mid-back. Mike & Chris Theodore Fleece Jacket, $235 at Pink Mascara.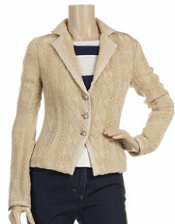 Oooh, another Iisli sweater-blazer, this time in a metallic gold knit. Iisli Bianca Knitted Blazer, on sale at Net-a-Porter for $238 (was $398).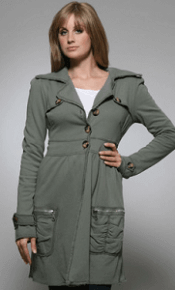 This Ecoganik jacket features zip pockes, a wide neckline, and trench-inspired detailing at the cuffs and shoulders. Teresa Longsleeve Jacket in Moss, $185 at CoutureCandy.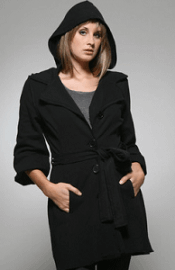 We like the way this looks like a double-breasted cardigan until you look closer and realize it looks a bit like a trench. Colombo never had it so good. Mike & Chris Lionel Hooded Trench, $185 at Pink Mascara.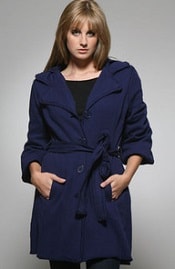 Sweater coats can be great — for about the first hour you're wearing them. After that, they do an unfortunate thing where they start to misshapen and too big, and you end up looking like you're wearing a bathrobe. So, we lurve that this jacket looks like a sweater coat but is made of 100% organic cotton fleece. Ecoganik Mia Jacket, $158 at CoutureCandy.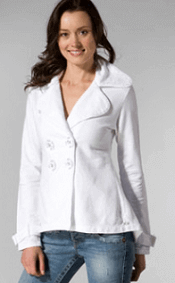 This fleece pea coat has double-breasted styling and a bit of a fishtail at the back, which we love. Project E Fleece Pea Coat in White, $143 at Revolve Clothing.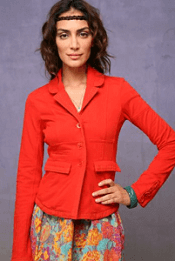 At the lower end of the spectrum, this fitted blazer by Free People is a bright spot in a dreary office weekend. Marrakesh Fleece Blazer, on sale for $39 at freepeople.com.
Readers, what are your tips on what to wear to work at the weekend? What do you think is too formal — and what's too casual?
Welcome, Above the Law Readers! In addition to this advice on what to wear to work on the weekend, are some links to other pages you might be interested in:
10 Things to Know About: Wearing Button-Down Shirts
5 Tips For Surviving the Day After the All-Nighter
Some of our latest posts here at Corporette…