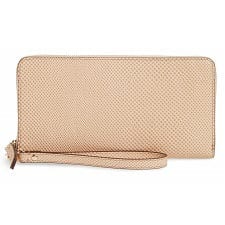 We've talked in the past about emergency funds — particularly where they fit in a money roadmap and where you should stash the cash you're saving for an emergency fund — but here's something we haven't talked about: when is it ok to dip into your emergency fund? How big of a deal is it to you if you need to take some money from your emergency fund to cover a big shopping trip, a vacation, or more? Do you overfund your emergency fund (and keep more than 6-9 months living expenses) so you CAN dip into it if you need it — or do you have a "stop point" where anything above a certain amount of money goes into an investment account? (On the flip side, do you keep a "fun money" or "mad money" account just for these kinds of indulgences — and save money to be spent?)
Pictured at top: I'm not usually a beige wallet kind of person, but this highly rated "tan sparkle lizard" wallet might make me change my mind. It's $89 at Nordstrom (six other colors, too) (affiliate link).
As we've discussed in the past, I'm a pretty aggressive saver who hates to keep money sitting in low-interest checking and saving accounts, so for the most part I clear out our checking account every month and move left over money to higher interest online savings accounts. In addition to retirement savings, I use automatic transfers to savings and automatic investing as often as I can, and I also try to amortize known big purchases (like term insurance and a vacation budget) so that the cost is spread out over the year instead of hitting in one particular month. In fact, I have about 10+ accounts open at Ally right now for various things personal and business, as well as one big account at Ally that we consider to be our "family emergency fund." But of all my crazy accounts I don't have a "fun money" account — and maybe I need one for those for times when our credit card bill is bigger than expected, or it's been a birthday month (or, ahem, a Nordstrom sale month) and more. (2019 Update: Check out our whole post on how to automate your savings!)
What do you guys do? Is your "emergency fund" a totally discrete thing — and thus it feels like a true emergency if you have to dip into your emergency fund — or do you have an amorphous slush fund where you save all the money you're not investing or using to pay down debt or monthly expenses? Do you stick to a strict budget, or set aside fun money so that this doesn't become an issue?
Social media pictures via Stencil.