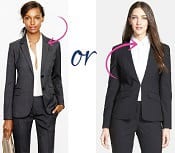 When interviewing, must you button your shirt all the way to the top? How many buttons are acceptable to leave unbuttoned? Reader S wonders…
I am going for an interview at quite a conservative organisation. I have a navy skirt suit and was going to wear a white button up shirt. Do I need to button up all the buttons up to the top?
I have an immediate, initial gut reaction here — but I'm curious if the readers agree. Before we start, note that the WSJ just discussed this very topic for men's attire; in the past we've talked about whether shirt collars should be tucked into a blazer or splayed on top, as well as where to get the best button-front blouses. Here's my gut reaction $.02:
NO! Don't button it all the way to the top! That would look weird, and fussy, and… and… I'm thinking of a hitman in a movie but can't quite put my finger on which movie. (Also: Rainman.) I dug up a few pictures for inspiration, though, and my opinions shifted as I studied it. So I'm really curious to hear what readers say. Here are some notes:
Buttoned all the way to the top:
Personally, this is my least favorite look. It looks very severe to me; I'm surprised to see so many models styled this way. I'd say this is the dominant way I saw things styled online, which was a surprise.
Pictured: Source / Source / Source / Source (totally not an interview suit, but look how purty!).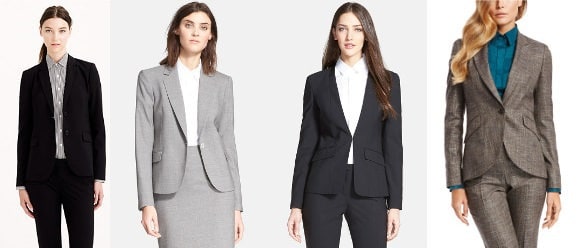 Slightly Unbuttoned:
When I started writing this post, I also would have said this was WAY too high. It still isn't my favorite look, and personally I would want more of a V-neck effect. (Note that my personal preference here has ALWAYS been affected by the fact that I am busty and a V-neck is much more flattering on me than a closed-neck top — so add that grain of salt to the, uh, other grains of salt.) That said, it is a classic, very buttoned-up look.
Source / Source  (note that if you zoom in on the product page, there are two unbuttoned buttons — but it lays so neatly it could be only one)/ Source / Source

Unbuttoned and Open:
Think "top 2 buttons undone," so there's a bit of clavicle showing. Honestly, this is how I've always worn a button-front blouse, and how most people I know have styled it in real life, whether accidentally or on purpose. (I have even adjusted the opening so it purposely lays a bit open, with the collar still tucked inside the jacket.)   But you can barely find any pictures with it styled as such online.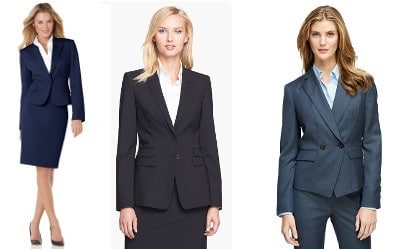 Blouse Open:
Hi yo! Please do not wear this look to an interview or to work (at least not without a serious layer beneath it… like a turtleneck.) J.Crew is the big offender, here, and to me it's one of their little styling quirks. Admittedly, a lot of their styling quirks have become trendy (the half-tuck, the J.Crew roll, the disheveled ponytail), but I'd stay away from the blouse half-undone look.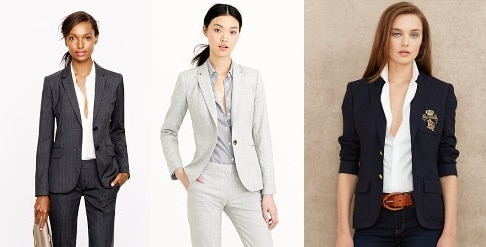 Ladies, how do YOU wear your blouses with suit jackets: buttoned all the way to the top, slightly unbuttoned, unbuttoned and open, or very open?
—————
N.B. These substantive posts are intended to be a source of community comment on a particular topic, which readers can browse through without having to sift out a lot of unrelated comments. And so, although of course we highly value all comments by our readers, we're going to ask you to please keep your comments on topic; threadjacks will be deleted at our sole discretion and convenience. Thank you for your understanding!