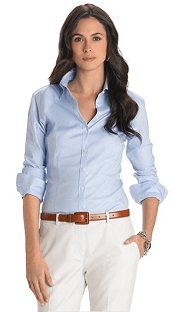 2017 Update: All of these button-down tops are in our Workwear Hall of Fame, and links below have been updated — you may also want to check our most recent discussion of the best women's dress shirts.
Sure, we all know what basics professional women are supposed to have in their closets, but if you're buying one for the first time or replacing one you've worn into the ground, it can be a pain to find exactly the right incarnation in stores. In "The Hunt," we search the stores for a basic item that every woman should have.
Of all The Hunt features we've done, I'm kind of surprised that we've never done one on the best button-downs for women — a crisp white blouse is a classic for the office.  (All of these shirts come in white, even though I've mostly featured colored shirts so you can see the details better.) Now, a few points: yes, yes, most women's collars do not button down, so these should all properly be called "button front" shirts. But most of these stores call them button-down shirts, and that's what I've always heard, so I'm going to go with "button down." A second point: a big decision (as far as blouses go) is whether you want one that is non-iron. Personally, my iron is gathering dust because I always buy the non-iron ones for myself — but I have heard (but not researched) that there are some health concerns regarding the chemicals that treat a fabric to make it "non-iron." So — readers, if you HAVE researched the subject, please weigh in. Finally, a few random tips: a) if you prefer silky button-fronts, check out our Hunt for that one, b) if you're busty, check out our guide to specialty shops for busty blouses, c) this post is being updated, but you can still check out our original top 10 ways to wear a button-down shirt, and, finally, d) as a laundry tip, I've had great success with putting the shirts in the dryer for no more than about 15 minutes and then hanging them up to air dry.  Oh, and I'm on Team White-Camisole-Beneath-White-Shirt–but many others are on Team Nude Camisole; you can check out our discussion here.  Readers — which are your favorite button-down shirts? Do you purchase non-iron shirts? And what are your best tips for laundering (and wearing) a button-down shirt?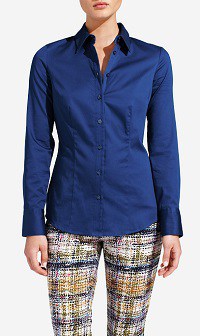 In terms of pricing, you can't beat The Limited for this highly-rated button-down shirt (which apparently was seen in Vogue and InStyle recently).  The black and white are $46.90, but the dark blue and purple are on sale at $34.99.  Essential Button Down Shirt (2018 Update: Unfortunately The Limited no longer sells this shirt!)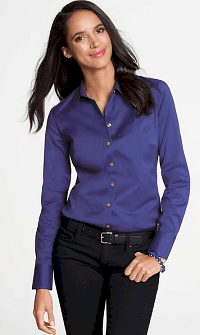 Another usual suspect: Ann Taylor's "Perfect" long sleeve button down shirt, which has 190 positive reviews, is one of Kate Hudson's "latest loves," and is apparently so reliable that Ann Taylor only sells it online right now.  It's available in nine colors, sizes 00-16 for regulars and petites, for $68.  Perfect Long Sleeve Button Down Shirt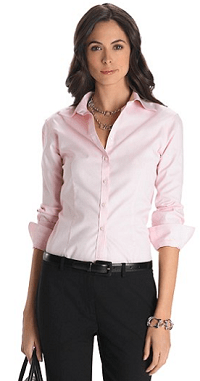 Here is where we start to get into the non-iron stuff:  I love Brooks Brothers shirts.  I think they're classics and they're great quality — and you don't have to iron them.  Note that even at the height of my BigLaw days I still wore button-downs pretty rarely, though, so you may want to reconsider the chemical question if you wear them daily.  This lovely fitted stretch shirt (shown here in pink and in blue at top) is $98.50; get two for $159 (note that they also have non-fitted shirts as well).  Non-Iron Fitted Stretch Dress Shirt with XLA

(Note that Foxcroft (regular, petite and plus sizes), Talbots (regular, petite, plus, plus size petites) Land's End (regular and plus), Charles Tyrwhitt, and Eddie Bauer ("wrinkle free," in regular, petites and talls) sell non-iron shirts as well.)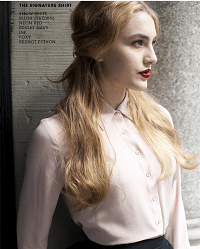 Another popular subset to the crisp-white-shirt group: the shirts fitted for bustier women, all in the interest of preventing gaping shirts.  Pictured is The Shirt by Rochelle Behrens; check out our roundup on busty blouses if you're on the hunt..  Sample price point for The Shirt: The Skinny Shirt costs $132 and comes in six colors in sizes XS-XL.  The Shirt by Rochelle Behrens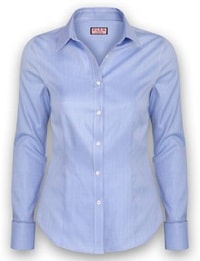 Ah, Thomas Pink: I love you so.  When I want to splurge on a button-down shirt, I head to Thomas Pink (pro tip: wait for a sale).  The shirts are classic and made of beautiful fabrics.  (Maybe it's just me, but I feel like everything from the UK is somehow friendlier to a busty figure, even if it isn't advertised as such.)  Also in the "splurge" price range:  Anne Fontaine, and Boss Black. The Katherine shirt is $150, and available in UK sizes 4-22. Sasha Shirt
Like this feature? Check out other recent installments! Want to pin this? Here's a handy graphic!