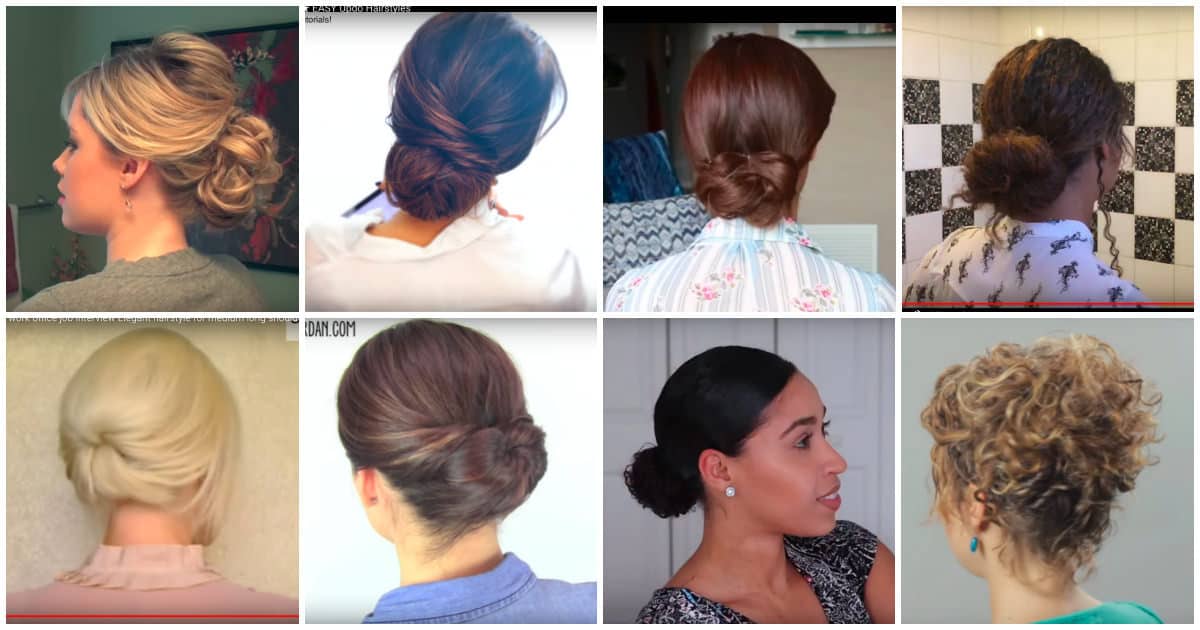 Do you have an upcoming job interview or important meeting, or just want to look a little more polished at the office day-to-day? An updo is one way to keep your hair up and out of your face when you're tired of always pulling it back into a ponytail or messy bun. While there's no shortage of hair tutorials on YouTube, including hairstyles and updos for the office — low buns, side buns, curly hair, straight hair, long hair, medium hair — we've selected some of the easy-to-follow YouTube updo tutorials for a variety of styles and hair types.
If you're looking for more talk about office hairstyles, we've discussed how long do you spend on your hair for work, how to make a blowout last for days, your favorite dry shampoo, easy office updos, how to style long hair for job interviews, and lots more about office hairstyles in general — but we wanted to feature some easy-to-follow YouTube tutorials that make it even easier to get that polished look.
So gather up some bobby pins, a few hair elastics of various sizes, and maybe a hair donut or other hair accessories, and see if any of these will work with your busy routine.
Looking for an easy way to do an updo? Check out this reader-favorite clip!
YouTube Tutorials for Updos for Long, Wavy Hair
(All screenshots link to the YouTube tutorial in question; we've also got a bit more text beneath all screenshots. If you're one of the YouTubers we included in this story and you don't want to be included, please email me and we'll take you out — thank you!)
This semi-formal updo by Kate Bryan from The Small Things only looks complicated. Her helpful suggestion that can be applied to many updo styles is to add texture with dry shampoo instead of hairspray.
Kate's messy low bun is quicker but looks less formal.
YouTube Tutorials for Updos for Long, Straight Hair
Tina Lee from MakeupWearables provides instructions for a 2-minute bun for long hair with minimal accessories.
Kayley Melissa offers several options of office styles in her video for long, straight hair. We like "The CEO," which starts around the 3-minute mark.
Sarah Angius offers five easy updos for long, straight hair using just bobby pins and ponytail holders. The folded bun (left) starts around 1:20, and the knot bun (right) starts around 3:50.
Mimi Ikonn from Luxy Hair has "running-late hairstyles" for long hair, including a simple side bun that starts at about the 2-minute mark and only requires a hair donut, bobby pins, and a hair elastic.
YouTube Tutorials for Updos for Shoulder-Length Curly Hair
Tasha Arnall suggests how to do a French twist-inspired updo for naturally curly hair.
She also has this simpler updo tutorial that's a little less formal.
Amarilys Rivera suggests a few professional hairstyles for curly hair, including an updo that uses a headband, which starts at about 8:30.
Brighton Curly G shares five office hairstyles, including a pretty twist out bun with a side braid that starts at 6:50.
First Class Curls also covers office hairstyles for curly hair for job interviews and the office, including a couple options for professional buns, one starting at 3:50.
YouTube Tutorials for Updos for Short Hair
For shorter hair, Patry Jordan has you covered with five office hairstyles, including the very simple low bun that starts at about 1:50 and only requires a ponytail holder and a couple bobby pins.
Another option for short hair is this style by Lilith Moon, where her short layers in the front make the end result looks like a polished bob in the front.
If you try any of these easy-to-follow office up-do tutorials, let us know! Or if you have easy-to-follow YouTube office hair tutorials, or YouTube channels you follow for office hair help, or other tips and tricks for updos that you want to recommend to other readers, please feel free to share.