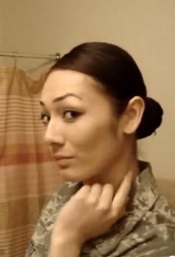 Which are the best professional hairstyles or cuts? How should you upgrade your hair as you climb the corporate ladder? Reader M wonders:
After a lifetime of basically ignoring my hair (I've either kept it quite short or in a ponytail), my career is really taking off and I need to have a more 'corporate' look. (I work in technology, almost entirely with men, but am moving into a position where I need to represent our team to C-levels.) Unfortunately, I have no idea where to start, or how to find a cut/style that will be professional but not require oodles of time. Any tips would be much appreciated.
Great question! If you're comfortable with short hair, you may want to keep it there — it's hard for me to think of a short haircut that would be unprofessional, so long as it's maintained well and styled neatly. That said, here are a few more tips:
– Work with what your hair wants to do if at all possible
— for example, get a cut especially for curly hair.
– If you hate what your hair wants to do, consider getting a style that's easy enough for you or a professional to blow-dry and style it quickly and effectively. 
I don't think there's anything inherently unprofessional about
long hair
(mine currently goes midway down my back, which I would categorize as "very long"), but I know that those extra six inches at the bottom add another 20 minutes to my blow-dry time. My personal $.02: I feel more like me with straight hair, and because only 85% of my hair is curly — there is a straight under-layer that is noticeable (and annoying) whenever I try to wear it curly — I've been focusing on trying to teach myself to blow-dry it straight. I've gotten better and faster at it, particularly with the investment in much better products (a
boar bristle brush
, a
T3 blow-dryer
, and
Moroccan Oil
, which my hair seems to love), but it is nowhere near as good as a professional blowout. Another option: just making a weekly investment in time and money and going to the salon for a blowout — it may be $20-$50, depending on where you live — but if you feel more confident in it and can
make the blowout last
for almost all of the working week, then that sounds like a reasonable investment to me. (I've read a lot of advice that a 5-day time frame for a blowout is doable — see our
earlier
discussion on "training" your hair and scalp for lasting a few days between washes.)
– if the time/money investment in the salon/DIY blowout is undesirable (or you really want/need to wash your hair every day), look to professional up-dos
— a bun, the french twist, even a prettier ponytail. (I've been very impressed by YouTube tutorials from women in the military, who have to wear their hair back and in a bun, such as
this one from YouTuber notoriousnoee
(screencap above) — these ladies get their hair back neatly, quickly, and I'm guessing those up-dos last the day without a headache. For a less severe look, consider pulling a few pieces out around your face, or styling the very front of your hair separately, as shown in this video from
Pursebuzz
(as featured in the very first
hair post
on Corporette, awww). I hate to say it but Sarah Palin was on to something — a "bump" does tend to make things look more professional (or, at least flattering, for most people). I prefer to tease my own hair using a special brush (I think mine is the
Spornette Little Wonder
), but I know Jean at Extra Petite has had success with these
velcro bumpits
available on eBay. Many readers swear by
Goody's Spin Pins
— after a lot of
trial and error
I finally do too.
– Try to reassess your hair every five years or so as it changes.
  I've read that a woman's hair is completely different every seven years — I don't know if that's true, but I know that my own hair has gotten much dryer and curlier with age (and maybe I'm crazy but it seems less shiny also). Particularly for those of you in the pregnancy/nursing phase of your lives, you may find that your hair has drastically changed. No one seems to talk about this either, but there's a period of about 4 months, I think after weaning, where "wispies" were a huge problem for me and for most of my friends — short, flyaway hair at the roots and in front. Is it extra hair breaking? New hair growth? I don't know, but I found that hairspray was essential for that brief period if I wanted to look pulled together.
– Finally: you may want to avoid cuts or color that need high maintenance.
  If your dark hair is dyed
platinum blonde
, the roots may look pretty funky if they're not maintained. (That said, going blonder can be a great way to hide gray hair.)  If you have blunt-cut bangs (or a bob) that need a regular trim every few weeks, you need to factor that trip to the salon into the equation.
Readers, how have you upgraded your hair cut or style as you moved up the corporate ladder? Have you found a great polished and professional look for yourself?
(Pictured: The Sock Bun for Military Girls (screencap), originally uploaded to YouTube by notoriousnoee.)