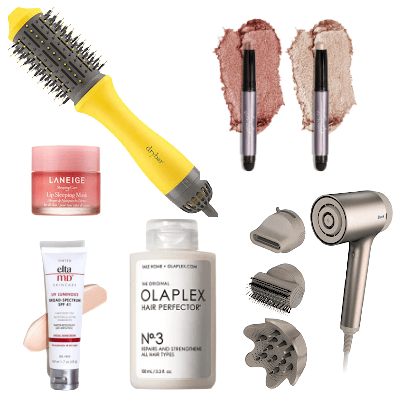 Clockwise: yellow blowdry brush / eye shadow / silver hairdryer / Olaplex hair mask / EltaMD sunscreen / pink lip sleeping mask
I don't usually do a lot about the Amazon Prime Day sales because, historically, I've been kind of underwhelmed by the products with deals. But I've only looked through the sale a little bit this morning and already have a bunch of stuff in my cart, so I thought I'd do a little roundup for you guys…
Beauty Deals in Prime Day 2023
Big brands I'm seeing with lots of deals include:
Fashion Deals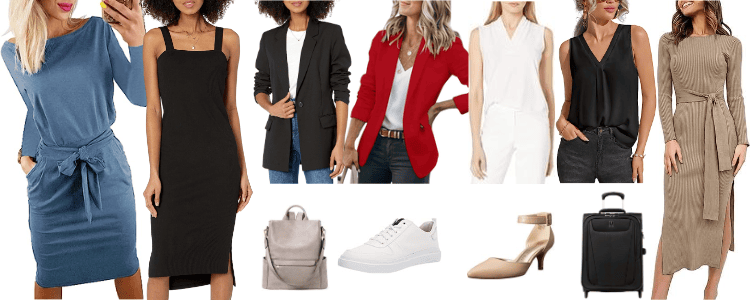 (Clockwise:) blue dress / square neck dress / black blazer / red blazer / white top / silky black V / beige sweater dress / black carry-on / beige heel / white sneaker / beige backpack
So there isn't a TON for workwear here… but if you're into hiking, have many wedding guest-type events coming up, and/or want to partake in what I'll call "Amazon trends" like matching PJs that some people turn into outfits, or scrunch-butt shorts (sigh), this is your chance. (FINE, I've got one of the matching PJs in my cart, but only because the reviewers talked about how incredibly soft and comfy it is.)
First, the workwear:
For lounge, weekend, and lifestyle:
Deals for Moms/Parents
On the moms side: TONS of diaper deals, especially from Pampers, as well as bath stuff from CeraVe. A few other brands worth noting:
Electronics Deals
What are you guys excited about for Prime Day?