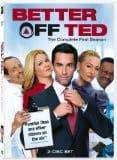 In the 360 Fashion Review, Corporette examines a fictional "professional woman's" attire and critiques it from all perspectives: underling, boss, friend.
All right – we are resurrecting one of the features that we get a lot of requests for: the 360 Review. We've done one for Dr. Lisa Cuddy of House, Ellen Parsons of Damages, Rachel Menken of Mad Men — and then we kind of got tired of looking for screen caps that were of good quality. Also, we kind of stopped watching a lot of television in which people dress professionally. (Kell on Earth? Nope. The Tudors? Ermm. Syndicated repeats of Star Trek: The Next Generation, our husband's favorite? Well, they dress professionally, and there is much to be said about the fashion — ye gods, the fashion — but perhaps this is not the forum for that.) 2016 update: I've updated links below, and note that in a recent discussion readers were still calling out this amazing, hilarious show that was sadly cancelled after one season. You can stream it on Netflix or buy/rent it on Amazon.
However, Better Off Ted is one of our shows that is a) airing new episodes, b) really good, and c) involves fictional characters who dress somewhat professionally. It is a brilliant, brilliant comedy, with lots to say about office culture in a big corporation — and accordingly, we hear it is almost canceled. So we thought we'd get our 360 review in now, and hopefully inspire some of you to check it out.
The basics of Better Off Ted, if you don't know them: Linda (second left in the photo above; Andrea Anders plays her) is a "quality assurance tester" at a large, soulless corporation, Veridian Dynamics. In the first episode we see her filling her desk drawer with Splenda packets from the coffee room, because this small act of rebellion makes her feel alive. Her immediate boss, Ted (played by Jay Harrington), is charmed by this — and would ask her out, had he not already had his one allotted office fling. That fling was with Veronica, Ted's boss (played by Portia de Rossi), who has drunk far too much of the office Kool-Aid and feels entirely comfortable with abandoning sense and morality in order to get the job at Veridian done. She is always dressed immaculately, with her hair pulled up into a severe bun — which only comes down when she's playing the assistant to her magician boyfriend. We think these two sentences from Linda's bio on the ABC website sums up both her character and the show quite nicely:
She's the most rational person in the company, the first to point out the insanity of making Christmas sweaters with the unfortunate quality of occasionally eating the flesh of the wearer. Linda is one of the few Veridian employees who sees her job as simply a job and not a life-long career. She dreams to one day publish her own children's book, the story of a stern giraffe and a precocious toaster.
Thus: today's 360 Fashion Review will focus on Linda. We'll examine what her clothes, accessories, and personal style might say to a superior, to an underling, or to a friend.
One of the things that makes Linda interesting for a 360 is that she dresses the way so many of us dress so often: a lot of basics in solid colors. We actually really like the blouse here — the unusual collar, along with the blousing of the sleeves, makes it look stylish — less like a waiter wearing black and white. Note that she's not afraid to tuck things in.
(Side note: We are loving the way Veronica's necktie is purposely tied to the right. [We would have done a 360 of Veronica, honestly we would have, but "model of perfection" doesn't leave a lot to be said.] Here's a better shot of that necktie.) UPDATE: We actually managed to track down the costume designer for the show, Brandy Lusvardi, to talk about Veronica's style in more depth.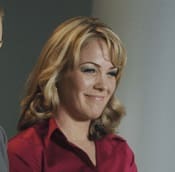 We haven't quite figured out how Linda's makeup plays into her character. In this picture, you can see it: bubblegum pink lipstick, blue eye shadow, and, ah, some attempt at curling her hair. For our $.02, this is one of those examples where the effort Linda put into the makeup is just a distraction to everyone she works with.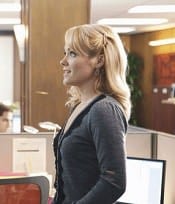 Say it with us, ladies: camisole. Camisole. It's a good thing, and it stops you from looking like you're wearing your low-cut sweaters with nothing beneath them.
We have varying thoughts on her hair. She sure does style it a lot. It's never wild or crazy, though (although: wait for the last picture), and it generally always looks nice. We actually quite like this particular look, pulled back like that. That said, we know from experience that it's really difficult to get two barrettes to look "balanced" — one is always too high, or too far back, or kind of holding the hair in a different way. We're curious what the readers have to say on this hairstyle, though — even assuming one can get it perfect, is it perhaps too juvenile? Perhaps too "children's author" and not professional enough?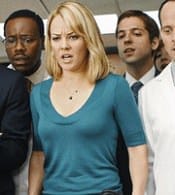 Here's another place a camisole would have been nice, if only for propriety's sake (or in case she has to hand someone a report across a conference table, for example).Her jewelry, as you can tell, is almost always on the delicate side. Simple, nondescript chain with simple, nondescript pendant. She's not conveying class or personality.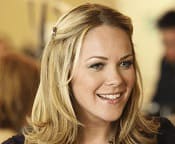 OK, we really don't like this hairstyle for the office. Is it the high placement of the barrettes so high on her head? Is it the strands of hair falling down? Is it the lack of bangs? We're not entirely sure, but… just… no.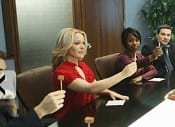 A flip? Seriously? Please! If we were this woman's underling, we would resent doing anything she asked us to because it's clear that she has a lot of time to spend with her curling iron and blowdryer.
Our take: If we were this woman's boss, we probably wouldn't notice her at all, provided her work was solidly mediocre. And maybe that's the point, from the storyline point of view — she's trying to fly below the radar and keep her job until her children's book takes off, but it probably never will because her sense of imagination may not be as great as she thinks it is, as you can see from her fashion choices. As we mentioned above, if we were her underling we would resent the time she puts into her hair — when we noticed her, if at all.
Our advice: If we were her friend, we'd give Linda one of the best pieces of advice we ever got — from the BBC version of What Not to Wear. Trinny, we believe, advised a woman to "always wear color with color, or black with black." Linda? Did you hear that? The black pants paired with a solid top = bo-ring. Sure, we get that she's flying below the radar, but if she is a creative soul we'd like to see her take some risks — with color, perhaps (pair purple and yellow together one day!) or prints (wear some! maybe two at once!) or — easiest of all — some jewelry. We'd like to see her move away from the "single pendant necklace" look — either by wearing chunkier jewelry, or with a layered pendant-necklace look, or even with some vintage pieces like brooches. Or shoes, Linda, where are some shoes with personality? On the flip side, if Linda were ever to decide that she actually did want to start being noticed, we'd hope to see her wear a few more structured pieces — a blazer, a pencil skirt — and wear them with more authority. A lot of the styling of the hair would probably have to go out the window, also — it's an interesting contrast on the show that Veronica, Linda's boss, always wears her hair in a tight bun, whereas Linda changes her hairstyle often. We're not saying that a female executive can't have more than one hairstyle, but … well, perhaps the Charlie's Angels flip isn't one of them.
You can stream it on Netflix or buy/rent it on Amazon.
Readers, any thoughts?