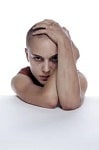 Today's e-mail is from J, who has a question about bold hair choices and job interviews…
I'm a public policy grad student, graduating in May and applying for jobs all over the place , but many in DC (employers range from government-level, to think-tanks, to smaller non-profits). I am 22. Right now I am pretty average-looking: short, white, size 2, brown hair slightly longer than shoulder-length in a well-maintained cut. I found out this week that my close family friends' seven-year-old daughter has been diagnosed with leukemia. The girl and I are very close, and I think of her like my sister, so obviously I'm torn up about this. Her mom says she looks up to me, and I know I influence her behavior so I try to be a good role model. She's going to be getting chemo, the whole nine yards, and I am anticipating that she'll have a hard time if she loses her hair. I'm thinking about shaving my head to support her. Now I'll be honest and say that I've never had short hair, let alone shaved it before, and I do have some issues about the whole thing — but none of them outweigh my desire to to do something concrete to help the girl. However, my question is, do you think a shaved head would affect my chances at getting a job? Would it be likely to freak an employer out? Any general thoughts?
Wow. We have a lot of thoughts on this, and we're sure our readers will have more. We'll try to put our thoughts in a cogent order…
First: Our hearts go out to your sick friend, to her family, and to you. Words can't properly express how strongly we hope she gets better.

Second: We get what you want to do with the shaved head — words can't express it, and to shave your head along with her and show solidarity with her — this is a Good Thing that you want to do. A few further thoughts:
It sounds like your friend has not yet lost her hair — we are unsure of how quickly a chemo patient loses their hair, or how definite hair loss is. (Background: a  good friend of ours endured a lot of chemo when we were around 19, and she didn't lose hardly any of her hair.)  And so you may be jumping the gun a bit to get your head shaved immediately.
Do you see the girl often enough? It sounds as if you do — but if you only see her once every 3 months, you may want to reconsider, even though your gesture is incredibly magnanimous.
Would you keep it shaved throughout her treatment? Or would you let it grow out after shaving it?
Third: Ah, yes, the job thing. There's no way around it, your job interviewers will DEFINITELY notice a shaved head. But:
Anyone with a heart will sympathize with your reasons for doing it. So long as your job is behind the scenes, hopefully the person will look beyond your hair.
If your job is NOT behind the scenes, or if Important People visit the office where you'll be working on a regular basis, you may want to prepare yourself — this may not be a job that you will get, unless the person in charge thinks they are running a young, hip shop (whether it be a think tank or a non-profit). Some people simply will not want an underling who makes more of an impact than they do.
It will be your resume and transcript that wins you the interview — so your bald head won't be an issue until then.
On the interview:  You should think about how to explain your bald head in the interview. We think a bald head does need to be explained, both because a) the interviewer might worry that you are sick yourself, and you should dissuade those fears, and b) this act of shaving your head says a lot about who you are — it speaks to your loyalty, your strength, your sense of self — and these are all good things that interviewers should know. 

(A quick tip — you might want to simplify the story and just say "my 7-year-old sister" and leave it at that, unless the interviewer delves further.)*
Fourth:  You are young. This is the time to shave your head, or dye your hair blue, or otherwise take fashion and beauty risks. Hair is a great place to take these risks, because it grows out and is back to normal in short order. Give yourself at least a few years until you force yourself to play it safe.
Fifth: We have less coherent thoughts on this, but as a stream:  We have a number of guy friends who shaved their heads rather than deal with dwindling hair (or because they thought it looked cool). We have had friends who actually did suffer hair loss because of chemo and had no choice but to rock the bald look. We also know some very fashionable women who shaved their heads just because they thought it complimented their bone structure (and we're sure we've seen at least, like, 3 models on America's Next Top Model get it done.)  A bald head really should not be a big deal.
We've spent limited time on the DC scene, though, so we asked a friend of ours who worked at numerous places (and was fairly powerful) before she left for greener pastures. Her thoughts:
My first instinct is that they may look at her and form (ignorant) opinions right away. My second thought is that it's a good conversation starter for her and shows a side of her that demonstrates commitment, which is an attractive quality for a job applicant. However, for # 2 to work, she has to come up with a great way to open up the reason for her hair pretty quick into each interview. … Also, I'd say that if an interviewer judges her by her hair, she probably wouldn't want to spend the majority of her waking hours with those people anyway.
All right, readers — what are your thoughts?
* UPDATE: Geez, commenters are going nuts over our suggestion that she simplify her explanation as much as possible. We stand by our advice to come up with a quick, easy way to explain your baldness, and be open to talking about the issue more if the interviewer wants to. This shouldn't be the focus of the interview, though. We totally disagree that saying her friend is her "sister" is a Lie in the capital L sense of the word — which should never be done in a job interview, obviously, and perhaps "cousin" would have been better suggestion. But: either way it could be explained further, very easily and quickly, if the interviewer wanted to talk about it.
Pictured.