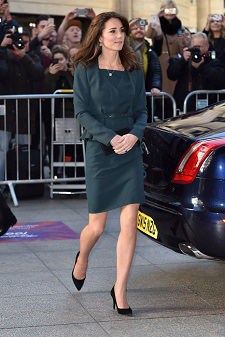 This page was last updated September 2023 except where otherwise noted.
Can you wear "interesting" suits to court — colorful, patterned, fanciful, haute? (You know, kind of like in our weekly Suit of the Week feature?)
Reader E asks — specifically wondering about this teal LK Bennett suit that Kate Middleton is wearing here — and I think it's a great question for all the women lawyers:
This is a lawyer-specific question – can you wear interesting suits to court if it's still a suit? I agree with previous suggestions here that a dress/blazer combo, unless its meant to be a suit, is not formal enough for court. But, my question is, what about things that are true suit sets but are more interesting – like an AT tweed suit, or the LK Bennett dark teal dress and jacket suit set that Kate Mid. has? Or do you think court suits have to be black/grey/navy and totally plain? Thx!
I can't wait to hear what the readers say here.
(Psst: In the past we've shared our roundup of the best suits for women this year, given tips on suiting alterations for women, and offered advice on dry cleaning women's suits. Also check out our post on C-suite style for women if you're interested in power dressing!)
We are a participant in the Amazon Services LLC Associates Program, an affiliate advertising program designed to provide a means for us to earn fees by linking to Amazon.com and affiliated sites.
This post contains affiliate links and Corporette® may earn commissions for purchases made through links in this post. For more details see here. Thank you so much for your support!
When It's OK to Wear Interesting Suits to Court
I always think of my reaction to an article years ago about a young public defender who wore Balmain (at the time, their blazers had super pointy shoulders) and other couture suits to court. The impression it left on me was a bad one — it seemed like she was not showing any respect for her clients or the fact that she was there to represent THEM, in life-altering matters, before stodgy judges and juries who may or may not have approved of her fashion choices (or her designer budget).
Plus, as readers have pointed out in the past, wearing ostensibly designer, moneyed things in front of juries can be a bad move, particularly if you're a public defender.
NOW: A crazy/trendy Balmain suit is one thing — a dark teal LK Bennett dress and jacket is another. But where is the line? And are there different rules for "first appearance before the court" and "day 30 of a 6-month trial"?
Here's my take on when it's OK to wear interesting suits to court:
If you're appearing in court, remember that you're representing someone else. Honor that relationship by keeping the focus on your arguments and their situation, not on your personality or your clothes.
Treat early appearances like an interview. If it's early on in anyone's relationship (yours to the client, the client's relationship to the judge or jury, YOURS to the judge/jury) then treat it like an interview and go with the "hit 'em with my smarts" approach to interview attire: classic, tasteful, inoffensive — so your brain can shine, and the focus can be on the arguments you're making on behalf of your client.
If it looks like you're in costume, don't wear it. Period. This may apply to vintage couture, overly girly suits, or more.
Stick with standard rules for trends at conservative offices: if you wouldn't have worn the shape five years ago, reconsider it. If it's body baring, don't wear it. (I'd include a skirt suit with a miniskirt, or a shorts suit, unless you are a lawyer in Bermuda.) If it's illogical, don't wear it. (I'd call exposed toes in winter illogical, and possibly a cape blazer as well.)
With regard to the teal LK Bennett suit — it's a gorgeous, gorgeous suit, and I think the color is muted enough that you can get away with it.
Our Latest Favorite Interesting Suits
Every week on Wednesday we pick one suit to feature for our "Suit of the Week" — and it's almost always what we'd call an "interesting suit." These are the latest ones we've featured:
Stay tuned for a roundup of some of Kat's latest favorite interesting suits!
Suits That Look Like Kate Middleton's Green Peplum LK Bennett Suit
If you're hunting for a suit just like Kate Middleton's green LK Bennett suit, we'll round up the latest ones we've seen. Some of the key characteristics: it's a dark green color, maybe even a teal… it has a peplum detail on the jacket… and it's shown with a pencil skirt.
Hobbs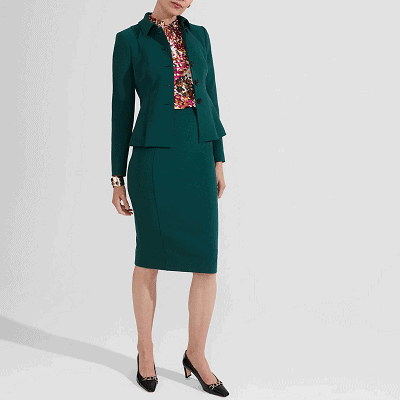 This is suuuuuch a pretty skirt suit from UK brand Hobbs.
(Fun fact: so many things there are machine washable, including the skirt here! The jacket says "dry clean," but not "dry clean only," so you could in theory wash it carefully in the machine.)
The color, the peplum, the cut of the skirt… it all really reminds me of Kate Middleton's LK Bennett suit!
The suit is new as of Aug. 2023, so all sizes (US sizes 0-16) are in stock. The jacket is $480, and the skirt is $275.
Suits with Dresses Instead of Skirts
Other Suits with a Ladylike Vibe…
In general (as of 2023), brands that specialize in suits with a ladylike vibe (for lack of a better word) include Hobbs, LK Bennett, The Fold London, and Ted Baker — Amazon seller Marycrafts also has some great (super affordable!) ladylike suits.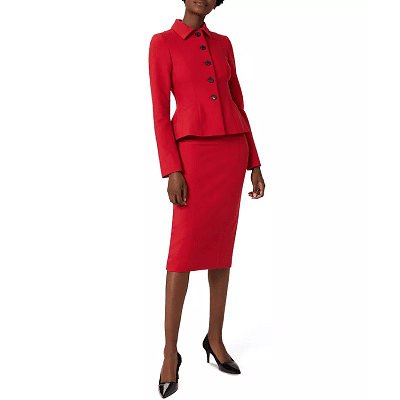 Readers, what would you say — can you wear interesting suits to court? Would you wear them; where are your lines for when a suit is TOO interesting to wear to court?