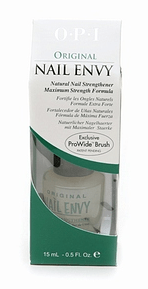 What is the perfect clear nail polish for professional women? What takes the least amount of time to apply, yet yields great results (and is good for your nails)?
I sometimes wish I could be one of those girls who had a perfect manicure all the time. For a very brief while I tried to be, namely right after I got engaged. And you know what? Spending 30-60 minutes a week getting my nails done is not my idea of a good time. I hate sitting across from a stranger trying to make small talk while she paints my nails, and I hate the way I invariably chip them about 10 minutes after leaving the nail salon (and I am definitely one of those people who has to remove chipped polish, STAT) — and ultimately I can think of a zillion better things to do with 30-60 minutes than go to a salon.
In addition to this hatred of the nail salon, I'm also not very good at painting my nails. So my solution over the years — when I want to add a little somethin' somethin' to my nails without heading to the salon — has been this: OPI's Nail Envy. I've actually used this product off and on since I was 15 or so, and just rediscovered it recently. Don't get me wrong: it's just your basic clear polish. But what I truly love about it is that it dries in about 2 minutes — and has ingredients that are actually meant to strengthen your nails. It lasts for forever, and you're actually encouraged to apply new coats right on top of the old for the "maximum" effect of the nail strengthener stuff.
OPI Nail Treatments Nail Envy Natural Nail Strengthener, Original
is available at Drugstore.com for $15.50, or Amazon for $11.
These are some of our favorite nail colors for interviews: 1) Ballet Slippers 2) Mademoiselle and 3) Sugar Daddy. CLASSIC!