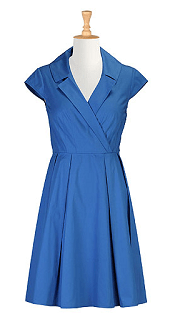 2018 Update: We still think this is a great discussion about bespoke dresses for the office, but if you're a busty professional, you may want to check out some of our other content, including our most recent roundup of the best lingerie to buy at Nordstrom.
Ladies, do you buy bespoke dresses and clothing?  How else can you wear dresses if your top and bottom halves are very different sizes? Reader N wonders:
I would like to wear dresses more frequently to the office, but I find it very difficult to find a good fit. I wear a size 4 to 6 on the top, and a 12 to 14 on the bottom (I definitely carry all my weight in my bottom half). Any suggestions on a style/cut of a dress that might work? I don't always want to wear a wrap dress.
We haven't talked about how to dress professionally if your top and bottom are different sizes for a long time, so let's discuss.  My immediate thoughts for reader N:
– eShakti sounds PERFECT for you.  Not only can you customize dresses in "standard" sizes — for example, for the dress pictured above you can choose from five different sleeves, four different hem lengths, and two necklines), but you can also get the dress entirely custom made to your exact measurements for just a few dollars more.  (Portrait collar poplin dress, starting at $59.95 at eShakti.)
– There are a number of new specialty boutiques popping up that do custom sizes, as well.  For example, Carrie Hammer —
I've met the founder a few times at various events, invariably wearing her own dresses, and they really do look lovely.  They offer a similar customization service for dresses up to size 24 — sleeves, neckline, hem length — as well as bespoke dresses. (Right now, personal fittings are in the tri-state area, but dresses will be available nationally by self measurement by the end of April.)  (Pictured: Sarah dress, available at CarrieHammer.com for $295.)
– Etsy.  You can get a lot of things handmade on Etsy for fairly affordable prices.  I don't have any specific recommendations for you, but take a look through their general women's/bespoke area.  I might suggest a) look for a person whose work you admire — you're looking at craftsmanship and detailing more than the specific styles of dresses — and b) perhaps send her a dress (or even fabrics) that you already love, so he or she has a basis to work from. (Check out our review of 7 Etsy stores for workwear, here.)
– 2017 Update: Stores Elsa and Me and Michaela Jerdinak both do custom measurements as well. (Check out other workwear fashion start-ups you may not have heard about…)
– If you'd still prefer off the rack clothing, you may want to take a look at Nordstrom's TrueFit. I've always heard great things about how Nordstrom (like a lot of department stores) will tailor your clothes for you — it looks like they now have a whole "TrueFit" system that will give you recommendations based on your body type, after you fill out a questionnaire. It doesn't take your exact measurements, but rather asks you a bunch of questions (is your bust high or low? is your butt flat or round? etc) and asks you to choose some of your favorite brands so it can select other ones similar to it. It's an interesting idea — readers, do you have any experience with it?
Of course, for those readers with the reverse problem (a bigger top half and smaller bottom), there are a number of shops that primarily cater to women with larger busts.
Readers with different sized tops and bottoms — do you buy bespoke dresses or other clothes?  What are your favorite shops and methods for buying?
Social media image: Pixabay.