When you've got a big bust, shopping for blouses that actually fit and flatter can be pretty frustrating (see: "Why does fashion ignore big breasts?"), but there are some quality brands out there that specialize in dress shirts for women with large breasts.
We last rounded up these busty blouse brands back in 2013, but the landscape has changed a bit, so we thought we'd do an update!
Pictured, clockwise: black / white / orange / white
In the past we've offered style tips for busty women and talked about how to dress professionally if you're busty. We've discussed issues such as how to fix gaping blouses and whether a blazer must button to fit, as well as rounded up companies making bespoke dresses and blazers for the busty.
Note also that Hourglassy is an invaluable resource if you aren't already following along. (By the way, before you consider any of the brands below, make sure you're wearing the correct size bra, which of course can affect how your tops fit.)
This post contains affiliate links and Corporette® may earn commissions for purchases made through links in this post. For more details see here. Thank you so much for your support!
Here are some brands offering dress shirts for women with large breasts:
Of course, you can also stick with your regular shirts and try some of our other solutions to help you fix a gaping blouse…
Some of the top products to help you fix a gaping blouse include:

Above, some solutions for gaping blouses: 1) Topstick toupee tape 2) double-stick medical tape 3) Flash Tape 4) Fearless Tape 5) black & white and colorful safety pins — see more clever solutions for workwear problems in our Amazon shop!
Based in: U.S.
Tagline: "Classic dress shirts for the large busted woman who cares about fit and quality."
Offers: White, stretch Egyptian cotton, button-down shirts that are made to order in 24 sizes, according to measurements and fit preference.
Sample item: The white Signature Shirt (their single style) is $180.
Based in: U.S.
Tagline: "The shirt reimagined for the perfect fit."
Blouse offerings: Button-down blouses with No Gape® button technology.
Sample item: The Essentials Icon Shirt, 19 colors (!), sizes XS–XXL, $76.
Based in: U.S.
Tagline: "We design. You customize."
Blouse offerings: Several styles (work-appropriate and not), fully customizable.
Sample item: Pleat Front Stretch Poplin Slim Fit Shirt with no-gap button spacing at the top, four colors, sizes 0–36W, $38.95.
Based in: Canada
Tagline: "Clothing for women of all shapes and sizes, handmade to measure in Canada."
Blouse offerings: Shirts customized according to measurements and fit preference (fitted, semi-fitted, easy fit, roomy, oversize, or "it's complicated"); several work-appropriate styles.
Sample item: Romantic Top (3/4-sleeve V-neck), available in 25 (!) fabric/color combinations, $64 (CAD).
Based in: UK
Tagline: "Inspiring Big-Boobed Women to Feel Amazing!"
Blouse offerings: Button-front options include sleeveless, short-sleeve, 3/4-sleeve, and long-sleeve.
Sample item: Fitted Long Sleeve Shirt, three colors, sizes 0–14 in three size ranges (Curvy, Really Curvy, Super Curvy), $80.
Based in: UK
Tagline: "Premier designer fashion for busty women."
Blouse offerings: Some styles (from various brands) are work-appropriate; D–H cup sizes.
Sample item: Sofia Top (black jersey faux-wrap), fits up to GG cup, UK sizes, $98.
Based in: U.S.
Tagline: "Chic fashions for larger bosoms"
Blouse offerings: Button-front blouses with different sleeve lengths with some stretch, sizes 6–20
Sample item: The One & Only Shirt, $69
Front Room
2020 Update: It looks like this brand may not be around anymore.
Based in: Canada
Tagline: "Style made for the top."
Blouse offerings: Many styles, including workwear. Specially designed for large cup sizes, 30DD–40JJ; take a few measurements to find your size on the site.
Sample item: White Essential Silk Utility Blouse (no direct link), XS–XL, $279 (CAD).
Marks & Spencer's No Peep Shirts
2020 Update: it looks like this line has been discontinued. :(
Based in: UK (but ships to U.S.)
Tagline: "Shop shirts with our No Peep design and concealed extra buttons for stylish and practical shirts perfect for work or new season styles."
Blouse offerings: Generally size 6–24 (check size guide before ordering, though!)
Sample item & price: Cotton Rich No Peep Shirt, £15
Reader recommendation (see also)
Here are a few reader favorites from non-specialized brands (all affiliate links):
For the big-busted readers out there: Which brands do you think make the best dress shirts for women with large breasts? Any experiences with the ones listed above? What are some blouses from mainstream brands that you've found to be a good fit if you have large breasts? What about bras, swimwear, dresses, and other pieces?
This post was originally written in 2017, but updated substantially in August 2020, except where otherwise noted.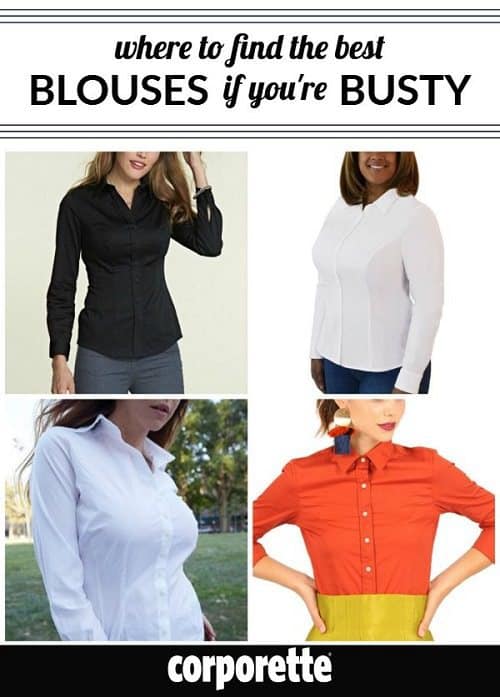 We are a participant in the Amazon Services LLC Associates Program, an affiliate advertising program designed to provide a means for us to earn fees by linking to Amazon.com and affiliated sites.