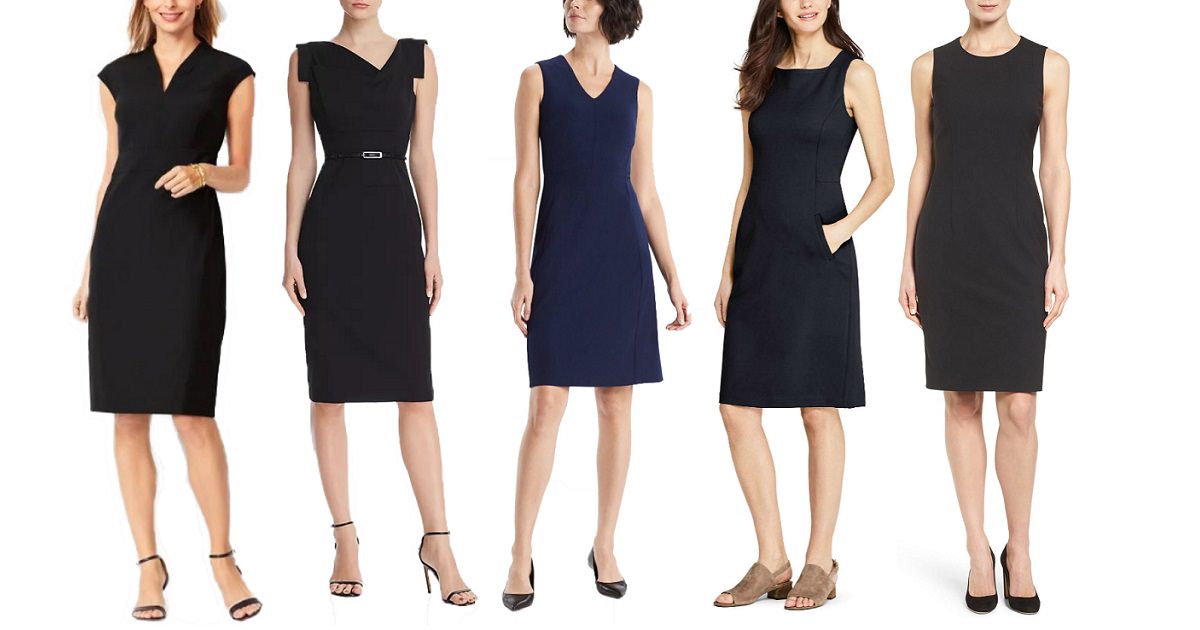 Sure, we all know what wardrobe essentials for work professional women are supposed to have in their closets, but if you're buying one for the first time or replacing one you've worn into the ground, it can be a pain to find exactly the right incarnation in stores. In "The Hunt," we search the stores for a basic item that every woman should have.
It's hard to beat the classic sheath dress for work — it's a blank slate that you can dress up for an important work event with a blazer and sleek heels, but also dress down with a cardigan and a funky flat or a sandal.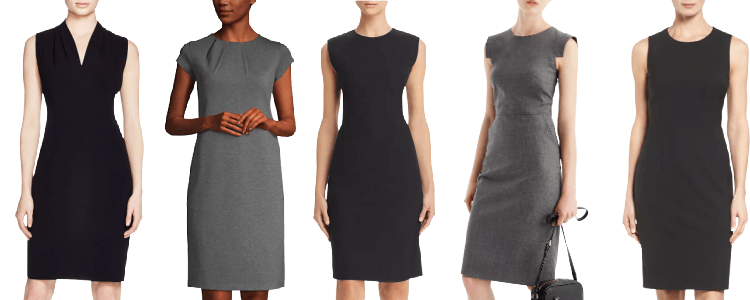 Some of the most stylish sheath dresses for work as of 2022: one / two / three / four / five (not pictured but also) 
What I look for in a great sheath dress for work these days includes:
thick enough straps or sleeves that there is no chance of bra straps showing through — look for lingerie snaps inside dresses to keep your bra in place, or ask your tailor to add them if you have a problem with falling bra straps
a work-appropriate length that isn't too trendy — usually within an inch of your kneecap
a fit that is tailored and polished but not "bodycon" — no one wants to work long hours in skintight clothing!
pockets, which can be great (because, well, pockets!) but often add a lot of bulk and detract from the sleekness (I still almost always want pockets, but that's me.)
sleeves, which can also be a double-edged sword — sleeveless styles will inevitably layer better underneath cardigans and blazers. That said, sleeveless looks are not appropriate for every office — so know your office culture if you plan on wearing a sleeveless dress by itself.
Finally, note that on some sheath dresses you may have to rip your vents for the skirt — if there's a little X sewn into the bottom of the vent, that probably isn't supposed to be there.
Readers, what are you looking for in a sheath dress these days — what makes the best dress for work in your eyes? Which styles and brands do you wear the most?
Hall of Famers (specific styles that have stood the test of time): Theory, BOSS, Tahari, Lands' End, Black Halo, Of Mercer, M.M.LaFleur 
Under $100:  Lands' End, Calvin Klein, Boden
Plus sizes: Eloquii, Universal Standard, MMLF, Talbots, J.Crew, Lands' End, Calvin Klein (sign up for our newsletter focusing on plus-size workwear!)
Petite sizes: Ann Taylor, Lands' End, J.Crew, Boden, Brooks Brothers, Talbots, Old Navy
Tall sizes: Ann Taylor, Lands' End, J.Crew, Boden, Banana Republic, Old Navy
Pregnancy sizes: Isabella Oliver, Isabel Maternity, Isabel Maternity, and PattyBoutik (and check out our entire guide to maternity dresses for work!)
Best dresses for work with sleeves: MMLF, Boden, Lands' End
Best dresses for work with pockets: MMLF, Boden, Lands' End
Washable dresses for work: so many below!
Curious for past roundups of sheath dresses? Here they are from 2018, 2017, 2016, 2015, 2014, 2013, 2012, and 2011. For other sizing issues, you may want to check out our roundup of bespoke dresses, which you can order to fit exactly to your measurements.
There were so many good ones this time that I thought instead of focusing on just a few random dresses, it might be fun to look at the general offerings at each store.
(Don't miss our Hall of Fame listings above, though, for a bunch of other styles that have been around for ages!) So here are some of our picks from the usual suspects for the best dresses for work…
The Best Dresses for Work at Ann Taylor
Pictured above: one / two / three
All of these dresses come in regular, petite, and tall sizes, all of them are machine washable, and all are available up to size 18. They're $129-$149 (but keep an eye out for 40-50% off sales!) at Ann Taylor.
Personally, my top pick would be the first dress — I like that the back is totally covered and it's seasonless stretch (unlike dress #3), but I think the neckline is a bit more versatile than #2.
The Best Dresses for Work at MM. LaFleur
Pictured above: one / two / three
MMLF keeps putting out classic dresses that are reliable for work. (I heard recently that their sizing changed recently — what say you, ladies? A friend was complaining about having to return size 6s for 4s due to vanity sizing.)
#2 has always been our pick for a Hall of Famer in the past — nice high V, totally covered neckline, machine washable, and available in a ton of colors — all for $145.
#1 looks very similar to me but has a slightly wider V-neck and a slightly straighter skirt — and it's available up to size 3X, which is great. Alas, this one is dry clean only, and sells for $240. #3 is one of the classic MMLF styles, and — huzzah! — it's got pockets. It's $195, comes in a zillion colors up to size 3X, and is machine washable.
The Best Dresses for Work at J.Crew
Pictured above: one / two / three
By my count, the newest dress to the dress party at J.Crew is the first one pictured above, made of a bi-stretch cotton and with some nice serious darts down the front. It's available up to size 24 (as well as petites and tall sizes), and comes in five colors, some of which have a matching cropped blazer.
The second and third dresses have been around for ages and are definitely classics at this point! They are all priced $148-$188 full price, but keep an eye out for 30-50% off sales.
The Best Dresses for Work at Boden
Pictured above: one / two / three
Boden, as always, has a ton of cute dresses for work — and so many of them have sleeves and pockets, huzzah! The first one above is a nice take on the scallop trend (and comes in a ton of colors), whereas #2 and #3 are both classic styles at Boden and have pockets; #2 is machine washable.
All three are under $150 at Boden.
A Few Other Dresses For Work…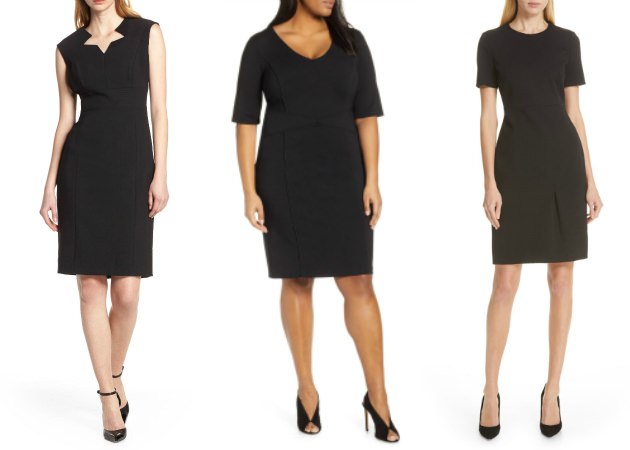 Pictured above: one / two / three
Obviously, we couldn't include every dress for work that's getting good reviews right now — but here are a few additional mentions. The first one pictured above first came on my radar last year at last July's Nordstrom Anniversary Sale and has been going strong since, getting tons of great reviews in all its various colors. It's definitely more of a statement than the other dresses we're featuring here.
The second one above is a bestselling style at Eloquii that Nordstrom now carries as well; Nordstrom has several colors, as does Eloquii.
Finally, #3 is the most expensive one we're featuring today — it's $445, from BOSS. I always think of this sleeveless dress as being the "basic BOSS sheath," but I keep coming back to the one pictured above — the sleeves and the slight A-line shape make it feel really fresh to me.
Like this feature? Check out other recent installments!
This post contains affiliate links and Corporette® may earn commissions for purchases made through links in this post. For more details see here. Thank you so much for your support!