2020 Update: We still think this is a great round up of the best stores for maternity wear, but you may also want to check out our more recent discussion of what to wear to work while pregnant, as well as our roundup of maternity workwear essentials.
We've talked about the best stores for workwear for tall women, for petites, and for plus sizes; the last one we're going to talk about is the best stores for maternity wear. Spoiler alert: the choices are never great — but they have expanded quite a bit since I was pregnant (and since we last looked at professional maternity clothes). Today I've asked blogger (and Corporette reader!) K from Work That Bump to guest post and round up some of the best stores for the working pregnant lady. Welcome, K! – Kat.
Scaling Mount Everest, running a marathon, and collecting a suitable maternity working wardrobe — it may not seem that the last one belongs, but trust me, it does. So although I can't comment on the first two feats, I was thrilled when Kat asked me if I would guest post on the third. I've created what I hope to be a comprehensive list of maternity brands and stores (something I wish I had when I was pregnant).
Other issues I've addressed that may be helpful: I recently spelled out my approach to shopping for maternity wear and my maternity-wear budget. I've also tackled the difficult questions of intimate apparel while pregnant and a transition wardrobe while pregnant.
Before we get into the list of stores, though, it is worth noting that you can score some good prices on maternity wear on Gilt, Rue La La, Zulily, and Haute Look. Gilt currently has eight pages of maternity wear from good brands like Maternal America and Eva Alexander, as well as nursing bras, jeans, and casual tops for the weekends.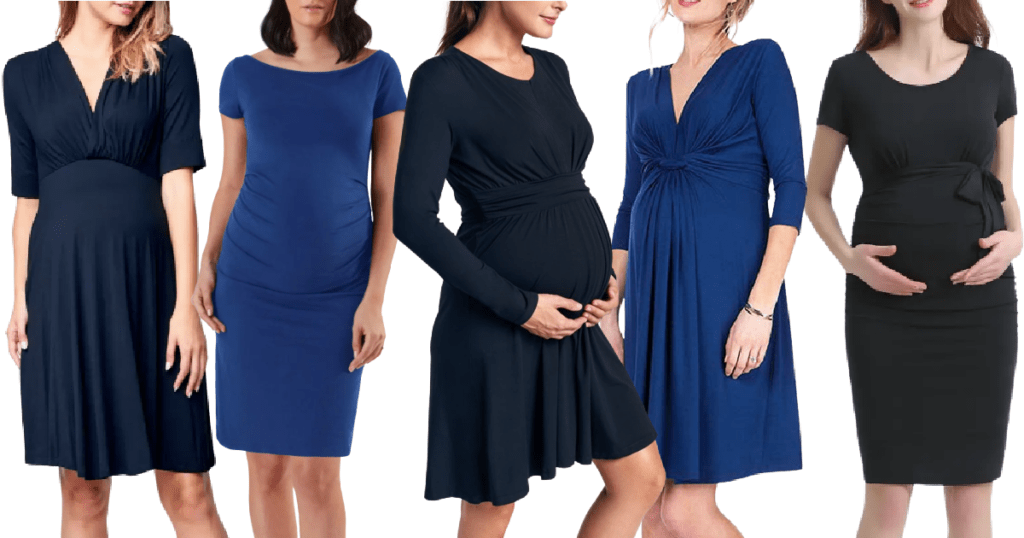 Some of our favorite, must-have maternity dresses for the office as of 2022: navy / royal / navy / royal / black (not pictured, but also)
And now to the list of awesome brands and the best stores for maternity wear stores and brands:
Readers, what were/are your favorite stores for maternity workwear? What were your biggest challenges, style-wise?
Want more great pregnancy advice? Sign up for our pregnancy newsletter for working moms-to-be!
We are a participant in the Amazon Services LLC Associates Program, an affiliate advertising program designed to provide a means for us to earn fees by linking to Amazon.com and affiliated sites.