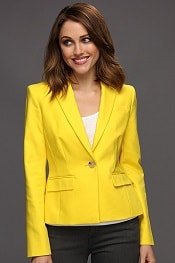 2021 Update: We still stand by this roundup of the best workwear for petites, but you may also want to check out our latest discussion on where to find stylish petite suits for women, as well as our best work fashion tips for petite women.
We have a super old post about the best suits for petite women, but we haven't talked about this in ages, so let's discuss: Which are your favorite stores and brands for workwear for petites? Are there any indie brands or Etsy shops that you love?
For my $.02, it seems like the list of stores that offer petite sizes is growing, which is a great sign; I feel like bespoke dressmakers and suiting alterations are both more common than before as well. Here's the list of stores that I know of that offer petite clothing:
Jeetly – A UK site specifically geared to the petite professional woman
Amazon – They have a whole department geared for petites, and you can sort by percentage off (it works best if you pick a department and sort — e.g., petite dresses marked 70% off)
6PM – You can sort by percentage off — for example, the blazer pictured above (Anne Klein Petite One Button Blazer) is 54% off — was $169, now marked to $77.
Banana Republic – currently offering 35% off BR and Gap, and 30% off Old Navy (all places offer petites)
Target (lots of cute affordable dresses and blazers, actually)
Dorothy Perkins (for women 5'3″ and under, sizes 0-14)
Other resources: Finally, I've mentioned both blogs on here before, but I should of course mention that there's a big blogging community for petite ladies — Extra Petite and Alterations Needed are two of my favorites for the working woman.
Looking for some great shoes to go with your petite workwear? These are some of the Hall of Famers styles and brands offering narrow widths and smaller sizes…
Comfortable Heels in Narrow Widths & Small Sizes
In our last roundup of classic black heels for business attire, we rounded up some pumps that came in extended widths, including:
Extended widths (AA, C, W): Target (M/W), Vionic (MW), Rockport (NMW), Ferragamo (2A, B, C), Trotters (M,W, WW), Sam Edelman (NMW), Bella Vita (AA-EE), LifeStride (AA-E), Naturalizer (N-WW),
Extended sizes (4-13): Target (5-12), Calvin Klein (4-13), Ferragamo (4-11),
Some Comfortable Flats in Narrow Widths & Small Sizes
In our last roundup of comfortable flats for work, we rounded up some flats that came in extended width sizes…