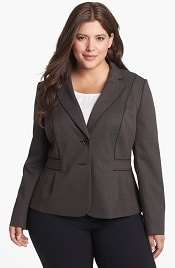 2018 Update: We still think this is a great roundup of the best workwear for plus sizes, but you may also want to check out our recent post on where to find stylish plus-size suits for work.
We've talked about where to shop for workwear if you're petite and if you're a tall professional in recent weeks, so I thought we'd continue the series today with a look at the best plus-size workwear. I'm going to sort it into three categories: regular plus sizes (generally 14W-24W), petite plus sizes, and regular sizes 16 and 18, which tend to be incredibly difficult to find.  We've discussed plus-size workwear before, of course — in 2008 and 2011, and in 2011 guest poster Kathryn Rubino wrote about her must-have list for the perfect plus-sized blazer — but we haven't talked about this in a while.  Readers who shop plus sizes — which are your favorite shops for workwear?  How about suiting?  Size 16s and 18s — and petite pluses — which shops am I missing on the list?   (Pictured: Sejour Micro Houndstooth Suit Jacket, available at Nordstrom in sizes 14W-22W for $148.)
Note that we've talked about maternity plus sizes over at CorporetteMoms.
Workwear in Regular Plus Sizes
Recommended by readers last time:
Additional stores (which may or may not have been selling plus-sized clothing when we last talked about this — these are in no particular order):
UPDATE: A few stores mentioned by readers below:
Workwear in Petite Plus Sizes
2017 update: please check out our latest roundup of the best workwear for petite plus sizes.
Workwear for Sizes 16-18
2017 update: please check out our latest roundup of the best workwear for size 16 and other cusp sizes.
Psst: interested in more plus-size content from Corporette? Sign up for the CorporettePlus newsletter, here.